Item #
DDSM50
Travel Range
50 mm (1.97")
Velocity (Max)
500 mm/s
Velocity (Min)
70 nm/s
Acceleration (Max)
5000 mm/s2
Acceleration (Min)
0.74 mm/s2
Acceleration at 1.0 kg Load
500 mm/s2
Resolution (Min)
500 nm
Bidirectional Repeatabilitya
±1.5 µm
Flatness over Full Travel Range
±5.0 µm
Straightness over Full Travel Range
±5.0 µm
Horizontal Load Capacity (Max)
0.9 kg (1.98 lbs)
Min Achievable Incremental Movementb
500 nm
Home Location Accuracy
1.5 µm
Absolute On-Axis Accuracy
±5 µm
Dimensions (L x W x H)
145 mm x 57 mm x 35 mm
(7.71" x 2.25" x 1.38")
Features
Travel Range: 50 mm
High Speed: Up to 500 mm/s
High Repeatability: 1.5 µm
On-Axis Accuracy: <10.0 µm
Low Profile: 35 mm (1.38")
Integrated Brushless DC Linear Servo Motor Actuators
Linear Optical Encoders
High-Quality, Precision-Engineered Linear Bearings
Thorlabs' DDSM50 low-profile, direct-drive stage provides 50 mm of travel with 0.5 µm resolution and a maximum speed of 500 mm/s. The stage is ideal for applications that require high speeds and high positioning accuracy, including automated alignment, surface inspection, mapping, and probing.
An innovative, low-profile design with integrated, brushless linear motors eliminates the external housings that create mechanical clash points and impede access to the moving platform. The direct-drive technology removes the need for a lead screw, eliminating backlash, and internal flexible ducting ensures cables cannot become trapped as the mechanism moves. A precision-grooved linear bearing provides superior rigidity and linearity with excellent on-axis accuracy. This backlash-free operation coupled with high-resolution, closed-loop optical feedback ensures a minimal bidirectional repeatability of 1.5 μm.
Controller Options
The controller for the DDSM50 direct-drive, linear translation stage is the KBD101 K-Cube Brushless DC Motor Controller. This controller provides a user-configurable, S-curve acceleration/deceleration profile that enables fast, smooth positioning without vibration or shock. See below for a brief overview, or click here to view the full presentation for these Brushless DC Motor Controllers.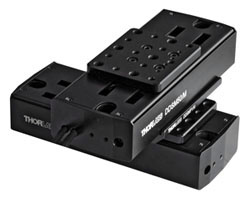 Click for Enlarge
Two DDSM50 Stages can be Connected in an XY Configuration Using the DDSMP1 XY Adapter Plate
Dual-Axis Configuration
For dual-axis applications, two stages can be bolted together in an XY configuration by using the DDSMP1 XY adapter plate as shown to the left. Note that these stages are not suitable for operation in a vertical (Z-axis) orientation. Please contact Tech Support for more details.
Adapter brackets are also available that allow optomechanical components to be mounted close to the linear travel of the stage in applications such as a delay line.
Please see below for more details.
Please Note: Magnetic components should not be mounted to the stage platform. Magnets prevent proper homing and can affect the accuracy of the stage's encoder even after the magnetic component has been removed. When no power is applied, the platform of the stage has very little inertia and is virtually free running. This may make the stage unsuitable for applications where the stage's platform needs to remain in a set position when power is off.
Item #
DDSM50
Travel Range
50 mm (1.97")
Velocity (Max)
500 mm/s
Velocity (Min)
70 nm/s
Acceleration (Max)
5000 mm/s2
Acceleration (Min)
0.74 mm/s2
Acceleration at 1.0 kg Load
500 mm/s2
Resolution (Min)
500 nm
Bidirectional Repeatabilitya
±1.5 µm
Flatness over Full Travel Range
±5.0 µm
Straightness over Full Travel Range
±5.0 µm
Pitch Runout
±175 µrad
Yaw Runout
±175 µrad
Horizontal Load Capacity (Max)
0.9 kg (1.98 lbs)
Min Achievable Incremental Movementb
500 nm
Home Location Accuracy
1.5 µm
Absolute On-Axis Accuracy
±5.0 µm
Continuous Motor Force
0.8 N
Peak Motor Force (5 s)
2.0 N
Bearing Type
High-Rigidity Recirculating Precision Linear Bearing
Limit Switches
Magnetic Sensor at Each End of Stage
Operating Temperature Range
5 to 40 °C (41 to 104 °F)
Motor Type
Brushless DC Linear Motor
Cable Length
1 m (3.3')
Dimensions (L x W x H)
145 mm x 57 mm x 35 mm
(5.71" x 2.25" x 1.38")
Weight (with Cables)
600 g (1.3 lbs)
Motor Electrical Specifications
Magnetic Pitch
30 mm
Maximum Continuous Current
1.2 A
Maximum Current (5 s)
2 A
Motor Resistance
1.3 Ω (Phase to Phase)
Inductance
45 µH (Phase to Phase)
Force Constant
1 N/A
Motor Control Connector
D-Type Male

Pin
Description
Pin
Description
1
Quadrature A-
9
Ground
2
Quadrature A+
10
Motor Phase C
3
Quadrature B+
11
Motor Phase A
4
Quadrature B-
12
Motor Phase B
5
Encoder Index I-
13
+5 V
6
Encoder Index I+
14
Ground
7
Negative Limit
15
Stage ID
8
Positive Limit