Key Specificationsa
Travel Range
100 mm (3.9")
Velocity (Max)b
30 mm/s
Min Achievable Incremental Movement
0.1 µm
On-Axis Accuracyc
2.0 µm (Typical)
5.0 µm (Max)
Bidirectional Repeatabilityd
1 µm
Backlashe
<3 µm
Horizontal Load Capacity (Max)
20 kg (44 lbs)
Vertical Load Capacity (Max)
5 kg (11 lbs)
Actuator Type
Stepper Motor
Cable Length
3.0 m (9.8 ft)
Required Controller
APT™ Benchtop Stepper
Motor Controllers
Features
100 mm Travel Range
Load Capacity

Horizontal: 20 kg (44 lbs)
Vertical: 5 kg (11 lbs)

Maximum Velocity of 30 mm/s
Bidirectional Repeatability of 1 µm
XY, XZ, and XYZ Configurable
1/4"-20 (M6) Tapped Holes for Mounting Standard Optomechanics
Thorlabs' NRT100(/M) Linear Positioning Stage is optimized for applications requiring high load capacity and high resolution, such as measurement and inspection. It provides 100 mm of linear travel for loads as great as 20 kg (44 lbs) when mounted horizontally and 5 kg (11 lbs) when mounted vertically. Each stage features a typical on-axis accuracy of 2.0 µm (5.0 µm Max) when the included calibration files are used with the APT™ software. The lead screw, directly driven by a two-phase stepper motor with 409,600 microsteps per revolution, provides smooth translation with a theoretical positional resolution of less than 100 nm. Due to the stepper motor design, the platform position remains fixed when no power is supplied to the stage, unlike with DC servo motor translation stages.
The main platform is supported by four recirculating ball carrier bearings mounted to precisely aligned linear guide rails. The stepper motor, specifically designed for microstepping applications, allows smaller and smoother low-speed motion with significantly reduced vibrational noise than DC servo motors. The choice of a trapezoidal lead screw provides a number of benefits over the more common Acme-style thread, including improved durability, lower friction due to improved surface quality, and very little backdrive, eliminating the need for the braking mechanism required with ball screws.
Calibration Files
Each NRT100(/M) Linear Translation Stage is calibrated during manufacturing. Calibration enables the controller to correct for any mechanical errors present in the system. Mechanical components, such as the lead screw and linkages, can be machined only within a certain tolerance. These mechanical errors result in deviations of the actual position from the commanded position. However, the deviations are repeatable and can be compensated for using the APT™ software and included calibration files. These files are used by the APT software to convert the position entered by the user into the required mechanical motion. The calibration files can be downloaded by clicking on the red Docs icon (

) next to the item # below and entering your device's serial number under "Download Calibration Data."
The use of calibration files is optional. Without installing a calibration file, the on-axis accuracy of a stage will fall from 2.0 µm (typical) to 15.29 µm (typical). Calibration files do not affect the repeatability and resolution of the stages.
Stage Combinations
If an XY configuration is desired, any combination of NRT100 and NRT150 Linear Positioning Stages (the latter features a 150 mm travel range) can be mounted directly atop one another by using 1/4"-20 (M6) cap screws together with the provided counterbored holes and slots. These counterbores are accessed through the Ø0.59" (Ø15.0 mm) clearance hole in the moving carriage. XZ and XYZ configurations are possible using our NRT150P1(/M) Vertical Mounting Bracket, which orients either an NRT100 or NRT150 in the vertical plane.
Controller Options
A Thorlab' benchtop stepper motor controller, available in one-, two-, or three-channel versions, is required to drive this 100 mm translation stage. These controllers are bundled with Thorlabs' APT™ software, which supplies out-of-the-box stage control from a PC and enables support for common programming interfaces like LabVIEW, LabWindows™, and ActiveX. This stage is also compatible with third-party controllers.
Item #
NRT100(/M)
Translation
Travel Range
100 mm (3.9")
Bidirectional Repeatabilitya
1 µm
Backlashb
<3 µm
Maximum Velocityc
30 mm/s
Velocity Stability
±0.1 mm/s
Maximum Accelerationc
30 mm/s2
Minimum Achievable Incremental Movementd
0.10 µm
Minimum Repeatable Incremental Movemente
2 µm
Accuracy
Calibrated Absolute On-Axis Accuracy
2.0 µm (Typical)
5.0 µm (Max)
Absolute On-Axis Accuracyf
15.29 µm
Maximum Percentage Accuracyg
0.09%
Home Location Accuracy
±0.6 µm
Pitch
<0.008° (140 µrad)
Yaw
<0.05° (873 µrad)
Load Capacity
Horizontal Load Capacity
<12 kg (26 lbs) (Recommended)
20 kg (44 lbs) (Max)
Vertical Load Capacity
<4 kg (9 lbs) (Recommended)
5 kg (11 lbs) (Max)
General
Weight
2.2 kg (4.9 lbs)
Dimensions
362.7 mm x 100.0 mm x 43.5 mm
(14.28" x 3.94" x 1.71")
PAA612 and PAA613 Stepper Motor Cables
DA15-Pin Male D-Type to DE15-Pin Female D-Type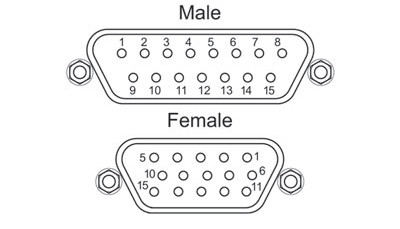 | DA15 Male Pin | DE15 Female Pin | Description |
| --- | --- | --- |
| 11 and 12 | 1 | Limit Switch Ground |
| 10 | 2 | Forward Limit Switch |
| 9 | 3 | Reverse Limit Switch |
| 7 | 4 | Motor Phase B -ve |
| 14 | 5 | Motor Phase B +ve |
| 8 | 6 | Motor Phase A -ve |
| 15 | 7 | Motor Phase A +ve |
| 6 | 9 | Not Connected |
| 5 | 13 | Limit Switch +5 V |
Motor Pin Out
D-Type Male

Pin
Designation
Pin
Designation
1
Limit Switch Ground
9
Not Connected
2
Forward Limit Switch
10
Not Connected
3
Reverse Limit Switch
11
Not Connected
4
Motor Phase B -ve
12
Not Connected
5
Motor Phase B +ve
13
Limit Switch +5 V
6
Motor Phase A -ve
14
Not Connected
7
Motor Phase A +ve
15
Ground/Earth
8
Not Connected
The APT™ (Advanced Positioning Technology) family covers a wide range of motion controllers ranging from small, low-powered, single-channel drivers (such as the T-Cubes) to high-power, multi-channel, modular 19" rack nanopositioning systems (the APT Rack System).
All controllers in the APT family share a common software platform, the 'APT System Software', which is available on our APT software download page. A support package, containing a wealth of information on using and programming these Thorlabs products is also available.
By providing this common software platform, Thorlabs has ensured that users can easily mix and match any of the APT controllers in a single application, while only having to learn a single set of software tools. In this way, it is perfectly feasible to combine any of the controllers from the low-powered, single-axis to the high-powered, multi-axis systems and control all from a single, PC-based unified software interface.
The APT System Software allows two methods of usage: graphical user interface (GUI) utilities for direct interaction and control of the controllers 'out of the box', and a set of programming interfaces that allow custom-integrated positioning and alignment solutions to be easily programmed in the development language of choice.
A range of video tutorials are available to help explain our APT system software. These tutorials provide an overview of the software and the APT Config utility. Additionally, a tutorial video is available to explain how to select simulator mode within the software, which allows the user to experiment with the software without a controller connected. Please select the APT Tutorials tab above to view these videos, which are also available on the software cd included with the controllers.
Software
APT Version 3.21.4
Includes a GUI for control of Thorlabs' APT™ system controllers, as well as a wealth of support information in the form of handbooks, help files, tutorial videos, and FAQs.
Also Available: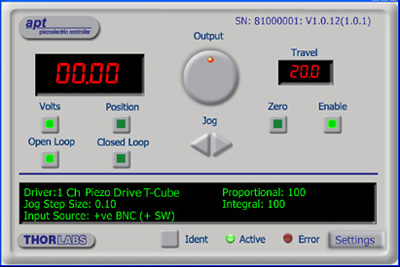 APT GUI Screen