LNR25ZFS(/M) Specificationsa
Travel
25 mm (0.98")
Horizontal Load Capacityb
5 kg (11 lbs)
Vertical Load Capacity
0.5 kg (1.1 lbs)
Runout Over Full Range
±1.5 µm
Max Velocityc
2.0 mm/s
Max Accelerationc
1.0 mm/s2
Calculated Minimum
Incremental Movement
0.46 nm
Absolute On-Axis Accuracy
15 µm
Bidirectional Repeatability
3.0 µm
Home Switch Accuracy
<5.0 µm
Bearings
Crossed Roller
Body Construction
All Steel
Weight (Including Actuator)
0.73 kg (1.61 lbs)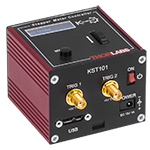 Click to Enlarge
Compatible
Controller:
KST101
49,152 Microsteps per Revolution
15 V Output at 12 W
Trapezoidal and
'S-Curve' Velocity Profiles
Features
25 mm (0.98") Travel
Compact, Bi-Polar Stepper Motor Actuator
Rugged, Thermally Matched, All-Steel Stage
Right- or Left-Handed XYZ Configurable
Thorlabs' LNR25ZFS Stepper Motor Translation Stage offers 25 mm (0.98") of electronically controlled linear motion along a well-defined axis. This stage offers excellent stability and high horizontal load capacity, making it an ideal solution for all translation applications. This stage, based on the LNR25 TravelMax Manual Stage, has a rigid, all-steel design and heavy-duty cross-roller bearings for uniform performance over the entire range of motion. The performance of the stage is further enhanced by using thermally matched materials that ensure stable, smooth performance.
Compact Stepper Motor Actuator
The LNR25ZFS is fitted with the ZFS25B Compact Stepper Motor Actuator, which provides smooth, precise linear motion control in a sleek, compact package. Powered by a small-diameter, dual-phase stepper motor, this actuator operates at speeds of up to 2.0 mm/s at maximum load. The non-rotating drive tip reduces wear and friction and improves smoothness of motion by removing rotational contact at the tip. If power is not supplied to the actuator, manual adjustment is accomplished using the rear-located thumbscrew.
This stepper motor provides sufficient torque for horizontal motions with loads up to 5 kg (11 lbs). The actuator allows very small step sizes over the entire travel range, delivering greater flexibility with a fine resolution. The design incorporates a 400:9 gear reduction head which, when combined with the 49,152 microsteps per revolution offered by the KST101 stepper motor driver, gives a theoretical travel per microstep of 0.46 nm (see the Specs tab for details).
Hall effect limit switches prevent the unit from being overdriven and provide homing capability with an accuracy of <5.0 μm. The LNR25ZFS ships with 0.6 m (2 ft) of cable terminated in a 15-pin D-Type connector (see the Pin Diagrams tab) that is compatible with our KST101 stepper motor controller.
Please note that we do not recommend this stepper motor for vacuum applications; for this application we recommend using our Z825BV Vacuum-Compatible DC Motor Actuator.
Wide Range of Mounting Options
The TravelMax™ was designed with flexibility and functionality in mind. The top surface of the LNR25ZFS stage is equipped with an array of seven 1/4"-20 (M6) tapped holes to maximize the mounting options for moving components. Two through holes in the top platform give access to two 1/4" (M6) counterbored holes that allow the stage to be bolted directly to the work surface. The position of the actuator mounting blocks is easily reconfigured to allow left-hand or right-hand use.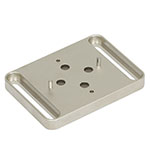 Click to Enlarge
LNR25P1 Base Plate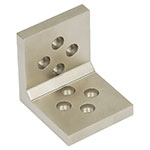 Click to Enlarge
LNR25P2 Angle Bracket
The LNR25P1 base plate, shown to the left, provides additional mounting options and provides extra clearance between the stage and the work surface. Counterbored clearance holes match up to the tapped holes in the base of the stage, permitting mounting in two orthogonal orientations. This plate is compatible with both the imperial and metric versions of the LNR25ZFS(/M) stage. The plate measures 100 mm x 195 mm x 10 mm (3.9" x 7.7" x 0.47") [L x W x H], ships with two dowel pins, and includes four alignment holes to ensure mounting orthogonality.
Multiple LNR25ZFS series stages can be bolted together in XY, XZ, YZ, or XYZ configurations for applications where movement is required in more than one axis. The LNR25P2 angle bracket, shown to the left, provides the vertical mounting necessary for movement in the Z direction. Again, this bracket is compatible with both the imperial and metric versions of the LNR25ZFS(/M) stage. The plate is shipped with four dowel pins and includes four alignment holes on each face to ensure orthogonality when mounting stages.
Controller Options
The LNR25ZFS stage is compatible with the KST101 K-Cube™ Stepper Motor Controller, available below. The KST101 provides control for a single axis, with or without a PC. Thorlabs' Kinesis® or legacy APT™ software packeges supply out-of-the-box stage control from a PC and enable support for common programming interfaces like LabVIEW, LabWindows, and ActiveX. Thorlabs' benchtop stepper motor controllers and legacy T-Cube™ TST001 stepper motor controllers cannot be used to drive the stage.
Resolution Calculation
The ZFS series of motors has 24 full steps per revolution, and when driven by the KST101 drivers, there are 2048 microsteps per full step, giving 49,152 microsteps per revolution of the motor. The output shaft of the motor goes into a 400:9 gear head. This requires the motor to rotate 44.445 times to rotate the 1.0 mm pitch lead screw one revolution. The end result is the lead screw advances by 1.0 mm.

Linear displacement of the lead screw per microstep:
Number of Microsteps x Gearbox Ratio = 49,152 x 44.445 = 2184560.64
The linear displacement of the lead screw per microstep is
1.0 mm / 2184560.64 = 0.46 x 10-6 mm = 0.46 nm
LNR25ZFS Specifications
Specification
Value
Translation
Travel
25 mm (0.98")
Absolute On-Axis Accuracy
15 µm
Bidirectional Repeatability
3.0 µm
Home Location Accuracy
<5.0 µm
Max Velocitya
2.0 mm/s
Acceleration
1.0 mm/s2 (Max)
Stage
Horizontal Load Capacityb
5 kg (11 lbs)
Vertical Load Capacity
0.5 kg (1.1 lbs)
Runout Over Full Range
±1.5 µm
Bearings
Crossed Roller
Body Construction
All Steel
Actuator
Gearbox Ratio
400:9 (Approx 44:1)
Limit Switches
Hall Effect
Lead Screw Pitch
1.0 mm
Motor Type
2-Phase Stepper
Microsteps per Revolution
of the Motor
24 Full Steps, 2048 µsteps per Full Step
49,152 µsteps per Revolution
Calculated Minimum
Incremental Movement
0.46 nm
Cable Length
0.6 m (2 ft)
Connector
HDDB15
Compatible Controller
KST101
Physical
Operating Temperature
5 to 40 °C (41 to 104 °F)
Dimensions (L x W x H)c
133.0 mm x 95.0 mm x 20.0 mm
(5.24" x 3.74" x 0.79")
Weight (Including Actuator)
0.73 kg (1.61 lbs)
Connector Pin Out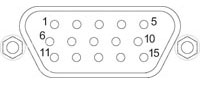 | Pin | Description | Pin | Description |
| --- | --- | --- | --- |
| 1 | Limit Ground | 8 | Reserved for Future Use |
| 2 | CCW Limit Switch | 9 | Reserved for Future Use |
| 3 | CW Limit Switch | 10 | Vcc (5 V DC) |
| 4 | Motor Phase B- | 11 | Reserved for Future Use |
| 5 | Motor Phase B+ | 12 | Reserved for Future Use |
| 6 | Motor Phase A- | 13 | Reserved for Future Use |
| 7 | Motor Phase A+ | 14 | Reserved for Future Use |
| | | 15 | Ground |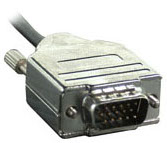 Thorlabs offers two platforms to drive our wide range of motion controllers: our Kinesis® software package or the legacy APT™ (Advanced Positioning Technology) software package. Either package can be used to control devices in the Kinesis family, which covers a wide range of motion controllers ranging from small, low-powered, single-channel drivers (such as the K-Cubes™ and T-Cubes™) to high-power, multi-channel, modular 19" rack nanopositioning systems (the APT Rack System).
The Kinesis Software features .NET controls which can be used by 3rd party developers working in the latest C#, Visual Basic, LabVIEW™, or any .NET compatible languages to create custom applications. Low-level DLL libraries are included for applications not expected to use the .NET framework. A Central Sequence Manager supports integration and synchronization of all Thorlabs motion control hardware.

Kinesis GUI Screen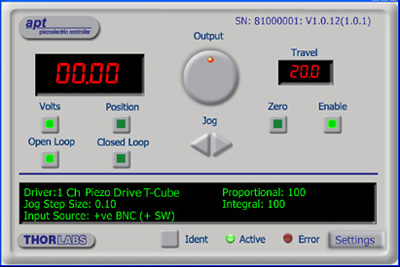 APT GUI Screen
Our legacy APT System Software platform offers ActiveX-based controls which can be used by 3rd party developers working on C#, Visual Basic, LabVIEW™, or any Active-X compatible languages to create custom applications and includes a simulator mode to assist in developing custom applications without requiring hardware.
By providing these common software platforms, Thorlabs has ensured that users can easily mix and match any of the Kinesis and APT controllers in a single application, while only having to learn a single set of software tools. In this way, it is perfectly feasible to combine any of the controllers from single-axis to multi-axis systems and control all from a single, PC-based unified software interface.
The software packages allow two methods of usage: graphical user interface (GUI) utilities for direct interaction with and control of the controllers 'out of the box', and a set of programming interfaces that allow custom-integrated positioning and alignment solutions to be easily programmed in the development language of choice.
A range of video tutorials is available to help explain our APT system software. These tutorials provide an overview of the software and the APT Config utility. Additionally, a tutorial video is available to explain how to select simulator mode within the software, which allows the user to experiment with the software without a controller connected. Please select the APT Tutorials tab above to view these videos.
Software
Kinesis Version 1.14.24
The Kinesis Software Package, which includes a GUI for control of Thorlabs' Kinesis and APT™ system controllers.
Also Available:

These videos illustrate some of the basics of using the APT System Software from both a non-programming and a programming point of view. There are videos that illustrate usage of the supplied APT utilities that allow immediate control of the APT controllers out of the box. There are also a number of videos that explain the basics of programming custom software applications using Visual Basic, LabView and Visual C++. Watch the videos now to see what we mean.
To further assist programmers, a guide to programming the APT software in LabView is also available.
The table below compares the key specifications of our 25 mm (0.98") linear translation stages. Additional specifications are listed in the Specs tab on the webpage of the particular stage.
Item #
MTS25-Z8 (MTS25/M-Z8)
PT1-Z8 (PT1/M-Z8)
LNR25ZFS
Travel Range
25 mm (0.98")
25 mm (0.98")
25 mm (0.98")
Calculated Minimum Incremental Movement
29 nm
29 nm
0.46 nm
Bidirectional Repeatability
1.6 µm
<1.5 µm
3.0 µm
Absolute On-Axis Accuracy
145 µm
<130 µm
15 µm
Horizontal Load Capacity (Max)
25 lbs (12 kg)
20 lbs (9 kg)
5 kg (11 lbs)
Vertical Load Capacity (Max)
10 lbs (4.5 kg)
10 lbs (4.5 kg)
0.5 kg (1.1 lbs)
Velocity (Max)
2.4 mm/s
2.6 mm/s
2.0 mm/s
Mounting Features
Eighteen 4-40 (M3) Taps and
One 8-32 (M4) Tap
Sixteen 1/4"-20 (M6) Taps and
Two 1/4" (M6) Counterbores
Seven 1/4"-20 (M6) Taps and
Two 1/4" (M6) Counterbores
Included Actuator
Built-In DC Servo
Z825B DC Servo
ZFS25B Stepper Motor
Cable Length
500 mm (1.64 ft)
500 mm (1.64 ft)
600 mm (2 ft)
Physical Dimensionsa (L x W x H)
5.31" x 1.69" x 0.87"
(134.9 mm x 42.9 mm x 22.1 mm)
9.89" x 3.00" x 0.80"
(251.2 mm x 76.2 mm x 20.3 mm)
5.24" x 3.74" x 0.79"
(133.0 mm x 95.0 mm x 20.0 mm)