Key DDS600-E Specificationsa
Travel Range
600 mm (23.6")
Velocity (Max)
400 mm/s
Acceleration (Max)
10,000 mm/s2
Bidirectional Repeatabilityb
±0.25 µm
Backlashc
N/A
Horizontal Load Capacity (Max)
10.0 kg (22.0 lbs)
Min. Achievable Incremental Movementd
100 nm
Absolute On-Axis Accuracy
±12.0 µm
Cable Length
2.2 m (7.2')
Included Controllera
BBD201
Stage Dimensions (L x W x H)
800 mm x 130 mm x 50 mm
(31.5" x 5.12" x 1.97")
Features
Complete Stage and Controller Package
Our Longest Travel Stage: 600 mm (23.6")
High Speeds up to 400 mm/s
Low Profile: 50 mm (1.97")
Integrated, Brushless DC Linear Servo Motor Actuators
High-Quality, Precision-Engineered Linear Bearings
Accessories Available:

Height Adapter for 62.5 mm Platform Height
2-Axis Joystick for Precise Manual Control
Thorlabs' DDS600-E low-profile, direct-drive translation stage provides 600 mm (23.6") of travel with 100 nm resolution and a maximum speed of 400 mm/s. This stage is ideal for applications that require high speeds and high positioning accuracy, including automated alignment, surface inspection, mapping, and probing.
An innovative, low-profile design with integrated, brushless linear motors eliminates the external housings that create mechanical clash points and impede access to the moving platform. The direct-drive technology removes the need for a leadscrew, eliminating backlash, and internal flexible ducting ensures cables cannot become trapped as the mechanism moves. Twin, precision-grooved linear bearings provide superior rigidity and linearity with excellent on-axis accuracy (±12 µm). This backlash-free operation coupled with high-resolution, closed-loop optical feedback ensures a minimal bidirectional repeatability of ±0.25 μm.
Notes:
These stages are not suitable for operation in a vertical (Z-axis) orientation.
When no power is applied, the platform of the stage has very little inertia and is virtually free running. This may make the stage unsuitable for applications where the stage's platform needs to remain in a set position when power is off.
Controller
A BBD201 single-axis Brushless DC Motor Controller is included with the stage. This controller provides a user-configurable, S-curve acceleration/deceleration profile that enables fast, smooth positioning without vibration or shock. It is ideal for motion control applications demanding operation at high speeds (hundreds of mm/s) and high encoder resolution (100 nm). The design incorporates the latest digital and analog techniques as well as high-bandwidth, high-power servo control circuitry. The controllers ship with our APT software for easy integration into an existing system. For multi-axis applications the stage can also driven by our BBD202 and BBD203 2-axis and 3-axis controllers.

Joystick Option
An optional 2-axis joystick console (MJC001) is also available for remote positioning applications. See the presentation below for more details. Please note that in order to control two stages simultaneously, a multi-axis BBD202 or BBD203 controller is required.
Optical Height Adapter Plate
The DDSA04 riser plate raises the deck height of the stage to the standard 62.5 mm for use with NanoMax, MicroBlock, and RollerBlock stages.
DDS600 Stage
Travel Range
600 mm (23.6")
Velocity (Max)
400 mm/s
Acceleration (Max)
10000 mm/s2
Bidirectional Repeatabilitya
±0.25 µm
Backlashb
N/A
Min. Achievable Incremental Movementc
100 nm
Horizontal Load Capacity (Max)d
10.0 kg (22.0 lb)
Absolute On-Axis Accuracy
±12.0 µm
Straightness/Flatness
±10.0 µm
Pitch
±100 µrad
Yaw
±75 µrad
Continuous Motor Force
10.0 N
Peak Motor Force (2 sec)
20.0 N
Bearing Type
High Rigidity, Recirculating, Precision Linear Bearings
Limit Switches
Magnetic Sensor at Each End of Stage
Operating Temperature Range
5 to 40 °C (41 to 104 °F)
Motor Type
Brushless DC Linear Motor
Cable Length
2.2 m (7.2')
Dimensions
800 mm x 130 mm x 50 mm
(31.5" x 5.12" x 1.97")
Weight (Including Cables)
9.1 kg (20.0 lbs)
BBD201 Controller
Drive Connector
8-Pin DIN, Round, Female
Feedback Connector
15-Pin D-Type
Continuous Drive Output
2.5 A
PWM Frequency
40 kHz
Operating Modes
Position and Velocity
Control Algorithm
16-Bit Digital PID Servo Loop with Velocity and Acceleration Feedforward
Velocity Profile
Trapezoidal/S-Curve
Position Count
32 Bit
Position Feedback
Incremental Encoder
Encoder Bandwidth
2.5 MHz
10 M Counts/s
Encoder Supply
5 V
AUX Control Connector
15-Pin D-Type
Power Supply Input
Power: 250 VA
Voltage: 100 to 240 VAC
Frequency: 47 to 63 Hz
Fuse: 3.15 A
Dimensions
174 mm x 245 mm x 126 mm
(6.85" x 9.65" x 4.96")
Weight
3.46 kg (7.60 lb)
The flying leads are terminated in a male 15-pin D-Type and male 8-pin round DIN connector. Pin details are given below.
FEEDBACK Connector

Motor Drive Connector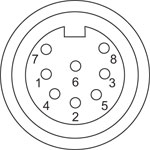 | Pin | Description | Pin | Description |
| --- | --- | --- | --- |
| 1 | Not Used | 9 | Ground |
| 2 | Ground | 10 | Limit Switch + |
| 3 | Not Used | 11 | Limit Switch - |
| 4 | Enc Index - | 12 | Enc Index + |
| 5 | Encoder Phase B - | 13 | Encoder Phase B + |
| 6 | Encoder Phase A - | 14 | Encoder Phase A + |
| 7a | 5 V | 15 | Not Used |
| 8a | 5 V | | |
| Pin | Description |
| --- | --- |
| 1 | Motor Phase V |
| 2 | Ground |
| 3 | Thermistor (Not Used) |
| 4 | Motor Phase U |
| 5 | Stage ID |
| 6 | Ground |
| 7 | Motor Phase W |
| 8 | Enable |
Thorlabs offers two platforms to drive our wide range of motion controllers: our Kinesis® software package or the legacy APT™ (Advanced Positioning Technology) software package. Either package can be used to control devices in the Kinesis family, which covers a wide range of motion controllers ranging from small, low-powered, single-channel drivers (such as the K-Cubes™ and T-Cubes™) to high-power, multi-channel, modular 19" rack nanopositioning systems (the APT Rack System).
The Kinesis Software features .NET controls which can be used by 3rd party developers working in the latest C#, Visual Basic, LabVIEW™, or any .NET compatible languages to create custom applications. Low-level DLL libraries are included for applications not expected to use the .NET framework. A Central Sequence Manager supports integration and synchronization of all Thorlabs motion control hardware.

Kinesis GUI Screen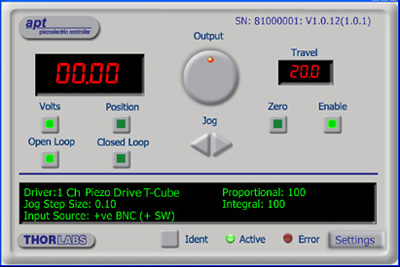 APT GUI Screen
Our legacy APT System Software platform offers ActiveX-based controls which can be used by 3rd party developers working on C#, Visual Basic, LabVIEW™, or any Active-X compatible languages to create custom applications and includes a simulator mode to assist in developing custom applications without requiring hardware.
By providing these common software platforms, Thorlabs has ensured that users can easily mix and match any of the Kinesis and APT controllers in a single application, while only having to learn a single set of software tools. In this way, it is perfectly feasible to combine any of the controllers from single-axis to multi-axis systems and control all from a single, PC-based unified software interface.
The software packages allow two methods of usage: graphical user interface (GUI) utilities for direct interaction with and control of the controllers 'out of the box', and a set of programming interfaces that allow custom-integrated positioning and alignment solutions to be easily programmed in the development language of choice.
A range of video tutorials is available to help explain our APT system software. These tutorials provide an overview of the software and the APT Config utility. Additionally, a tutorial video is available to explain how to select simulator mode within the software, which allows the user to experiment with the software without a controller connected. Please select the APT Tutorials tab above to view these videos.
Software
Kinesis Version 1.14.24
The Kinesis Software Package, which includes a GUI for control of Thorlabs' Kinesis and APT™ system controllers.
Also Available:

These videos illustrate some of the basics of using the APT System Software from both a non-programming and a programming point of view. There are videos that illustrate usage of the supplied APT utilities that allow immediate control of the APT controllers out of the box. There are also a number of videos that explain the basics of programming custom software applications using Visual Basic, LabView and Visual C++. Watch the videos now to see what we mean.
To further assist programmers, a guide to programming the APT software in LabView is also available.