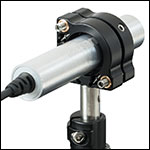 Click to Enlarge
MK11F Mounting a
CPS635R
Laser Diode Module
Features
Securely Mount Ø11 mm Cylindrical Components
Angular Range: ±4°
Hardened Steel Inserts at Kinematic Contact Points to Reduce Wear
Phosphor Bronze Bushings and Stainless Steel Lead Screws for Smooth Adjustment
Fabricated from Black Anodized Aluminum
Thorlabs' Mini-Series Kinematic Mount for Cylindrical Components is our most compact solution for mounting Ø11 mm cylindrical components, such as fixed collimators and laser diode modules. This two-adjuster kinematic mount features a nominal 0.79" x 0.52" (20.0 mm x 13.3 mm) footprint. Cylindrical components are secured using a nylon-tipped locking screw. Both the nylon-tipped setscrew and the two M2.5 x 0.20 adjuster screws accept a 0.050" (1.3 mm) hex key (not included). For ease of adjustment, we recommend using our 0.050" hex key thumbscrews, sold below. Additionally, we offer a locking collar and spanner wrench for locking the adjuster screws in a desired position or for creating a hard stop. These accessories are available separately below.
The mount features two 4-40 (M3) mounting holes for either left- or right-handed orientation at 90°, enabling it to be mounted onto our Ø6 mm Mini-Series posts or Ø12 mm pedestal posts. Our Mini-Series post holders allow our Ø6 mm posts to be mounted onto our Mini-Series breadboards.
Thorlabs also offers Kinematic Collimator Mounting Adapters, which provide pitch and yaw adjustment for mounted cylindrical components. Unlike the kinematic mount on this page, the kinematic adapters are not post mountable. Our Mini-Series Kinematic Mirror Mounts, which resemble the compact size of the MK11F(/M), are available for mounting Ø7 mm, Ø11 mm, or Ø1/2" optics.