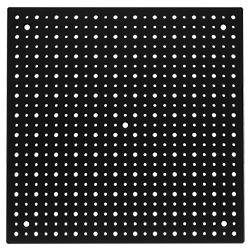 Click for Details

The breadboards sold below feature either four or five counterbored holes.
Features
High-Density Imperial or Metric Hole Patterns


4-40 (M3) Taps for Mini-Series Components
8-32 (M4) and 1/4"-20 (M6) Taps for Both Standard and Mini-Series Components

1/2" or 12.5 mm Hole Spacing for Increased Mounting Options
Counterbores for Mounting Breadboards to Optical Table or Inside EC2030 Enclosures
Black Anodized Solid Aluminum Construction Minimizes Reflectance

Unanodized Breadboard for EC2030 Enclosures Also Available

Double-Density and Standard Versions Available
Custom Breadboards Available; Contact Tech Support
Thorlabs' Mini-Series breadboards are offered with either 4-40 (M3) tapped holes or both 8-32 (M4) and 1/4"-20 (M6) tapped holes, and are designed for setups where space is a premium. These high-density breadboards offer increased tapped hole density with 1/2" (12.5 mm) spacing.
Our Mini-Series line consists of components that are compatible with 4-40 (M3) or 8-32 (M4) threads. The 4-40 (M3) taps in the MS12B(/M) breadboard make it compatible with smaller 4-40 (M3) Mini-Series components, such as our Ø6 mm posts. Our other breadboards are compatible with 8-32 (M4) Mini-Series components, such as our Ø12 mm pedestal posts and MSL post holders, and also include 1/4"-20 (M6) taps for integrating larger optomechanical components, such as our Ø1/2", Ø1", and Ø1.5" post assemblies.
Each breadboard features four or five counterbored mounting holes, enabling these breadboards to be mounted onto our standard breadboards, mounting feet, or post assemblies. For breadboards that have a fifth counterbored hole, it is located at the center of the breadboard to reduce stress at the four corners and to increase system rigidity when mounted. Refer to the tables below for more specifications.
Two imperial and two metric breadboards below are designed for use with the EC2030A and EC2030B customizable electronics enclosures. They are thinner than the other breadboards on this page, and the mounting counterbores are positioned to allow the breadboards to be mounted within the enclosure. See our benchtop enclosures for custom electronics for details. Anodized and unanodized versions are available.
Custom Breadboards
We offer a service for custom breadboard orders, with options that include hole pattern and spacing, size, thickness, and anodizing. For a quote, please contact Tech Support.