Ø12 mm Pedestal Posts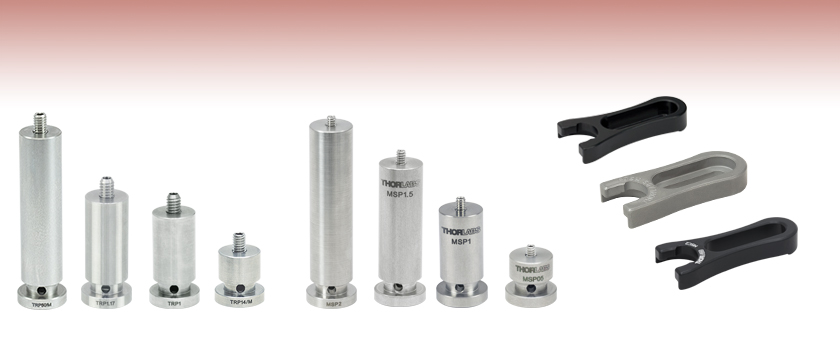 Precision Ground Stainless Steel Pedestal Posts
4-40 (M3) or 8-32 (M4) Removable Setscrew in Top
Clamping Forks Secure Pedestal Posts
Ideal for Miniature and OEM-Level Optomechanical Assemblies
MSC2
Slot for a 1/4"-20 (M6) Cap Screw
MSP2
MSP1.5
MSP1
MSP05
TRP50/M
TRP1.17
TRP1
TRP14/M
MSC3
Counterbored Slot for an 8-32 (M4) Cap Screw
MSC1
Counterbored Slot for a 4-40 (M3) Cap Screw

Please Wait
Features
Designed for Use in Limited Spaces and OEM Applications
Essential Building Blocks for Small Assemblies
Ø12 mm Pedestal Posts:

4-40 (M3) Setscrew and 4-40 (M3) Tapped Base
8-32 (M4) Setscrew and 1/4"-20 (M6) Tapped Base

Clamping Forks Secure Pedestal Posts and Accept 4-40 (M3), 8-32 (M4), 1/4"-20 (M6) Cap Screws
Mini-Series Thread Adapters Available for 8-32 (M4) and 1/4"-20 (M6) Compatibility
Thorlabs' Ø12 mm Pedestal Posts are designed to be used in space constrained setups and OEM applications. They are part of our Mini-Series optomechanical components, which are designed to increase the number of optical elements that can be assembled within a limited space. The pedestal posts on this page can be used to enable the integration of our Mini-Series components and accessories for compact and OEM-level optomechanical assemblies. Two different pedestal posts are offered: posts with a 4-40 (M3) setscrew and tapped holes, and posts with an 8-32 (M4) setscrew and bottom-located 1/4"-20 (M6) tapped hole.
Pedestal posts with 4-40 (M3) taps are directly compatible with our MS12B(MS12B/M) Mini-Series breadboard. Pedestal posts with an 8-32 (M4) setscrew and 1/4"-20 (M6) tap are directly compatible with our 8-32 (M4) and 1/4"-20 (M6) Mini-Series breadboards as well as other breadboards with 1/4"-20 (M6) taps. In addition, the TRP057 (TRP14/M) and TRP1.17 (TRP29/M) posts can be used with many 60 mm cage plates and 30 mm cage plates to position the center of mounted optics 50 mm above the pedestal's mounting surface. This matches the optic height of our Polaris® fixed monolithic mount, a selection of our Polaris mounting posts, and our DIY Cerna® Breadboard Top with Two-Position Slider.
These Ø12 mm pedestal posts are designed to be used with our clamping forks and post thread adapters, which expand their functionality. The clamping forks secure these pedestal posts to breadboards and optical tables and are compatible with 4-40 (M3), 8-32 (M4), or 1/4"-20 (M6) taps. The forks swivel around the pedestal-style post to access the most convenient mounting holes. We also offer post thread adapters to enable compatibility across Mini-Series and other components by converting among the 8-32, 4-40, and 1/4"-20 imperial thread types as well as the M3, M4, and M6 metric thread types.
Our range of Mini-Series products facilitates setups combining both standard and Mini-Series optomechanical components and accessories. For questions regarding our Mini-Series products, please contact Tech Support.