Mini-Series Prism Platform Mount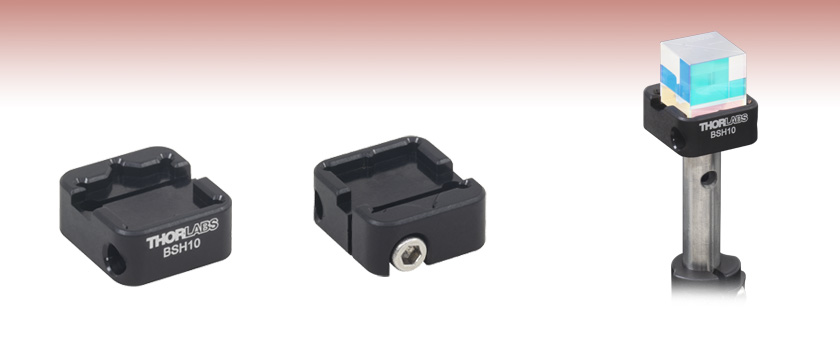 Mount 10 mm Beamsplitter Cubes and Right Angle Prisms
4-40 (M3) Tap for Post Mounting
BSH10
Front View
BSH10
Back View
Application Idea
A BSH10 platform mount holds a BS038 beamsplitter cube on top of a Mini-Series post.

Please Wait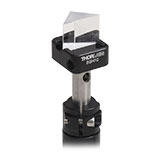 Click to Enlarge
Right-Angle Prism Mounted Using the BSH10 Prism Mount
Features
Prism Platform Mounts for 10.0 mm +0.0 mm / -0.2 mm Cubes and 10 mm ± 0.1 mm / -0.3 mm Right-Angle Prisms
10 mm Optical Axis Height to Match Mini-Series Kinematic and Fixed Optic Mounts
4-40 (M3) Tapped for Post Mounting
Flexure Clamp Secured with 5/64" Hex
Torque Hole for 5/64" Balldriver or Hex Key
This Mini-Series Platform Mount is compatible with 10 mm +0.0 mm / -0.2 mm polarizing and non-polarizing beamsplitter cubes as well as with 10 mm ± 0.1 mm / -0.3 mm right-angle prisms and prism mirrors. The BSH10(/M) mount features a flexure clamping mechanism which is actuated using a 5/64" (2.0 mm) hex key. The 4-40 (M3) tap makes this platform mount compatible with our Mini-Series Posts and our Ø12 mm Pedestal Posts with 4-40 (M3) Setscrews. A torque hole in the mount allows a 5/64" balldriver or hex key to pass through and provide extra leverage when tightening the BSH10(/M) to the top of a post.
Please note: To reduce the risk of damage and stress-induced birefringance, we recommend applying as little force as possible when mounting the prism. To help provide guidance on the amount of torque needed, a UV Fused Silica right-angle prism and N-BK7 beamsplitter cube were both tested. From this test, we would not recommend exceeding a mounting torque of 1 lb-in (0.11 N•m) for right-angle prisms or 2.5 lb-in (0.28 N•m) for beamsplitter cubes. We recommend using the TD24 Torque Driver with a 5/64" (2.0 mm) hex driver bit.
Posted Comments:
No Comments Posted