Mini-Series Kinematic Mirror Mounts with Two Adjusters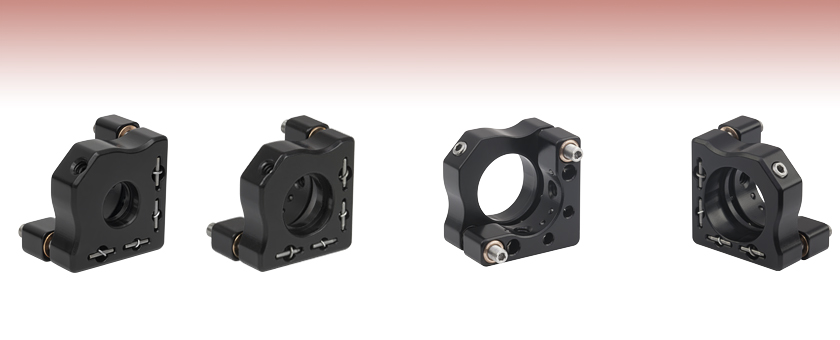 Kinematic Mirror Mounts for Ø7 mm, Ø10 mm, and Ø1/2" Optics
4-40 (M3) Mounting Holes
Compact Footprint
MK05
Ø1/2" Kinematic Mirror Mount, 4-40 Taps
Back
Front
MK7
Ø7 mm Kinematic Mirror Mount, 4-40 Taps
MK10
Ø10 mm Kinematic Mirror Mount, 4-40 Taps

Please Wait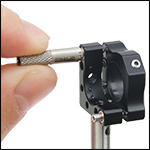 Click to Enlarge
A single locking collar can lock an adjuster's position with an SPW403 spanner wrench. Both are available below.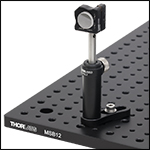 Click to Enlarge
MK05 Mounted onto an
MSB12
Breadboard Using a
Mini-Series Post
and
Post Holder
Features
Securely Mount Ø7 mm, Ø10 mm, and Ø1/2" Optics
Angular Range: ±4°
Hardened Steel Inserts at Kinematic Contact Points to Reduce Wear
Phosphor Bronze Bushings and Stainless Steel Lead Screws for Smooth Adjustment
Fabricated from Black Anodized Aluminum
Thorlabs' Mini-Series Kinematic Mirror Mounts are our smallest two-adjuster mirror mounts for Ø7 mm, Ø10 mm, and Ø1/2" optics, featuring a nominal 0.79" x 0.52" (20.0 mm x 13.2 mm) footprint. The optic is secured at three points using a nylon-tipped locking screw and a double-bored mounting hole. Both the nylon-tipped setscrew and the two M2.5 x 0.20 adjuster screws accept a 0.050" (1.3 mm) hex key (not included). For ease of adjustment, we recommend using the 0.050" hex key thumbscrews sold below. Additionally, we offer a locking collar and spanner wrench for locking the adjuster screws in a desired position or for creating a hard stop.
These mounts feature two 4-40 (M3) mounting holes for either left- or right-handed orientation at 90°, enabling them to be mounted onto our Ø6 mm Mini-Series posts or Ø12 mm pedestal posts. Our Mini-Series post holders allow our Ø6 mm posts to be mounted onto our Mini-Series breadboards.
We also offer a mini-series kinematic mounts for 1/2" tall rectangular optics and Ø11 mm cylindrical components.