Click for Details
KM200B(/M) or KM200PM(/M) with Mounting Plate Removed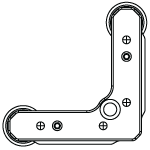 Click for Details
KM100B(/M), KM100PM(/M), or KM100WFS(/M) with Mounting Plate Removed
Features
Kinematic Vertical or Horizontal Mounting Surfaces
Two-Adjuster Mounts for Prisms, Beamsplitters, Non-Standard Optics, Fixed Optic Mounts, and Wavefront Sensors
±3° or ±4° of Tip and/or Tilt Adjustment
Platform Mounting Options

KM100B or KM100PM: 6-32 (M4) Taps for Clamping Arms (Sold Below)
KM100WFS: #8 and M3 Through Holes for Mounting Wavefront Sensors
KM200B: 1/4"-20 (M6) Taps, 6-32 (M4) Taps, and #8 Through Holes
KM200PM: 6-32 (M4) Taps for Clamping Arms, 8-32 (M4) Taps, and #8 (M4) Through Holes
FBTA or FBTB: Glue-In Optic Mounting
TPA01: #8 (M4) Counterbored Slot for Mounting Optic Mounts

Compatible with Ø1/2" Posts
Thorlabs offers kinematic platform mounts for prisms, wavefront sensors, small optics, and fixed optic mounts.
Kinematic Platform Mounts
Thorlabs' Kinematic Platform Mounts provide a flat mounting surface with kinematic knobs for controlling tip and tilt. The back plate of each two-adjuster mount has #8 (M4) through holes for mounting to a Ø1/2" post.
The KM100B(/M) and KM200B(/M) Kinematic Platform Mounts include a mounting plate that lies perpendicular to the tip and tilt fine adjusters. For the KM100B(/M), this mounting plate features five 6-32 (M4) taps for Clamping Arms (sold below), which use a nylon-tipped setscrew to hold optics against the flat surface. The KM200B(/M) has a mounting plate with four 6-32 (M4) taps, five 1/4"-20 (M6) taps, and four #8 (M4) clearance holes. Both the KM100B(/M) and KM200B(/M) have #8 (M4) counterbores on three surfaces, positioned so that the mounts can be attached to a Ø1/2" post with the top plate oriented horizontally or vertically with the adjusters in a left- or right-handed configuration.
The KM100PM(/M) and KM200PM(/M) Kinematic Prism Mounts have a mounting plate that is parallel to the fine adjusters. Each prism mount platform features an array of 6-32 (M4) taps that accept PM3(/M) or PM4(/M) Clamping Arms; the KM200PM also features 8-32 taps which can be used with the PM5 Stainless Steel Clamping Arm. The KM100WFS Kinematic Mount has a similar design to our KM100PM(/M) mount, but features a modified mounting platform with #8 and M3 through holes for our WFS20 Shack-Hartmann Wavefront Sensors. The KM100PM(/M), KM200PM(/M), and KM100WFS have a removable two-piece mounting platform assembly that can be secured to either arm of the front plate using two 4-40 screws (3/32" hex), allowing for a left- or right-handed kinematic mount.
The mounting plates on all of these kinematic mounts are held in with 4-40 cap screws, and can be removed and replaced with custom-made plates. See the drawings to the upper right for information on dimensions. The 1/4"-80 adjusters can be locked in place using our LN2580 Bronze Locking Nut (sold separately) once the desired position is reached.
Kinematic and Rotation Mounts for Small Optics
The FBTA(/M) and FBTB(/M) Kinematic Rotation Mounts are designed for 12.7 mm wide, 1 mm thick plate optics and 5 mm cube optics, respectively. Kinematic adjuster screws allow the tip, tilt, and rotation of the optics to be adjusted. Each mount offers an 8-32 (M4) tap for post mounting.
Pitch-Adjustable Kinematic Adapter for Fixed Optic Mounts
The TPA01(/M) Pitch-Adjustable Kinematic Adapter has two 8-32 (M4) tapped holes for post mounting vertically or horizontally and a counterbored slot for attaching fixed optic mounts. Unlike the other items on this page, it only has one direction of adjustment with a range of ±4°.