Click to Enlarge
Unanodized Aluminum Post Holder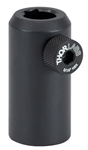 Click to Enlarge
Type-II Anodized Aluminum Post Holder
The anodizing of aluminum is a widely utilized conversion coating technique applied to a wide range of materials and employed in various decorative and engineering applications. In the simplest of terms, anodizing is an electrochemical process that modifies the parent material's surface hardness, reflectivity, lubricity, adhesion, light suppression, and electrical /thermal insulating properties. While the anodizing process can be performed on a variety of electrically conductive materials, it is predominantly used to plate aluminum, thereby improving the component's surface properties.
Within the anodizing process, there are three alternative processes that, while similar, produce slightly different end properties: Type-I (Chromic Acid Anodize), Type-II (Sulfuric Acid Anodize), and Type-III (Hard Anodize). An explanation of each process is provided below. The main purpose of these three processes is to control the oxidation reaction that occurs naturally when raw aluminum is exposed to oxygen in the atmosphere.
The anodizing process starts by mounting the substrate/parts to be anodized onto a conductive rack/jig (usually constructed from titanium or aluminum); these racks are then immersed into an electrolyte solution, which has a composition that is similar to battery acid. A DC power supply is then added to the entire cell/anodizing system; this promotes electrolysis of water within the electrolyte via electron transfer and separation of water molecules, which in turn promotes oxygen evolution at the anode (hence the term anodizing).
This reaction forms a tightly packed hexagonal structured layer on the exposed surfaces of the aluminum components. Once hydrated/sealed (in most cases), the resulting item has improved corrosion resistance and is electrically insulated. The density, thickness, and sometimes color of the resultant anodic film can be precisely controlled through the use of various electrolyte solutions, concentrations, temperatures, and current densities. After this initial conversion coating has taken place, various different chemical species (i.e., PTFE, metallic species, or colored pigments) can be adsorbed / deposited into the oxidized film, which can further enhance the Anodic film's performance or aesthetics.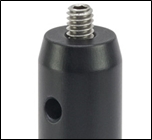 Click to Enlarge
Type-III Anodized Aluminum Post
Type-I Anodization
Type-I (Chromic Acid Anodizing) Oxidation is generally utilized for aerospace applications (soon to be replaced by Tartaric Anodizing) or general bonding applications. The standard film thickness is between 0.5 µm to 18 µm, making it too thin for external use. This type of plating provides a moderate improvement in corrosion resistance and electrical insulation as well as excellent adhesive bonding properties due to the film structure.
Type-II Anodization
Type-II (Sulfuric Acid Anodizing) Oxidation is widely used for architectural and decorative purposes due to its film structure and performance capabilities. Typical film thicknesses can range between 5 µm and 25 µm. The increased film thickness and differences in film structure compared to Type-I provide an increase in the film's abrasion resistance and electrical insulation. Films such as Type I and Type II can be machined post anodizing; however, due to the increase in hardness introduced by the anodic film tool, the lifetime of the cutting tool will be diminished.
Type-III Anodization
Type-III (Hard Anodizing/Hard-Coat) Oxidation is the thickest, densest, and most robust type of anodizing available and is predominantly used exclusively for engineering purposes. It has a typical thickness between 25 µm to 150 µm and is often referred to as 'Hard Anodizing' or 'Hard Coat Anodizing'. The increased thickness and film density produced by this type of anodizing make an extremely hard and very rugged coating with a greatly reduced wear-and-tear characteristic. This Anodic process exhibits all of the benefits offered by Type-II, but provides a lower co-efficient of friction, better corrosion resistance, and maximum surface hardness. However, due to the increased thickness and hardness of this type of anodizing, components anodized in this way cannot be easily machined post processing without specialist tooling.
Most Thorlabs components feature a Type-II matte-black anodized finish to promote light-absorption and provide improved wear resistance, while maintaining the ability to be machined with common tooling. In certain Thorlabs designs, Type-III or "Hard Coat Anodizing" has been chosen to offer maximum surface-hardness and wear resistance due to the requirements presented by the product's intended application, such as our TRA series non-magnetic, low-reflectivity aluminum posts.