Post-Mountable Adapter for FiberBench Accessories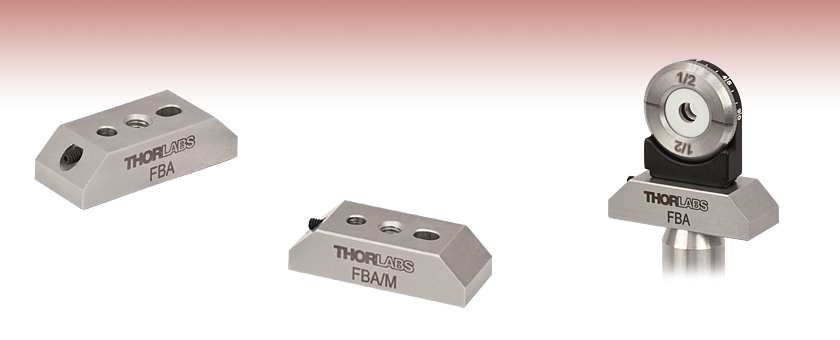 Ø1/2" Post-Mountable Adapter for FiberBench Accessories
Compatible with Most FiberBench Modules
Application Idea
RABH-600 Wave Plate Module
Mounted on Ø1/2" Post with FBA
FiberBench Adapter
FBA
FBA/M

Please Wait
Features
Use FiberBench Components for Free-Space Applications
Mount FiberBench Accessories with Dowel Pins to Ø1/2" Posts
#2-56 Setscrew for Locking Accessory in Place (Hex Key Included)
Our FiberBench accessories are a line of miniature components designed for holding small optics in fiber-based assemblies. By using the FBA adapter, you can easily integrate these compact accessories into free space optical systems by securing them to Ø1/2" Posts. The FBA can be mounted to a Ø1/2" post via the 8-32 (M4) tapped hole that goes through the center of the adapter. This freedom to mount individual pieces to a post gives the user the option of using the compact FiberBench accessories for free space applications.
The adapter is designed to be compatible with FiberBench accessories that have two steel dowel pins on their underside. These pins fit into the receiving holes on the adapter, and the 2-56 setscrew on the side of the adapter can be used to lock the FiberBench accessory in position. 
FiberBench Systems
Thorlabs offers Single-Axis and Multi-Axis FiberBenches that form the foundation of a nearly infinite array of miniature fiber optic systems. One of the main advantages of building FiberBench systems is that all the components are aligned along common beam paths (14.3 mm above the deck) that are parallel to the base. Thus, they simplify setups that would normally require extensive alignment procedures. The equally sized and uniformly spaced mounting holes on the FiberBenches are designed to hold a wide array of FiberBench accessories.
Posted Comments:
No Comments Posted