Kinematic Mounting Adapters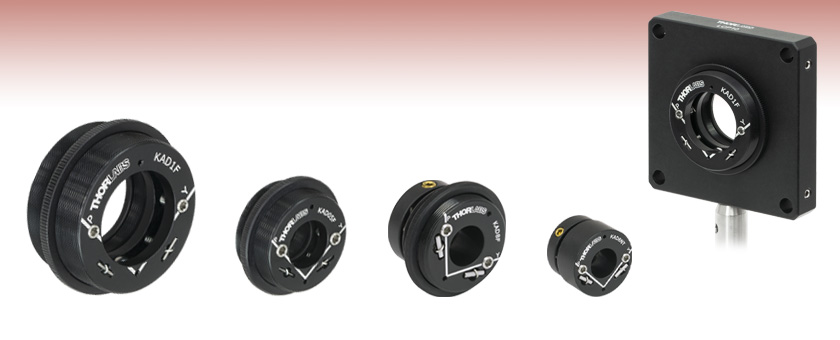 Adapters for Ø8 mm, Ø11 mm, Ø12 mm, Ø1/2" or Ø1" Optics
Unthreaded, SM1-Threaded, or SM1.5-Threaded External Surface
Smooth Internal Bore with Setscrew or Internally SM-Threaded
KAD1F
KAD05F
The KAD1F kinematic adapter can be used to secure a Ø1" optic in the internal SM1.5 threads of an LCP10(/M) cage plate.
KAD8F
KAD8NT

Please Wait
Features
Integrate Cylindrical Components or Optics into Lens Tubes, Cage Systems, or Optical Mounts

Collimator Adapters for Use with Ø8 mm, Ø11 mm, or Ø12 mm Cylindrical Components
Internally Threaded Adapters Accept Ø1/2" or Ø1" Optics

Options Available with a Smooth Outer Circumference, External SM1 (1.035"-40) Threads, or External SM1.5 (1.535"-40) Threads
These kinematic adapters are designed to facilitate the integration of cylindrical components or optics into free-space optical setups (or vice versa). Unlike our fixed optic mounts, these kinematic mounting adapters provide pitch and yaw adjustment using a 5/64" (2.0 mm) hex key, allowing components to be steered by the mount. Kinematic collimator adapters are offered with either an unthreaded or externally SM1-threaded (1.035"-40) outer surface and smooth internal bores for Ø8 mm, Ø11 mm, or Ø12 mm cylindrical components. We also offer two kinematic adapters with internally threaded bores. The KAD05F adapter has external SM1 (1.035"-40) threads and internal SM05 (0.535"-40) threads for mounting Ø1/2" optics, while the KAD1F has external SM1.5 (1.535"-40) threads and internal SM1 (1.535"-40) threads for mounting Ø1" optics. Each adapter is designed so that the optical axis of the collimator or optic will be centered with respect to the outer diameter of the adapter.
Thorlabs also offers a wide variety of Kinematic Mounts, including our post-mountable Mini-Series Kinematic Mount for Ø11 mm Components with ±4° of angular adjustment.