Mini-Series Construction Accessories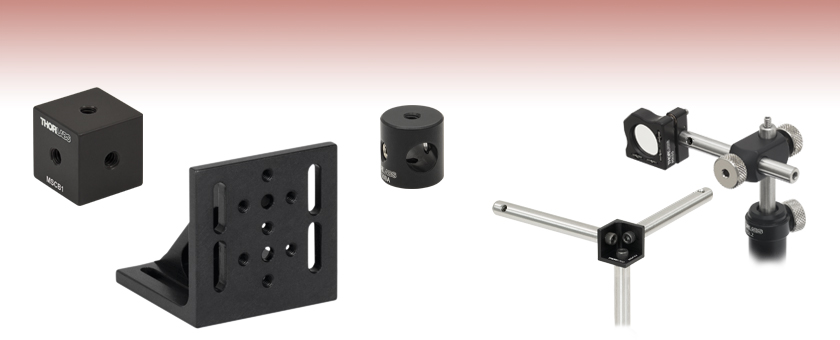 Compatible with Our Ø6 mm Mini-Series Posts
Designed for use in Tight Spaces and OEM Applications
Double-Bored Through Holes for Stable Mounting
MSCB1
MSAP90
ER90BA
Application Idea
MK05 Mirror Mount with MSRA90 Adapter
(Each Component Sold Separately)
MSCB2 shown with
Mini-Series Posts

Please Wait
Features
Rigid Construction Accessories Required for Many Complex 3D Assemblies
Angle Clamp Options

Fixed 90° Mini-Series or Ø1/2" Mounting Options
Continuous 360° for Mini-Series or Ø1/2" Posts

Construction Cubes Provide Space-Saving Platform for Multiple Optical Mounts
Thorlabs' Mini-Series Angle Clamps, Brackets, and Construction Cubes provide space-saving mounting solutions. Our angle clamps give the user the ability to orient our Ø6 mm posts in multiple directions and provide rigid, stable, and compact structures that can meet many laboratory needs. The double-bored mounting holes ensure two lines of stable contact, while the aluminum thumbscrews securely fasten the posts in place. Our angle brackets provide a stable platform for constructing rigid assemblies.
For compatibility with Ø1/2" posts, Thorlabs' offers angle clamps that allow a Ø6 mm post to be mounted to a Ø1/2" post. These angle clamps are available with a fixed right-angle or continuous 360° rotation.
Thorlabs' Mini-Series Construction Cubes can be used to mount multiple optical elements close together, which alleviates the need for multiple posts and post holders. The two cube designs provide adaptable laboratory solutions to crowded table problems.
Posted Comments:
No Comments Posted