Mini Hardware Accessories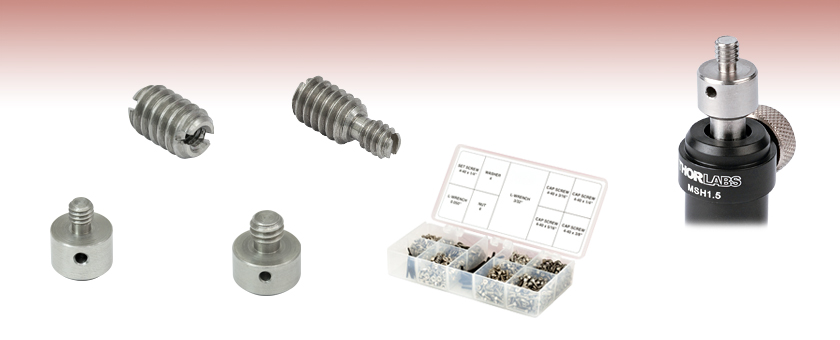 Essential Hardware for Mini-Series Components
Imperial and Metric Hardware Kits Available
AP4E25E
AP8E4E
MSA8
MSA25
HW-KIT5
MSA8 Mounted to
a Mini-Series Post

Please Wait
Features
Hardware Compatible with Mini-Series Posts and Accessories
Adapters Allow Common Thread Standards to be Used with Mini-Series Hardware
Thorlabs' Mini-Series cap screw and setscrew kits are an essential part of any lab setup. They provide a generous assortment of 4-40 (M3) precision-machined screws, washers, and nuts within a conveniently organized storage box.
The Mini-Series thread adapters can be used to make the Mini-Series posts compatible with our extensive range of optical mounts.
Posted Comments:
No Comments Posted

These thread adapters are designed to interface our standard-series and our Mini-Series optomechanical components. This is a portion of Thorlabs' complete line of thread adapters, which are available for many common thread standards.
Mechanical Drawing
Item #
Thread A
Thread B
Length C
Typical Application
AP8E4E
8-32
4-40
0.38"
(9.7 mm)
Attach Components with 8-32 Tapped Holes
to Imperial Mini-Series Posts
AP4M3M
M4
M3
0.38"
(9.7 mm)
Attach Components with M4 Tapped Holes
to Metric Mini-Series Posts
Mechanical Drawing
Item #
Thread A
Thread B
Length C
Typical Application
MSA8
4-40
8-32
0.50"
(12.7 mm)
Attach Components with 8-32 Tapped Holes
to Imperial Mini-Series Posts
MSA4/M
M3
M4
0.50"
(12.7 mm)
Attach Components with M4 Tapped Holes
to Metric Mini-Series Posts
MSA25
4-40
1/4"-20
0.55"
(14.0 mm)
Attach Components with 1/4"-20 Tapped Holes
to Imperial Mini-Series Posts
MSA6/M
M3
M6
0.55"
(14.0 mm)
Attach Components with M6 Tapped Holes
to Metric Mini-Series Posts
Mechanical Drawing
Item #
Thread A
Thread B
Length C
Typical Application

AE4E25E
4-40
1/4"-20
0.38"
(9.5 mm)
Attach Mini-Series Bases to
1/4"-20-Threaded Optical Tables
AE3M6M
M3
M6
0.39"
(10.0 mm)
Attach Mini-Series Bases to
M6-Threaded Optical Tables

Ideal for our Mini-Series Breadboards and Optic Mounts
We also Offer Individual Cap Screws and Setscrews
HW-KIT5 4-40 Hardware Kit
Item
Approx. Qty.
Item
Approx. Qty.
4-40 Cap Screw, 3/16" Long (SH4S019)
165
4-40 Nut
200
4-40 Cap Screw, 1/4" Long (SH4S025)
135
#4 Washer
350
4-40 Cap Screw, 5/16" Long (SH4S031)
135
3/32" Hex Key for 4-40 Cap Screws
10
4-40 Cap Screw, 3/8" Long (SH4S038)
125
0.050" Hex Key for 4-40 Setscrews (HK050)
10
4-40 Setscrew, 1/4" Long (SS4S025)
190
-
-
HW-KIT5/M M3 x 0.5 Hardware Kit
Item
Approx. Qty.
Item
Approx. Qty.
M3 x 0.5 Cap Screw, 5 mm Long (SH3M5)
165
M3 x 0.5 Nut
220
M3 x 0.5 Cap Screw, 6 mm Long (SH3M06)
150
M3 Washer
220
M3 x 0.5 Cap Screw, 8 mm Long (SH3M8)
125
2.5 mm Hex Key for M3 Cap Screws
10
M3 x 0.5 Cap Screw, 10 mm Long (SH3M10)
125
1.5 mm Hex Key for M3 Setscrews
10
M3 x 0.5 Setscrew, 6 mm Long (SS3M6)
195
-
-