LED Options
Nominal
Wavelength
Color
(Click for Spectrum)
Typical Output
Powera
365 nm
UV
1130 mW
385 nm
UV
1250 mW
405 nmb
UV
900 mW
420 nmb
Violet
710 mW
475 nm
Blue
630 mW
490 nm
Blue
120 mW
525 nmc
Green
180 mW
565 nmc
Lime
350 mW
590 nm
Amber
140 mW
625 nm
Red
490 mW
780 nm
IR
40 mW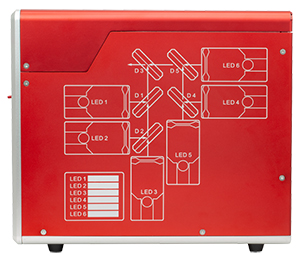 Click to Enlarge
The side panel of the Chrolis light source is engraved with the LED schematic. White labels are provided to allow users to record which LEDs are installed.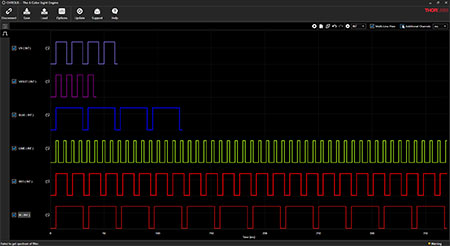 Click to Enlarge
Users can modulate individual LEDs using the Chrolis software. The GUI displays the user-defined pulse trains for each LED.
Features
Combine 6 User-Changeable, High-Power LEDs into One Liquid Light Guide
Eleven Wavelength Options Cover All Known Fluorophores Between 365 nm and 780 nm (See Table to the Right)
USB 2.0 Interface
Control LEDs Using Included Software with GUI (See the Software Tab for Details)

Individually Modulate LEDs for Pulsed Light Applications

Integrated Cooling System for Extending Liquid Light Guide's Lifetime
Typical Lifetime of LED Modules is ≥10,000 Hours (See the Specs Tab for Details)
Breakout Box for External Modulation and Triggering Other Devices (Sold Separately Below)
User-Configurable LED Sources Available Through the Tool Below
Thorlabs' Chrolis™ 6-Wavelength High-Power LED Sources are ideal for fluorescence imaging or any other application that requires up to six wavelengths of light. These user-configurable light engines efficiently combine the output of all six LEDs into a single liquid light guide (LLG); Thorlabs' LLG03-4H LLG is included. Compared to conventional non-LED sources like halogen and gas discharge lamps, these mercury-free 6-wavelength light sources offer many advantages such as higher signal-to-noise ratios (due to narrow bandwidth emission), high stability (see the Stability tab), longer life, and lower replacement costs. The Chrolis LED sources are available in two pre-set configurations; user-configured LED sources can also be ordered using the tool below.
The Chrolis light engines are designed to couple light into a Ø3 mm core liquid light guide (LLG). The typical output power for each LED from the included LLG03-4H LLG is shown in the table to the right. Each light source is equipped with an integrated cooling system that cools the tip of the LLG using thermoelectric coolers (TECs), thus extending the LLG lifetime. The optical output port for the LLG, LLG release lever, and On/Off button are located on the front of the housing for easy access.
The side panel is engraved with the LED schematic and spaces for the user to record the installed LEDs, as shown in the image above. Users can easily remove this panel by unscrewing the five setscrews with a 2 mm (5/64") hex key and access the LED and dichroic mirror modules. To remove LED modules, press the locking pin handle and turn toward "OPEN", then pull outward. Dichroic mirror modules are secured by magnets and can be removed by pulling outward on the handle. The modules are mounted on an actively cooled heat sink and the temperature of the LED modules is continuously monitored to ensure highly stable performance. Each LED module also has a removable SM1-threaded filter holder that is magnetically held in place in front of the LED. This feature provides space for Ø1" (Ø25 mm) bandpass filters up to 0.248" (6.3 mm) thick to be inserted in the Chrolis light paths and restrict the spectrum emitted by each LED. For instructions on inserting bandpass filters, please refer to the Chrolis Operation Manual available by clicking the Docs icon (

) below.
Every 6-wavelength LED source includes a software package with an easy-to-use GUI; see the Software tab for more details. Once the light source is connected via a USB interface, this intuitive software can detect the LED configuration and display the corresponding LED spectra. Users can set the intensity of each LED as well as modulate them for pulsed light applications. A different pulse train can be defined for each LED, with an allowable on/off time of 5 µs to 71 minutes; see the image to the right. For externally triggering the LEDs, we offer a breakout box that can be configured with the Chrolis software. LED pulse trains can be linked in the software such that a single external trigger will initiate a user-defined pulse sequence for up to six LEDs.
Pre-Set and Custom Configurations
Two pre-set Chrolis light source configurations are available from stock. The six wavelengths included in each source were selected to support common fluorescence microscopy and optogenetics applications.
Chrolis 6-wavelength LED sources with user-selected LED wavelengths can be configured using the tool below. The available LED wavelengths are listed in the LED Options table above. Due to the optical configuration, LEDs with closely overlapping spectra (specifically, 405/420 nm and 525/565 nm) cannot be combined in the same source; all other LED combinations are allowed. The appropriate dichroic mirrors and LED positions are pre-set based on the user-selected wavelengths for each source.
If you desire an LED configuration other than those available below, such as a source with fewer than six LEDs, please contact Tech Support.
LED Specifications
Nominal Wavelengtha
Peak Wavelength
Color
(Click for Spectrum)
Typical
Output Powerb
Bandwidth
(FWHM)
Lifetime
(Typ.)
Min
Typ.
Max
365 nm
360 nm
365 nm
370 nm
UV
1130 mW
9 nm
>1 000 h
385 nm
380 nm
385 nm
390 nm
UV
1250 mW
11 nm
>1 000 h
405 nmc
400 nm
405 nm
410 nm
UV
900 mW
12 nm
>1 000 h
420 nmc
415 nm
420 nm
425 nm
Violet
710 mW
14 nm
>10 000 h
475 nm
465 nm
475 nm
485 nm
Blue
630 mW
23 nm
>10 000 h
490 nm
480 nm
490 nm
500 nm
Blue
120 mW
23 nm
>1 000 h
525 nmd
510 nm
520 nm
530 nm
Green
180 mW
38 nm
>10 000 h
565 nmd
560 nm
565 nm
570 nm
Lime
350 mW
100 nm
>10 000 h
590 nm
590 nm
595 nm
605 nm
Amber
140 mW
80 nm
>10 000 h
625 nm
625 nm
633 nm
640 nm
Red
490 mW
13 nm
>10 000 h
780 nm
770 nm
780 nm
790 nm
IR
40 mW
28 nm
>10 000 h
Chrolis Light Source Specifications
Internal Modulation (Square Wave Only)
Typical Rise and Fall Time (10% - 90%)
2 µs
On Time of LED Pulse (Min to Max)
5 µs to 71 minutes
Off Time of LED Pulse (Min to Max)
5 µs to 71 minutes
Range of Number of Pulses
1 to 4.2 x 109 or Infinite
General
Output Coupling
Ø3 mm Liquid Light Guide (LLG03-4H Included)
Compatible Bandpass Filter Size
Ø1" (Ø25 mm), Up to 0.248" (6.3 mm) Thick
PC Interface
Full-Speed USB 2.0 (12 Mbps)
(USB Cable Included)
Power Supply
100 V - 120 V / 200 V - 240 V
50 - 60 Hz
Operating Temperature
0 °C to 35 °Ca
Storage Temperature
-40 °C to 70 °C
Dimensions
297.7 mm x 130.0 mm x 251.5 mm
(11.72" x 5.12" x 9.90")
Weight
7.7 kg (17.0 lbs)
DSUB25 Connector for BBC1 Breakout Box Specifications
External Modulation (TTL)
Typical Rise and Fall Time (10% - 90%)
2 µs
Typical Trigger Delay
1 µs
LED Input Connectors
Input Impedance
2 kΩ (Internal Pullup to 5 V)
Max Input Voltage
5 V
Low Voltage
0 V - 0.8 V
High Voltage
2.0 V - 5.0 V
AUX Connectors
Impedance
50 Ω
Max Input Voltage
5 V
Input Low Voltage
0 V - 0.8 V
Input High Voltage
2.0 V - 5.0 V
Output Voltage
TTL Level
Max Output Current
25 mA

This graph shows the normalized output spectra for each LED module and does not represent the relative LED power that will be output from the Chrolis.
LED Short-Term and Long-Term Power Stability
The thermal management of the Chrolis LEDs has been optimized to provide stable power output. The stability of the CHROLIS-C2 LED modules was tested over a 24 hour period with each LED in CW mode at maximum intensity. The LED output power was monitored with an S142C Integrating Sphere Photodiode Sensor connected to a PM100USB Power Meter Interface. As shown in the plots below, the LED modules maintained stable power levels throughout the time period. Over the first 5 minutes, each LED experienced a small power drop on the order of 1 to 2%, which corresponds to the period of time required for the LED to warm up to the point where it is thermally stable. After warm up, the typical variations in output power were smaller than 0.5%.
Recommended System Requirements
Operating System
Windows® 7 (SP1+) (32-Bit, 64-Bit)
Windows® 8.1 (32-Bit, 64-Bit)
Windows® 10 (32-Bit, 64-Bit)
Processor (CPU)
2.4 GHz or Higher
Memory (RAM)
4 GB
Graphics Card
Min 1024 x 768 Pixels
Hard Disk
Min 1 GB of Available Free Disk Space (32-Bit Operating System)
Min 2.3 GB of Available Free Disk Space (64-Bit Operating System)
Interface
Free USB 2.0 Port, USB Cable According to the USB 2.0 Specification
Software for the Chrolis™ 6-Wavelength High-Power LED Sources
The Chrolis software allows the user to individually control each LED via an easy-to-use GUI. The Chrolis light source connects to a PC through a USB interface; see the table below for recommended system requirements. The intuitive software can detect the connected light source and the LED configuration, as shown in the image to the lower left. The Settings tab displays the position, nominal wavelength, and color of the six installed LEDs. The user also has the option to input custom names for each LED, which can be used as the LED labels in other tabs. All of the user-defined settings can be exported as an XML file and loaded back into the software for future uses to ensure consistency between experiment runs.
The LEDs can be activated in the Continuous Wave (CW) or Pulsed Mode Master Tabs, which are located on the left side in the main screen below the "Disconnect" button; see the images to the lower right and center. In both modes, the power level of each LED can be set to a certain percentage. The image to the lower right shows the Master tab in the CW mode. The master power slider will change the power of all LEDs simultaneously while keeping the ratio constant. A plot of each LED spectrum is displayed to the right of the power sliders. The temperature of every LED is monitored and shown under the spectra plot. If one LED exceeds 90 °C, all LEDs will turn off automatically. To turn on the light source, the user must toggle the individual power switch of each LED to "ON" and then toggle the master power switch to "ON".
In Pulsed mode, the user can trigger LEDs with internally or externally generated signals. The Pulsed mode Master tab allows different pulse lengths and pulse timings to be defined for each LED. As shown in the image centered below, the Master tab will display a plot of each defined pulse train for a visual comparison of the different signals. The user can set the following parameters: signal polarity, power, delay time, duty time, idle time, and number of cycles. For external pulse generation, the BBC1 breakout box (sold separately) and a user-supplied input signal generator is required. The BBC1 breakout box connects to the Chrolis light source via the included DSUB25 cable and the input signal generator connects to the BBC1 box via one of the BNC connectors marked LED 1 to LED 6.
In the Pulsed mode Master tab, the BBC1 breakout box's additional channels can also be configured. The user can set the six BNC connectors labeled AUX 1 through AUX 6 as either an input or output. These channels can be used to generate trigger signals for other devices like cameras or initiate internal pulse generation for a specific LED. The software also allows the user to create links between channels. This can be used to start LED pulses with a certain delay
after receiving a trigger pulse. For instructions on how to configure the breakout box with the Chrolis software, please see the Chrolis software manual.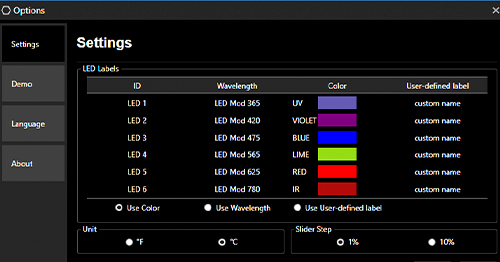 Click to Enlarge

The Chrolis software intuitively detects the LED configuration. In the Settings Window, the installed LED modules are listed, identifying each module's position, nominal wavelength, and color.
Click to Enlarge

The power level of every LED can be set to a certain percentage. The Master tab in CW mode displays each LED's power level, spectra, and temperature.
Click to Enlarge

Users can modulate individual LEDs using the Chrolis software. The Maser tab in Pulsed mode shows the unique pulse trains for each LED.
Light Emitting Diode (LED) Selection Guide
(Click
Representative
Photo to Enlarge;
Not to Scale)
Wavelength
Unmounted
LEDs
Pigtailed LEDs
LEDs in
SMT Packages
PCB-
Mounted LEDs
Heatsink-
Mounted LEDs
Collimated LEDs for Microscopy
(Item # Prefixa)
Fiber-
Coupled LEDsb
High-Power LEDs for Microsocopy
Multi-Wavelength
LED Source
Optionsc
LED Arrays
Single Color LEDs
250 nm
LED250J
(1 mW Min)
-
-
-
-
-
-
-
-
-
255 nm
LED255W
(0.4 mW)
-
-
-
-
-
-
-
-
-
LED255J
(1 mW Min)
260 nm
LED260W
(1 mW)
-
-
-
-
-
-
-
-
-
LED260J
(1 mW Min)
265 nm
LED265W2
(1.6 mW)
-
-
M265D2
(10 mW Min)
M265L3
(10 mW Min)
-
-
-
-
-
M265D3
(24 mW Min)
275 nm
LED275W
(1.6 mW)
-
-
M275D2
(45 mW Min)
M275L4
(45 mW Min)
-
-
-
-
-
LED275J
(1 mW Min)
M275D3
(47.3 mWd Min)
280 nm
LED280J
(1 mW Min)
-
-
-
-
-
-
-
-
-
LED280W
(2.3 mW)
285 nm
LED285W
(1.6 mW)
-
-
M285D3
(50 mW Min)
M285L5
(50 mW Min)
-
M285F4
(590 µW)
-
-
-
290 nm
LED290W
(1.6 mW)
-
-
-
-
-
-
-
-
-
295 nm
LED295W
(1.2 mW)
-
-
-
-
-
-
-
-
-
300 nm
LED300W
(1.2 mW)
-
-
M300D3
(26 mW Min)
M300L4
(26 mW Min)
-
M300F2
(320 µW)
-
-
-
308 nm
-
-
-
M310D1
(38.5 mW Mind)
M310L1
(38.5 mW Mind)
-
M310F1
(0.51 mWd)
-
-
-
310 nm
LED310W
(1.5 mW)
-
-
-
-
-
-
-
-
-
LED315W
(1 mW)
325 nm
LED325W2
(1.7 mW)
-
-
M325D3
(25 mW Min)
M325L5
(25 mW Min)
-
M325F4
(350 µW)
-
-
-
340 nm
LED340W
(1.7 mW)
-
-
M340D3
(53 mW Min)
M340L4
(53 mW Min)
-
M340F3
(1.06 mW)
-
-
-
LED341W
(0.33 mW)
365 nm
-
-
-
M365D1
(190 mW Min)
M365L2
(190 mW Min)
M365L2
(60 mW)e
M365F1
(4.1 mW)
SOLIS-365C
(3.0 W)f
Chrolis
(1130 mW)
LIU365A
(31 mW)
M365L3
(880 mW Min)
M365D2
(1150 mW Min)
M365LP1
(1350 mW Min)
M365LP1
(350 mW)e
M365FP1
(15.5 mW)
4-Wavelength
Source
(85 mW)
375 nm
LED375L
(1 mW)
-
-
M375D4
(1270 mW Min)
M375L4
(1270 mW Min)
-
M375F2
(4.23 mW)
-
-
-
LED370E
(2.5 mW)
385 nm
LED385L
(5 mW)
-
-
M385D1
(270 mW Min)
M385L2
(270 mW Min)
M385L2
(90 mW)e
M385F1
(10.7 mW)
SOLIS-385C
(5.8 W)f
Chrolis
(1250 mW)
-
M385L3
(1240 mW Min)
M385L3
(450 mW)e
M385D2
(1650 mW Min)
M385LP1
(1650 mW Min)
M385LP1
(520 mW)e
M385FP1
(23.2 mW)
4-Wavelength
Source
(95 mW)
395 nm
LED395L
(6 mW)
-
-
M395D3
(400 mW Min)
M395L4
(400 mW Min)
-
M395F3
(6.8 mW)
-
-
-
M395D4
(1420 mW Min)
M395L5
(1130 mW Min)
M395FP1
(29.8 mW)
M395LP1
(1420 mW Min)
Wavelength
Unmounted
LEDs
Pigtailed LEDs
LEDs in
SMT Packages
PCB-
Mounted LEDs
Heatsink-
Mounted LEDs
Collimated LEDs
for Microscopy
(Item # Prefixa)
Fiber-
Coupled LEDsb
High-Power LEDs
for Microsocopy
Multi-Wavelength
LED Source
Optionsc
LED Arrays
Single Color LEDs
405 nm
LED405L
(6 mW)
-
-
M405D2
(1500 mW Min)
M405L4
(1000 mW Min)
M405L3
(440 mW)e
M405F1
(3.7 mW)
SOLIS-405C
(3.9 W)f
Chrolis
(900 mW)
-
M405L4
(510 mW)g
4-Wavelength
Source
(290 mW)
LED405E
(10 mW)
M405LP1
(1200 mW Min)
M405LP1
(450 mW)e
M405FP1
(24.3 mW)
415 nm
-
-
-
M415D2
(1640 mW Min)
M415L4
(1310 mW Min)
-
M415F3
(21.3 mW)
SOLIS-415C
(5.8 W)f
-
-
M415LP1
(1640 mW Min)
420 nm
-
-
-
-
-
-
-
-
Chrolis
(710 mW)
-
4-Wavelength
Source
(95 mW)
430 nm
LED430L
(8 mW)
-
-
M430D2
(490 mW Min)
M430L4
(490 mW Min)
-
-
-
-
-
445 nm
-
-
-
-
-
-
-
SOLIS-445C
(5.4 W)f
-
-
450 nm
LED450L
(7 mW)
-
LEDS450
(250 mW)
M450D3
(1850 mW Min)
M450LP1
(1850 mW Min)
-
-
-
-
-
455 nm
-
-
-
M455D3
(1150 mW Min)
M455L4
(1150 mW Min)
M455L3
(400 mW)h
M455F3
(24.5 mW)
-
4-Wavelength
Source
(310 mW)
-
M455L4
(490 mW)e
465 nm
LED465E
(20 mW)
-
-
-
-
-
-
-
-
-
470 nm
LED470L
(170 mW)
EP470S04
(18 mW Min)
-
M470D3
(760 mW Min)
M470L4
(760 mW Min)
M470L4
(330 mW)e
M470F3
(21.8 mW)
SOLIS-470C
(3.0 W)f
4-Wavelength
Source
(250 mW)
LIU470A
(253 mW)
EP470S10
(100 mW Min)
475 nm
-
-
-
-
-
-
-
-
Chrolis
(630 mW)
-
490 nm
LED490L
(3 mW)
-
-
M490D3
(205 mW Min)
M490L4
(205 mW Min)
-
M490F3
(3.1 mW)
-
Chrolis
(120 mW)
-
4-Wavelength
Source
(50 mW)
505 nm
LED505L
(4 mW)
-
-
M505D2
(400 mW Min)
M505L4
(400 mW Min)
M505L3
(150 mW)h
M505F3
(11.7 mW)
SOLIS-505C
(1.0 W)f
4-Wavelength
Source
(170 mW)
-
M505D3
(400 mW Min)
M505L4
(170 mW)e
525 nm
LED525E
(2.6 mW Max)
-
-
-
-
-
-
SOLIS-525C
(2.4 W)f
Chrolis
(180 mW)
LIU525A
(111 mW)
LED525L
(4 mW)
LED528EHP
(7 mW)
530 nm
-
-
-
M530D3
(370 mW Min)
M530L4
(370 mW Min)
M530L3
(150 mW)h
M530F2
(9.6 mW)
-
4-Wavelength
Source
(100 mW)
-
M530L4
(160 mW)e
545 nm
LED545L
(2.4 mW CW, 8.7 mW Pulsed)
-
-
-
-
-
-
-
-
-
554 nm
-
-
-
MINTD3
(650 mW Min)
MINTL5
(650 mW Min)
-
MINTF4
(28 mW)
-
-
-
565 nm
-
-
-
M565D2
(880 mW Min)
M565L3
(880 mW Min)
-
M565F3
(13.5 mW)
SOLIS-4C
(3.2 W)f
Chrolis
(350 mW)
-
4-Wavelength
Source
(106 mW)
570 nm
LED570L
(0.3 mW)
-
-
-
-
-
-
-
-
-
590 nm
LED590L
(2 mW)
EP590S04
(3.5 mW Min)
-
M590D3
(230 mW Min)
M590L4
(230 mW Min)
M590L3
(60 mW)e
M590F3
(4.6 mW)
SOLIS-590C
(350 mW)f
Chrolis
(140 mW)
LIU590A
(109 mW)
LED591E
(2 mW)
EP590S10
(18 mW Min)
M590L4
(100 mW)e
4-Wavelength
Source
(65 mW)
595 nm
-
-
-
M595D3
(820 mW Min)
M595L4
(820 mW Min)
-
M595F2
(11.5 mW)
SOLIS-595C
(700 mW)f
-
-
Wavelength
Unmounted
LEDs
Pigtailed LEDs
LEDs in
SMT Packages
PCB-
Mounted LEDs
Heatsink-
Mounted LEDs
Collimated LEDs
for Microscopy
(Item # Prefixa)
Fiber-
Coupled LEDsb
High-Power LEDs
for Microsocopy
Multi-Wavelength
LED Source
Optionsc
LED Arrays
Single Color LEDs
600 nm
LED600L
(3 mW)
-
-
-
-
-
-
-
-
-
610 nm
LED610L
(8 mW)
-
-
-
-
-
-
-
-
-
617 nm
-
-
-
M617D2
(600 mW Min)
M617L3
(600 mW Min)
M617L3
(230 mW)e
M617F2
(13.2 mW)
SOLIS-617C
(1.5 mW)f
4-Wavelength
Source
(210 mW)
-
M617D3
(660 mW Min)
M617L4
(660 mW Min)
M617L4
(280 mW)e
623 nm
-
-
-
-
-
-
-
SOLIS-623C
(3.8 W)f
-
-
625 nm
LED625L
(12 mW)
-
-
M625D3
(700 mW Min)
M625L4
(700 mW Min)
M625L3
(270 mW)e
M625F1
(17.5 mW)
-
Chrolis
(490 mW)
-
M625L4
(490 mW)e
4-Wavelength
Source
(240 mW)
630 nm
LED630L
(16 mW)
-
-
-
-
-
-
-
-
LIU630A
(208 mW)
635 nm
LED631E
(4 mW)
-
-
-
-
-
-
-
-
-
LED635L


(170 mW)

639 nm
LED630E
(7.2 mW)
-
-
-
-
-
-
-
-
-
645 nm
LED645L
(16 mW)
-
-
-
-
-
-
-
-
-
660 nm
LED660L
(13 mW)
-
-
M660D2
(940 mW Min)
M660L4
(940 mW Min)
M660L4
(400 mW)e
M660F1
(15.5 mW)
SOLIS-660C
(2.0 W)f
4-Wavelength
Source
(210 mW)
-
670 nm
LED670L
(12 mW)
-
-
-
-
-
-
-
-
-
680 nm
LED680L
(8 mW)
-
-
M680D2
(180 mW Min)
M680L4
(180 mW Min)
-
M680F3
(2.7 mW)
-
-
-
700 nm
-
EP700S04
(5 mW Min)
-
M700D2
(80 mW Min)
M700L4
(80 mW Min)
-
M700F3
(1.7 mW)
-
-
-
EP700S10
(30 mW Min)
730 nm
-
-
-
M730D3
(540 mW Min)
M730L5
(540 mW Min)
-
-
-
-
-
740 nm
-
-
-
-
-
-
M740F2
(6.0 mW)
SOLIS-740C
(2.0 W)f
-
-
750 nm
LED750L
(18 mW)
-
-
-
-
-
-
-
-
-
760 nm
LED760L
(24 mW)
-
-
-
-
-
-
-
-
-
770 nm
LED770L
(22 mW)
-
-
-
-
-
-
-
-
-
780 nm
LED780E
(18 mW)
-
-
M780D2
(200 mW Min)
M780L3
(200 mW Min)
M780L3
(130 mW)e
M780F2
(7.5 mW)
-
Chrolis
(40 mW)
LIU780A
(315 mW)
LED780L
(22 mW)
M780D3
(800 mW Min)
M780LP1
(800 mW Min)
800 nm
LED800L
(20 mW)
-
-
-
-
-
-
-
-
-
810 nm
LED810L
(22 mW)
EP810S04
(16 mW Min)
-
M810D2
(325 mW Min)
M810L3
(325 mW Min)
M810L3
(210 mW)e
M810F2
(6.5 mW)
-
-
-
EP810S10
(90 mW Min)
M810D3
(363 mW Min)
M810L4
(363 mW Min)
830 nm
LED830L
(22 mW)
-
-
-
-
-
-
-
-
-
840 nm
LED840L
(22 mW)
-
-
-
-
-
-
-
-
-
850 nm
LED851L
(13 mW)
-
-
M850D2
(900 mW Min)
M850L3
(900 mW Min)
M850L3
(330 mW)e
M850F2
(13.4 mW)
SOLIS-850C
(2.7 W)f
-
LIU850A
(322 mW)
M850D3
(1400 mW)
M850LP1
(1400 mW Min)
870 nm
LED870E
(22 mW)
-
-
-
-
-
-
-
-
-
LED870L
(24 mW)
880 nm
-
-
-
M880D2
(300 mW Min)
M880L3
(300 mW Min)
-
M880F2
(3.4 mW)
-
-
-
890 nm
LED890L
(12 mW)
-
-
-
-
-
-
-
-
-
910 nm
LED910L
(10 mW)
-
-
-
-
-
-
-
-
-
LED910E
(12 mW)
930 nm
LED930L
(15 mW)
-
-
-
-
-
-
-
-
-
940 nm
LED940E
(18 mW)
-
-
M940D2
(800 mW Min)
M940L3
(800 mW Min)
M940L3
(320 mW)e
M940F3
(14.2 mW)
SOLIS-940C
(2.5 W)f
-
-
970 nm
LED970L
(5 mW)
-
-
M970D3
(600 mW Min)
M970L4
(600 mW Min)
-
M970F3
(8.1 mW)
-
-
-
Wavelength
Unmounted
LEDs
Pigtailed LEDs
LEDs in
SMT Packages
PCB-
Mounted LEDs
Heatsink-
Mounted LEDs
Collimated LEDs
for Microscopy
(Item # Prefixa)
Fiber-
Coupled LEDsb
High-Power LEDs
for Microsocopy
Multi-Wavelength
LED Source
Optionsc
LED Arrays
Single Color LEDs
1050 nm
LED1050E
(2.5 mW)
-
-
M1050D1
(50 mW Min)
M1050L2
(50 mW Min)
-
-
-
-
-
LED1050L
(4 mW)
M1050D3
(160 mW Min)
M1050L4
(160 mW Min)
M1050F3
(3 mW)
1070 nm
LED1070L
(4 mW)
-
-
-
-
-
-
-
-
-
LED1070E
(7.5 mW)
1085 nm
LED1085L
(5 mW)
-
-
-
-
-
-
-
-
-
1100 nm
-
-
-
M1100D1
(168 mWd Min)
M1100L1
(168 mWd Min)
M1100F1
(5.4 mWd)
1200 nm
LED1200E
(2.5 mW)
-
-
M1200D2
(30 mW Min)
M1200L3
(30 mW Min)
-
-
-
-
-
LED1200L
(5 mW)
1300 nm
LED1300E
(2 mW)
-
-
M1300D2
(25 mW Min)
M1300L3
(25 mW Min)
-
-
-
-
-
LED1300L
(3.5 mW)
1450 nm
LED1450E
(2 mW)
-
-
M1450D2
(31 mW Min)
M1450L3
(31 mW Min)
-
-
-
-
-
LED1450L
(5 mW)
1550 nm
LED1550E
(2 mW)
-
-
M1550D2
(31 mW Min)
M1550L3
(31 mW Min)
-
-
-
-
-
LED1550L
(4 mW)
1600 nm
LED1600L
(2 mW)
-
-
-
-
-
-
-
-
-
1650 nm
LED1600P
(1.2 mW)
-
-
M1650D2
(13 mW Min)
M1650L4
(13 mW Min)
-
-
-
-
-
1750 nm
LED1700P
(1.2 mW
Quasi-CW,
30 mW Pulsed)
-
-
-
-
-
-
-
-
-
1850 nm
LED1800P
(0.9 mW
Quasi-CW,
20 mW Pulsed)
-
-
-
-
-
-
-
-
-
1950 nm
LED1900P
(1.0 mW
Quasi-CW,
25 mW Pulsed)
-
-
-
-
-
-
-
-
-
2050 nm
LED2050P
(1.1 mW
Quasi-CW,
28 mW Pulsed)
-
-
-
-
-
-
-
-
-
2350 nm
LED2350P
(0.8 mW
Quasi-CW,
16 mW Pulsed)
-
-
-
-
-
-
-
-
-
2700 nm
LED2700W
(0.15 mW
Quasi-CW,
1.0 mW
Pulsed)
-
-
-
-
-
-
-
-
-
2800 nm
LED2800W
(0.3 mW
Quasi-CW,
2.0 mW
Pulsed)
-
-
-
-
-
-
-
-
-
3400 nm
LED3400W
(0.3 mW
Quasi-CW,
2.0 mW
Pulsed)
-
-
-
-
-
-
-
-
-
3800 nm
LED3800W
(0.18 mW
Quasi-CW,
1.5 mW
Pulsed)
-
-
-
-
-
-
-
-
-
4200 nm
LED4300P
(0.03 mW
Quasi-CW,
0.2 mW Pulsed)
-
-
-
-
-
-
-
-
-
4300 nm
LED4300W
(0.18 mW
Quasi-CW,
1.5 mW
Pulsed)
-
-
-
-
-
-
-
-
-
4500 nm
LED4600P
(0.006 mW
Quasi-CW,
0.12 mW Pulsed)
-
-
-
-
-
-
-
-
-
Wavelength
Unmounted
LEDs
Pigtailed LEDs
LEDs in
SMT Packages
PCB-
Mounted LEDs
Heatsink-
Mounted LEDs
Collimated LEDs
for Microscopy
(Item # Prefixa)
Fiber-
Coupled LEDsb
High-Power LEDs
for Microsocopy
Multi-Wavelength
LED Source
Optionsc
LED Arrays
Multi-Color, Broadband, and White LEDs
455 nm (12.5%i) and 640 nm
-
-
-
MPRP1D2
(275 mW Min)
MPRP1L4
(275 mW Min)
-
-
-
-
-
572 nm
and 625 nm
LEDGR
(0.09 mW
and 0.19 mW)
-
-
-
-
-
-
-
-
-
588 nm and 617 nm
LEDRY
(0.09 mW
and 0.19 mW)
-
-
-
-
-
-
-
-
-
467.5 nm,
525 nm,
and 627.5 nm
LEDRGBE
(5.8 mW,
6.2 mW,
and 3.1 mW)
-
-
-
-
-
-
-
-
-
430 - 660 nm
(White)
LEDWE-15


(13 mW)

-
-
-
-
-
-
-
-
-
LEDW7E
(15.0 mW)
LEDW25E
(15.0 mW)
6500 K
(Cold White)
-
-
-
MCWHD5
(930 mW Min)
MCWHL7
(930 mW Min)
-
-
SOLIS-1C
(3.3 W)f
-
-
MCWHD4
(990 mW Min)
MCWHL6
(990 mW Min)
MCWHL5
(340 mW)h
MCWHD3
(2350 mW Min)
MCWHLP1
(2350 mW Min)
MCWHL6
(354 mW)e

6200 K
(Cold White)
-
-
-
-
-
-
MCWHF2
(27.0 mW)
-
-
-
5000 K
(Cold White)
-
-
LEDSW50
(110 mW)
-
-
-
-
-
-
-
4600 - 9000 K
(Cold White)
-
-
-
-
-
-
-
-
-
LIUCWHA


(250 mW)

4000 K
(Warm White)
-
-
LEDSW40
(115 mW)
-
-
-
MWWHF2
(23.1 mW)
-
-

-

3000 K
(Warm White)
-
-
LEDSW30
(100 mW)
MWWHD3
(2000 mW Min)
MWWHL4
(570 mW Min)
-
-
SOLIS-2C
(3.2 W)f
-
-
MWWHLP1
(2000 mW Min)
5700 K
(Day Light White)
-
-
-
-
-
-
-
SOLIS-3C
(3.5 W)
-
-
470 - 850 nm
(Broadband)
-
-
-
MBB1D1
(70 mW Min)
MBB1L3
(70 mW Min)
-
MBB1F1
(1.2 mW)
-
-
-
770 nm, 860 nm, & 940 nm
(Broadband)
-
-
-
MBB2D1
(740 mWd Min)
MBB2L1
(650 mWd Min)
-
-
-
-
-
MBB2LP1
(740 mWd Min)