General Specifications
Operating Temperature Rangea
0 °C to 40 °C (32 °F to 104°F)
Storage Temperature Range
-40 °C to 70°C (-49 °F to 158 °F)
Dimensions (W x H x D)
164 mm x 150 mm x 57 mm (Without Cable)
(6.46" x 5.91" x 2.24")
Front Aperture Thread
Internal SM2 (2.035"-40)
Weight
1.6 kg (3.5 lbs)
Wavelength Combinations
365 nm
X
X
X
X
385 nm
X
X
X
X
405 nm
X
X
X
X
420 nm
X
X
X
X
455 nm
X
X
X
470 nm
X
X
X
490 nm
X
X
X
X
505 nm
X
X
X
X
530 nm
X
X
X
565 nm
X
X
X
X
590 nm
X
X
617 nm
X
X
625 nm
X
X
X
660 nm
X
X
Wavelength Combinations
Each LED4D source contains four individual high-power bare LEDs. Use the configurator below to build your LED4D 4-wavelength source by choosing from the 14 available LEDs listed in the table to the right. Due to the optical configuration, certain wavelengths cannot be combined within the same source. As you select each wavelength in the configurator, unavailable wavelength pairs will be excluded from each consecutive drop down menu.
Additional limitations imposed by the full configuration are outlined in the table to the right. Each combination of two wavelengths that cannot be included in the same 4-wavelength source is marked in grey, while available combinations are indicated by a green- or orange-shaded cell. The latter denotes a wavelength pair where the selection of the final two LEDs is further limited: LEDs with wavelengths below 455 nm cannot be included in an LED4D source with 660 nm, 617 nm, and 590 nm or 565 nm as the other three wavelengths. The configurator below is designed so that you cannot order a source with an unavailable wavelength configuration.
Legend
Unavailable Wavelength Combination
Available Wavelength Combination
Limited Combinations Availablea
Features
User-Configurable 4-Wavelength Source
Switching and Intensity Adjustments via LED Current Settings
Better Stability and Longer Life than Gas Discharge and Halogen Lamps
No Moving Parts for Vibration-Free Operation
Cooling Fins Provide Efficient Thermal Management
Long Lifetime Light Source (See the LED Specs Tab for Details)
Optional Adapters for Olympus, Nikon, Zeiss, and Leica Microscope Lightports
Optional Adapter for Coupling to Liquid Light Guides (LLGs)
The LED4D 4-Wavelength High-Power LED Sources are ideal for applications requiring up to four wavelengths of light. These user-configurable light sources efficiently combine the output of all four LEDs into a single collimated beam. Together with a DC4100 or DC4104 4-Channel LED Driver, the LED4D provides a reliable, versatile light source with LED switching and accurate intensity modulation of each individual LED. The source is vibration free, easy to operate, and has a long lifetime (see the Specs tab for details).
Compared to conventional non-LED sources such as halogen and gas discharge lamps, these 4-wavelength sources offer many advantages such as higher signal-to-noise ratios (due to narrow bandwidth emission), better stability, longer life, lower replacement costs, simple operation without maintenance cycles, and no active cooling requirements or thermal filtering due to minimal thermal loads. The LED current can be adjusted to quickly set the intensity via the DC4100 or DC4104 driver (sold separately) front panel or USB connection, making this source an ideal choice for microscopy applications where multiple wavelengths are required. The source can also be modulated using an external trigger connection on the DC4100 or DC4104 (see the full web presentation of these drivers for details).
The LEDs incorporated into these sources are characterized by high divergence. The light is guided through the system using mirrors, and the output is collimated with an aspheric condenser lens. This setup inherently leads to a reduction in the measured output power (as seen in the table to the right) compared to that of the bare LEDs. Thorlabs also offers single-channel collimated LEDs, which have higher power outputs since wavelength-combining optics are not needed.
Adapters
Optional adapters are available for using the 4-wavelength LED source with liquid light guides or microscopes. The output aperture of these LED sources is internally SM2 (2.035"-40) threaded. For Olympus, Nikon, Zeiss, and Leica microscopes, SM2-threaded adapters are available that directly mount the 4-wavelength sources onto the microscope lightport (see SM2-Threaded Microscope Adapters). See below for a video that demonstrates how to install the source on an Olympus microscope.
Alternatively, the LED4B1 Adapter for Liquid Light Guides (LLGs) is used to couple light exiting the LED source into a LLG. It replaces the SM2-threaded output port with an aperture that is internally SM1 (1.035"-40) threaded. The adapter contains an optic designed to focus light into the aperture of a LLG held by the appropriate LLG-to-SM1 adapter (AD3LLG for Ø3 mm core LLGs or AD5LLG for Ø5 mm core LLGs). More information on these adapters and Thorlabs' selection of liquid light guides can be found here.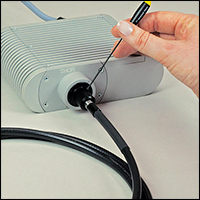 Click to Enlarge
The LED4B1 Adapter is used to couple light from the 4-wavelength LED source into a LLG held in a LLG-to-SM1 adapter.
Nominal
Wavelength
Color
(Click for Spectrum)
Minimum LED Output Powera
Maximum Current (CW)
Forward Voltage
Bandwidth (FWHM)
Typical Lifetime
365 nm
UV
85 mW
700 mA
4.4 V
7.5 nm
>10,000 h
385 nm
UV
95 mW
700 mA
4.3 V
10 nm
>10,000 h
405 nm
UV
290 mW
1000 mA
3.8 V
13 nm
100,000 h
420 nm
Violet
95 mW
1000 mA
3.5 V
15 nm
>10,000 h
455 nm
Royal Blue
310 mW
1000 mA
3.2 V
18 nm
100,000 h
470 nm
Blue
250 mW
1000 mA
3.2 V
25 nm
100,000 h
490 nm
Blue
50 mW
350 mA
3.5 V
27 nm
>10,000 h
505 nm
Cyan
170 mW
1000 mA
3.3 V
30 nm
100,000 h
530 nm
Green
100 mW
1000 mA
3.2 V
33 nm
100,000 h
565 nm
Green Yellow
106 mW
1000 mA
3.1 V
104 nm
50,000 h
590 nm
Amber
65 mW
1000 mA
2.2 V
18 nm
100,000 h
617 nm
Orange
210 mW
1000 mA
2.2 V
18 nm
100,000 h
625 nm
Red
240 mW
1000 mA
2.2 V
18 nm
100,000 h
660 nm
Deep Red
210 mW
1200 mA
2.5 V
25 nm
>65,000 h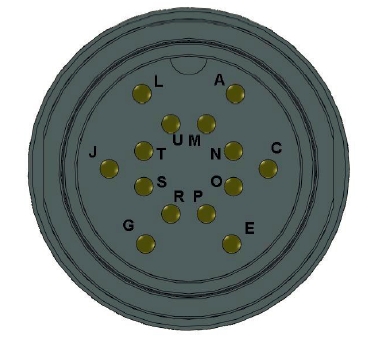 The LED4D has a flying lead terminated in a 14-pin M16 plug that is compatible with the DC4100 and DC4104 4-channel LED drivers. In the table below, LED A, LED B, LED C, and LED D denote each LED included in the source, ordered from shortest to longest wavelength.
| Pin | Description | Comment |
| --- | --- | --- |
| A | LED1 Anode | - |
| C | LED1 Cathode | - |
| E | LED2 Anode | - |
| G | LED3 Anode | - |
| J | LED3 Cathode | - |
| L | LED4 Anode | - |
| M | LED1 1 Wire EEPROM I/O | Do Not Use |
| N | DGNG | Do Not Use |
| O | Not Connected | - |
| P | LED2 Cathode | - |
| R | Not Connected | - |
| S | Not Connected | - |
| T | Not Connected | - |
| U | LED4 Cathode | - |
Liquid Light Guide Adapter Installation
Thorlabs' 4-Wavelength LED Source can be made compatible with our Liquid Light Guides (LLGs) with the addition of the LED4B1 adapter. The animation to the right and the text below detail the installation process.
Remove the SM2-threaded (2.035"-40) output port that comes installed on the 4-wavelength source by unscrewing the four M2.5 screws. Position the LED4B1 over the output of the 4-wavelength source so that the M2.5 counterbores line up with the tapped holes on the LED source housing. Use the M2.5 screws that came with the LED source to fasten the adapter in place.
Screw an SM1-to-LLG adapter (either the AD3LLG or AD5LLG, not included) into the SM1-threaded (1.035"-40) exit port of the LED4D1, and plug your LLG into the adapter. Tighten the setscrew on the side of the SM1-to-LLG adapter using a 0.05" hex key to secure the LLG in place.
Light Emitting Diode (LED) Selection Guide
(Click
Representative
Photo to Enlarge;
Not to Scale)
Wavelength
Unmounted
LEDs
Pigtailed LEDs
LEDs in
SMT Packages
PCB-
Mounted LEDs
Heatsink-
Mounted LEDs
Collimated LEDs for Microscopy
(Item # Prefixa)
Fiber-
Coupled LEDsb
High-Power LEDs for Microsocopy
Multi-Wavelength
LED Source
Optionsc
LED Arrays
Single Color LEDs
250 nm
LED250J
(1 mW Min)
-
-
-
-
-
-
-
-
-
255 nm
LED255W
(0.4 mW)
-
-
-
-
-
-
-
-
-
LED255J
(1 mW Min)
260 nm
LED260W
(1 mW)
-
-
-
-
-
-
-
-
-
LED260J
(1 mW Min)
265 nm
LED265W2
(1.6 mW)
-
-
M265D2
(10 mW Min)
M265L3
(10 mW Min)
-
-
-
-
-
M265D3
(24 mW Min)
275 nm
LED275W
(1.6 mW)
-
-
M275D2
(45 mW Min)
M275L4
(45 mW Min)
-
-
-
-
-
LED275J
(1 mW Min)
M275D3
(47.3 mWd Min)
280 nm
LED280J
(1 mW Min)
-
-
-
-
-
-
-
-
-
LED280W
(2.3 mW)
285 nm
LED285W
(1.6 mW)
-
-
M285D3
(50 mW Min)
M285L5
(50 mW Min)
-
M285F4
(590 µW)
-
-
-
290 nm
LED290W
(1.6 mW)
-
-
-
-
-
-
-
-
-
295 nm
LED295W
(1.2 mW)
-
-
-
-
-
-
-
-
-
300 nm
LED300W
(1.2 mW)
-
-
M300D3
(26 mW Min)
M300L4
(26 mW Min)
-
M300F2
(320 µW)
-
-
-
308 nm
-
-
-
M310D1
(38.5 mW Mind)
M310L1
(38.5 mW Mind)
-
M310F1
(0.51 mWd)
-
-
-
310 nm
LED310W
(1.5 mW)
-
-
-
-
-
-
-
-
-
LED315W
(1 mW)
325 nm
LED325W2
(1.7 mW)
-
-
M325D3
(25 mW Min)
M325L5
(25 mW Min)
-
M325F4
(350 µW)
-
-
-
340 nm
LED340W
(1.7 mW)
-
-
M340D3
(53 mW Min)
M340L4
(53 mW Min)
-
M340F3
(1.06 mW)
-
-
-
LED341W
(0.33 mW)
365 nm
-
-
-
M365D1
(190 mW Min)
M365L2
(190 mW Min)
M365L2
(60 mW)e
M365F1
(4.1 mW)
SOLIS-365C
(3.0 W)f
Chrolis
(1130 mW)
LIU365A
(31 mW)
M365L3
(880 mW Min)
M365D2
(1150 mW Min)
M365LP1
(1350 mW Min)
M365LP1
(350 mW)e
M365FP1
(15.5 mW)
4-Wavelength
Source
(85 mW)
375 nm
LED375L
(1 mW)
-
-
M375D4
(1270 mW Min)
M375L4
(1270 mW Min)
-
M375F2
(4.23 mW)
-
-
-
LED370E
(2.5 mW)
385 nm
LED385L
(5 mW)
-
-
M385D1
(270 mW Min)
M385L2
(270 mW Min)
M385L2
(90 mW)e
M385F1
(10.7 mW)
SOLIS-385C
(5.8 W)f
Chrolis
(1250 mW)
-
M385L3
(1240 mW Min)
M385L3
(450 mW)e
M385D2
(1650 mW Min)
M385LP1
(1650 mW Min)
M385LP1
(520 mW)e
M385FP1
(23.2 mW)
4-Wavelength
Source
(95 mW)
395 nm
LED395L
(6 mW)
-
-
M395D3
(400 mW Min)
M395L4
(400 mW Min)
-
M395F3
(6.8 mW)
-
-
-
M395D4
(1420 mW Min)
M395L5
(1130 mW Min)
M395FP1
(29.8 mW)
M395LP1
(1420 mW Min)
Wavelength
Unmounted
LEDs
Pigtailed LEDs
LEDs in
SMT Packages
PCB-
Mounted LEDs
Heatsink-
Mounted LEDs
Collimated LEDs
for Microscopy
(Item # Prefixa)
Fiber-
Coupled LEDsb
High-Power LEDs
for Microsocopy
Multi-Wavelength
LED Source
Optionsc
LED Arrays
Single Color LEDs
405 nm
LED405L
(6 mW)
-
-
M405D2
(1500 mW Min)
M405L4
(1000 mW Min)
M405L3
(440 mW)e
M405F1
(3.7 mW)
SOLIS-405C
(3.9 W)f
Chrolis
(900 mW)
-
M405L4
(510 mW)g
4-Wavelength
Source
(290 mW)
LED405E
(10 mW)
M405LP1
(1200 mW Min)
M405LP1
(450 mW)e
M405FP1
(24.3 mW)
415 nm
-
-
-
M415D2
(1640 mW Min)
M415L4
(1310 mW Min)
-
M415F3
(21.3 mW)
SOLIS-415C
(5.8 W)f
-
-
M415LP1
(1640 mW Min)
420 nm
-
-
-
-
-
-
-
-
Chrolis
(710 mW)
-
4-Wavelength
Source
(95 mW)
430 nm
LED430L
(8 mW)
-
-
M430D2
(490 mW Min)
M430L4
(490 mW Min)
-
-
-
-
-
445 nm
-
-
-
-
-
-
-
SOLIS-445C
(5.4 W)f
-
-
450 nm
LED450L
(7 mW)
-
LEDS450
(250 mW)
M450D3
(1850 mW Min)
M450LP1
(1850 mW Min)
-
-
-
-
-
455 nm
-
-
-
M455D3
(1150 mW Min)
M455L4
(1150 mW Min)
M455L3
(400 mW)h
M455F3
(24.5 mW)
-
4-Wavelength
Source
(310 mW)
-
M455L4
(490 mW)e
465 nm
LED465E
(20 mW)
-
-
-
-
-
-
-
-
-
470 nm
LED470L
(170 mW)
EP470S04
(18 mW Min)
-
M470D3
(760 mW Min)
M470L4
(760 mW Min)
M470L4
(330 mW)e
M470F3
(21.8 mW)
SOLIS-470C
(3.0 W)f
4-Wavelength
Source
(250 mW)
LIU470A
(253 mW)
EP470S10
(100 mW Min)
475 nm
-
-
-
-
-
-
-
-
Chrolis
(630 mW)
-
490 nm
LED490L
(3 mW)
-
-
M490D3
(205 mW Min)
M490L4
(205 mW Min)
-
M490F3
(3.1 mW)
-
Chrolis
(120 mW)
-
4-Wavelength
Source
(50 mW)
505 nm
LED505L
(4 mW)
-
-
M505D2
(400 mW Min)
M505L4
(400 mW Min)
M505L3
(150 mW)h
M505F3
(11.7 mW)
SOLIS-505C
(1.0 W)f
4-Wavelength
Source
(170 mW)
-
M505D3
(400 mW Min)
M505L4
(170 mW)e
525 nm
LED525E
(2.6 mW Max)
-
-
-
-
-
-
SOLIS-525C
(2.4 W)f
Chrolis
(180 mW)
LIU525A
(111 mW)
LED525L
(4 mW)
LED528EHP
(7 mW)
530 nm
-
-
-
M530D3
(370 mW Min)
M530L4
(370 mW Min)
M530L3
(150 mW)h
M530F2
(9.6 mW)
-
4-Wavelength
Source
(100 mW)
-
M530L4
(160 mW)e
545 nm
LED545L
(2.4 mW CW, 8.7 mW Pulsed)
-
-
-
-
-
-
-
-
-
554 nm
-
-
-
MINTD3
(650 mW Min)
MINTL5
(650 mW Min)
-
MINTF4
(28 mW)
-
-
-
565 nm
-
-
-
M565D2
(880 mW Min)
M565L3
(880 mW Min)
-
M565F3
(13.5 mW)
SOLIS-565C
(3.2 W)f
Chrolis
(350 mW)
-
4-Wavelength
Source
(106 mW)
570 nm
LED570L
(0.3 mW)
-
-
-
-
-
-
-
-
-
590 nm
LED590L
(2 mW)
EP590S04
(3.5 mW Min)
-
M590D3
(230 mW Min)
M590L4
(230 mW Min)
M590L3
(60 mW)e
M590F3
(4.6 mW)
SOLIS-590C
(350 mW)f
Chrolis
(140 mW)
LIU590A
(109 mW)
LED591E
(2 mW)
EP590S10
(18 mW Min)
M590L4
(100 mW)e
4-Wavelength
Source
(65 mW)
595 nm
-
-
-
M595D3
(820 mW Min)
M595L4
(820 mW Min)
-
M595F2
(11.5 mW)
SOLIS-595C
(700 mW)f
-
-
Wavelength
Unmounted
LEDs
Pigtailed LEDs
LEDs in
SMT Packages
PCB-
Mounted LEDs
Heatsink-
Mounted LEDs
Collimated LEDs
for Microscopy
(Item # Prefixa)
Fiber-
Coupled LEDsb
High-Power LEDs
for Microsocopy
Multi-Wavelength
LED Source
Optionsc
LED Arrays
Single Color LEDs
600 nm
LED600L
(3 mW)
-
-
-
-
-
-
-
-
-
610 nm
LED610L
(8 mW)
-
-
-
-
-
-
-
-
-
617 nm
-
-
-
M617D2
(600 mW Min)
M617L3
(600 mW Min)
M617L3
(230 mW)e
M617F2
(13.2 mW)
SOLIS-617C
(1.5 mW)f
4-Wavelength
Source
(210 mW)
-
M617D3
(660 mW Min)
M617L4
(660 mW Min)
M617L4
(280 mW)e
623 nm
-
-
-
-
-
-
-
SOLIS-623C
(3.8 W)f
-
-
625 nm
LED625L
(12 mW)
-
-
M625D3
(700 mW Min)
M625L4
(700 mW Min)
M625L3
(270 mW)e
M625F1
(17.5 mW)
-
Chrolis
(490 mW)
-
M625L4
(490 mW)e
4-Wavelength
Source
(240 mW)
630 nm
LED630L
(16 mW)
-
-
-
-
-
-
-
-
LIU630A
(208 mW)
635 nm
LED631E
(4 mW)
-
-
-
-
-
-
-
-
-
LED635L


(170 mW)

639 nm
LED630E
(7.2 mW)
-
-
-
-
-
-
-
-
-
645 nm
LED645L
(16 mW)
-
-
-
-
-
-
-
-
-
660 nm
LED660L
(13 mW)
-
-
M660D2
(940 mW Min)
M660L4
(940 mW Min)
M660L4
(400 mW)e
M660F1
(15.5 mW)
SOLIS-660C
(2.0 W)f
4-Wavelength
Source
(210 mW)
-
670 nm
LED670L
(12 mW)
-
-
-
-
-
-
-
-
-
680 nm
LED680L
(8 mW)
-
-
M680D2
(180 mW Min)
M680L4
(180 mW Min)
-
M680F3
(2.7 mW)
-
-
-
700 nm
-
EP700S04
(5 mW Min)
-
M700D2
(80 mW Min)
M700L4
(80 mW Min)
-
M700F3
(1.7 mW)
-
-
-
EP700S10
(30 mW Min)
730 nm
-
-
-
M730D3
(540 mW Min)
M730L5
(540 mW Min)
-
-
-
-
-
740 nm
-
-
-
-
-
-
M740F2
(6.0 mW)
SOLIS-740C
(2.0 W)f
-
-
750 nm
LED750L
(18 mW)
-
-
-
-
-
-
-
-
-
760 nm
LED760L
(24 mW)
-
-
-
-
-
-
-
-
-
770 nm
LED770L
(22 mW)
-
-
-
-
-
-
-
-
-
780 nm
LED780E
(18 mW)
-
-
M780D2
(200 mW Min)
M780L3
(200 mW Min)
M780L3
(130 mW)e
M780F2
(7.5 mW)
-
Chrolis
(40 mW)
LIU780A
(315 mW)
LED780L
(22 mW)
M780D3
(800 mW Min)
M780LP1
(800 mW Min)
800 nm
LED800L
(20 mW)
-
-
-
-
-
-
-
-
-
810 nm
LED810L
(22 mW)
EP810S04
(16 mW Min)
-
M810D2
(325 mW Min)
M810L3
(325 mW Min)
M810L3
(210 mW)e
M810F2
(6.5 mW)
-
-
-
EP810S10
(90 mW Min)
M810D3
(363 mW Min)
M810L4
(363 mW Min)
830 nm
LED830L
(22 mW)
-
-
-
-
-
-
-
-
-
840 nm
LED840L
(22 mW)
-
-
-
-
-
-
-
-
-
850 nm
LED851L
(13 mW)
-
-
M850D2
(900 mW Min)
M850L3
(900 mW Min)
M850L3
(330 mW)e
M850F3
(8.6 mW Min)d
SOLIS-850C
(2.7 W)f
-
LIU850A
(322 mW)
M850D3
(1400 mW)
M850LP1
(1400 mW Min)
870 nm
LED870E
(22 mW)
-
-
-
-
-
-
-
-
-
LED870L
(24 mW)
880 nm
-
-
-
M880D2
(300 mW Min)
M880L3
(300 mW Min)
-
M880F2
(3.4 mW)
-
-
-
890 nm
LED890L
(12 mW)
-
-
-
-
-
-
-
-
-
910 nm
LED910L
(10 mW)
-
-
-
-
-
-
-
-
-
LED910E
(12 mW)
930 nm
LED930L
(15 mW)
-
-
-
-
-
-
-
-
-
940 nm
LED940E
(18 mW)
-
-
M940D2
(800 mW Min)
M940L3
(800 mW Min)
M940L3
(320 mW)e
M940F3
(14.2 mW)
SOLIS-940C
(2.5 W)f
-
-
970 nm
LED970L
(5 mW)
-
-
M970D3
(600 mW Min)
M970L4
(600 mW Min)
-
M970F3
(8.1 mW)
-
-
-
Wavelength
Unmounted
LEDs
Pigtailed LEDs
LEDs in
SMT Packages
PCB-
Mounted LEDs
Heatsink-
Mounted LEDs
Collimated LEDs
for Microscopy
(Item # Prefixa)
Fiber-
Coupled LEDsb
High-Power LEDs
for Microsocopy
Multi-Wavelength
LED Source
Optionsc
LED Arrays
Single Color LEDs
1050 nm
LED1050E
(2.5 mW)
-
-
M1050D1
(50 mW Min)
M1050L2
(50 mW Min)
-
-
-
-
-
LED1050L
(4 mW)
M1050D3
(160 mW Min)
M1050L4
(160 mW Min)
M1050F3
(3 mW)
1070 nm
LED1070L
(4 mW)
-
-
-
-
-
-
-
-
-
LED1070E
(7.5 mW)
1085 nm
LED1085L
(5 mW)
-
-
-
-
-
-
-
-
-
1100 nm
-
-
-
M1100D1
(168 mWd Min)
M1100L1
(168 mWd Min)
M1100F1
(5.4 mWd)
1200 nm
LED1200E
(2.5 mW)
-
-
M1200D2
(30 mW Min)
M1200L3
(30 mW Min)
-
-
-
-
-
LED1200L
(5 mW)
1300 nm
LED1300E
(2 mW)
-
-
M1300D2
(25 mW Min)
M1300L3
(25 mW Min)
-
-
-
-
-
LED1300L
(3.5 mW)
1450 nm
LED1450E
(2 mW)
-
-
M1450D2
(31 mW Min)
M1450L3
(31 mW Min)
-
-
-
-
-
LED1450L
(5 mW)
1550 nm
LED1550E
(2 mW)
-
-
M1550D2
(31 mW Min)
M1550L3
(31 mW Min)
-
-
-
-
-
LED1550L
(4 mW)
1600 nm
LED1600L
(2 mW)
-
-
-
-
-
-
-
-
-
1650 nm
LED1600P
(1.2 mW)
-
-
M1650D2
(13 mW Min)
M1650L4
(13 mW Min)
-
-
-
-
-
1750 nm
LED1700P
(1.2 mW
Quasi-CW,
30 mW Pulsed)
-
-
-
-
-
-
-
-
-
1850 nm
LED1800P
(0.9 mW
Quasi-CW,
20 mW Pulsed)
-
-
-
-
-
-
-
-
-
1950 nm
LED1900P
(1.0 mW
Quasi-CW,
25 mW Pulsed)
-
-
-
-
-
-
-
-
-
2050 nm
LED2050P
(1.1 mW
Quasi-CW,
28 mW Pulsed)
-
-
-
-
-
-
-
-
-
2350 nm
LED2350P
(0.8 mW
Quasi-CW,
16 mW Pulsed)
-
-
-
-
-
-
-
-
-
2700 nm
LED2700W
(0.15 mW
Quasi-CW,
1.0 mW
Pulsed)
-
-
-
-
-
-
-
-
-
2800 nm
LED2800W
(0.3 mW
Quasi-CW,
2.0 mW
Pulsed)
-
-
-
-
-
-
-
-
-
3400 nm
LED3400W
(0.3 mW
Quasi-CW,
2.0 mW
Pulsed)
-
-
-
-
-
-
-
-
-
3800 nm
LED3800W
(0.18 mW
Quasi-CW,
1.5 mW
Pulsed)
-
-
-
-
-
-
-
-
-
4200 nm
LED4300P
(0.03 mW
Quasi-CW,
0.2 mW Pulsed)
-
-
-
-
-
-
-
-
-
4300 nm
LED4300W
(0.18 mW
Quasi-CW,
1.5 mW
Pulsed)
-
-
-
-
-
-
-
-
-
4500 nm
LED4600P
(0.006 mW
Quasi-CW,
0.12 mW Pulsed)
-
-
-
-
-
-
-
-
-
Wavelength
Unmounted
LEDs
Pigtailed LEDs
LEDs in
SMT Packages
PCB-
Mounted LEDs
Heatsink-
Mounted LEDs
Collimated LEDs
for Microscopy
(Item # Prefixa)
Fiber-
Coupled LEDsb
High-Power LEDs
for Microsocopy
Multi-Wavelength
LED Source
Optionsc
LED Arrays
Multi-Color, Broadband, and White LEDs
455 nm (12.5%i) and 640 nm
-
-
-
MPRP1D2
(275 mW Min)
MPRP1L4
(275 mW Min)
-
-
-
-
-
572 nm
and 625 nm
LEDGR
(0.09 mW
and 0.19 mW)
-
-
-
-
-
-
-
-
-
588 nm and 617 nm
LEDRY
(0.09 mW
and 0.19 mW)
-
-
-
-
-
-
-
-
-
467.5 nm,
525 nm,
and 627.5 nm
LEDRGBE
(5.8 mW,
6.2 mW,
and 3.1 mW)
-
-
-
-
-
-
-
-
-
430 - 660 nm
(White)
LEDWE-15


(13 mW)

-
-
-
-
-
-
-
-
-
LEDW7E
(15.0 mW)
LEDW25E
(15.0 mW)
6500 K
(Cold White)
-
-
-
MCWHD5
(930 mW Min)
MCWHL7
(930 mW Min)
-
-
SOLIS-1C
(3.3 W)f
-
-
MCWHD4
(990 mW Min)
MCWHL6
(990 mW Min)
MCWHL5
(340 mW)h
MCWHD3
(2350 mW Min)
MCWHLP1
(2350 mW Min)
MCWHL6
(354 mW)e

6200 K
(Cold White)
-
-
-
-
-
-
MCWHF2
(27.0 mW)
-
-
-
5000 K
(Cold White)
-
-
LEDSW50
(110 mW)
-
-
-
-
-
-
-
4600 - 9000 K
(Cold White)
-
-
-
-
-
-
-
-
-
LIUCWHA


(250 mW)

4000 K
(Warm White)
-
-
LEDSW40
(115 mW)
-
-
-
MWWHF2
(23.1 mW)
-
-

-

3000 K
(Warm White)
-
-
LEDSW30
(100 mW)
MWWHD3
(2000 mW Min)
MWWHL4
(570 mW Min)
-
-
SOLIS-2C
(3.2 W)f
-
-
MWWHLP1
(2000 mW Min)
5700 K
(Day Light White)
-
-
-
-
-
-
-
SOLIS-3C
(3.5 W)
-
-
470 - 850 nm
(Broadband)
-
-
-
MBB1D1
(70 mW Min)
MBB1L3
(70 mW Min)
-
MBB1F1
(1.2 mW)
-
-
-
770 nm, 860 nm, & 940 nm
(Broadband)
-
-
-
MBB2D1
(740 mWd Min)
MBB2L1
(650 mWd Min)
-
-
-
-
-
MBB2LP1
(740 mWd Min)