Features
Fabricate Splices, Tapers, Terminations, Couplers, and Combiners
Automated XY and Rotation Alignment
Diamond Cleave Blade Integrated into Splice Head
Real Time Hot Imaging of Fibers During Splicing or Tapering
Compatible with Single Mode, Multimode, Polarization-Maintaining, and Specialty Fibers
(See Applications Tab for Examples)
Create Low-Loss (~0.02 dB) Splices in Standard Glass Fibers (See Specs Tab for Details)
Measure Fiber Circularity, Centroid, and Core Eccentricity Using End-View Imaging
Software with Process Development GUI and Splice Process Library (See Software Tab for Details)
Build Your System
Glass Processor Workstation for Fibers with Claddings up to Ø1.25 mm (GPX3800) or
up to Ø1.7 mm (GPX3850)
Choose from Six Graphite and Three Iridium Filament Assemblies (One FTAV4 Graphite Filament Pre-Installed in System)
Choose Top and Bottom Inserts (Two Top Inserts and Two Bottom Inserts Required; See Fiber Holder Insert Tab for More Information)
Optional Multi-Fiber Holder Bottom Inserts for Making Couplers or Combiners
Optional Fluorine-Doped Capillary Tubes (For Making Specialty Couplers or Combiners)
Optional Liquid Cooling System for Tapering Applications (One Included with the GPX3850)
Optional Fiber Taper Software and Handling Fixtures
Optional Fiber Combiner Loading Fixture
Optional Ultrasonic Cleaner for Preparing Fibers Prior to Splicing
Optional Mountable Gooseneck Light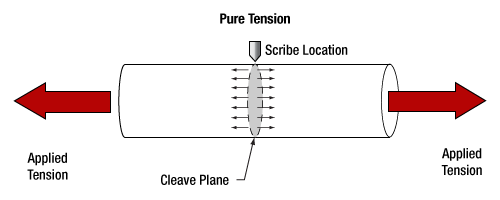 Click to Enlarge
An illustration of the tension-and-scribe method as used by the GPX3800 and GPX3850 to produce a flat cleave. Tension is applied along the optical axis of the fiber prior to cleaving. A diamond blade then scribes the fiber, and the tension causes the scribe to propagate across the fiber in a plane that is orthogonal to the direction of the tension.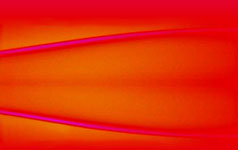 Click to Enlarge
False Color Temperature Overlay During Taper Draw Process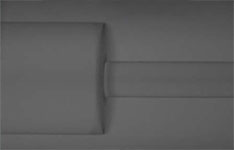 Click to Enlarge

Real-Time Image of Fiber Splice Process Using Hot Camera Imaging
Thorlabs' Vytran® Optical Fiber Glass Processors are versatile platforms designed for fabricating splices, tapers, couplers, terminations, and combiners using optical fibers. The glass processors sold on this page feature a patented precision cleaver integrated into the splice head (US Patent: 9,977,189) and real-time process monitoring via the hot imaging camera, as well as automated pre-splice alignment for the XY position of the fiber edge and rotational orientation of the fiber core. This combination of features allows users to cleave and splice polarization-maintaining fibers and specialty fibers with microstructured cores on a single station, while maintaining the capability to fabricate fiber tapers and terminations in a wide variety of fiber types. The GPX3800 glass processor is compatible with fibers up to Ø1.25 mm cladding while the higher power GPX3850 can process fibers up to Ø1.7 mm cladding.
These glass processors incorporate a filament-based furnace assembly that provides a uniform and precisely controlled, high-temperature heat source. Because filament material and size can be interchanged easily (9 different filament options are available below), a wide range of fiber cladding diameters and specialty fiber types can be accommodated using the same system. Precise control over fiber position and orientation enables a number of advanced fiber processing applications from low-loss splicing in dissimilar fibers to the creation of adiabatic fiber tapers, fiber terminations, or fused fiber couplers (please see the Applications tab for examples).
The fiber cleaver integrated into the splice head uses the same "tension-and-scribe" process as the LDC401 Series Fiber Cleavers and is compatible with fiber cladding diameters up to 400 µm. As seen in the image to the right, tension is applied along the length of the fiber followed by an automatic scribing process utilizing a diamond cleave blade. After the blade scribes the fiber, tension is maintained, causing the scribe to propagate across the fiber width and complete the cleave.
True Core Imaging® and Hot Image Camera
These fiber processing systems employ True Core Imaging technology to provide high-resolution images for fiber measurement and alignment. A digital CCD camera and mirror tower are integrated into the fiber processing workstation to allow for clear side-view and end-view images of the fiber core and cladding. This imaging feature allows for automated measurement of fiber properties (core/cladding diameters, cleave angle, etc.), provides feedback for the automated alignment system, and enables calculation of an accurate splice loss for splices with similar or dissimilar fiber types. The VHB00 or VHB05 top insert (sold below) is required in order to use automated end-view alignment.
Through ND filters integrated into the camera system, users can obtain real-time images of fibers during the splicing/tapering process (see the images to the right). This advanced imaging feature provides instant feedback on splice/taper quality, allowing users to quickly develop processes and optimize parameters for their application.
Options and Accessories
A complete glass processor requires the purchase of a glass processor workstation (choose one below), two top inserts (sold separately below), two bottom inserts (sold separately below), and a >99.999% purity argon gas tank (not available from Thorlabs). An FTAV4 Graphite Filament (for Ø125 - Ø600 µm cladding) is included with each glass processor; additional filaments made from different materials or for other fiber cladding diameters are sold separately below. An ultrasonic cleaner for preparing fibers for splicing can be purchased separately below.
Several optional add-ons are available for these systems to enable specialized applications. The GPXWCS Liquid Cooling System helps cool the furnace assembly when the filaments are used for extended heating times and is recommended for customers interested in creating long fiber tapers. It comes included with the high-power GPX3850 and can be purchased as an add-on for the GPX3800. Multi-fiber holder bottom inserts are used when fabricating couplers or combiners and are designed to hold two or three fibers in close proximity during heating. Thorlabs also offers a Fiber Taper Software Add-On and Taper Handling Fixtures (sold below), which include software application files and fixture upgrades that enable high repeatability when fabricating and handling microtapers, nanotapers, fused fiber couplers, or wavelength division multiplexers. The software add-on and fixtures can be purchased separately or together as a kit. We also offer the GPXCFXL Fixture that supports the positioning of fiber bundles during combiner fabrication. The GPXL1 Gooseneck Light is available for end-view illumination of the fiber or for general lighting during alignment. It can be mounted to the left or right side of the workstation.
Replacement blades for the fiber cleavers in the glass processing workstations are also available below.

Item #
GPX3800
GPX3850
Splicing Specifications
Fiber Types (Non PM)
Single Mode, Multimode, Photonic Crystal, Large Mode Area, Non-Circulara
Fiber Types (PM)
Panda, Elliptical, Bow-Tiea
Fiber Cladding Diameter
Up to 1.25 mm (Max)
Up to 1.7 mm (Max)
Fusion Method
Filament Fusion
Filament Temperature Range
Room Temperature to 3000 °C
Splice Loss
0.02 dB (Typical)b
Splice Loss Estimation
True Core Imaging® Technology
Splice Strength
>250 kpsi (Typical)c
Strength Enhancement
Fire Polish
Polarization Cross Talk
Panda: >35 dB
Other Fiber Types: >30 dB
Fiber Inspection
Fiber Side Viewing
True Core Imaging Technology
Fiber End Viewing
Facet Inspection and PM Core Alignment
(VHB00 or VHB05 Top Insert Required)
Core / Cladding / Fiber Diameter
Automated Measurement
End Face Inspection
Inspection via GUI Display
Cleave Angle
Automated Measurement
Fiber and End Face Alignment
Fiber Z-Axis Movement
180 mm (Max)
Z-Axis Movement Resolution
0.25 µm via Stepper Motor
XY Axis Fiber Positioning Resolution
0.02 µm via Stepper Motor
Rotation Alignment
Fully Automated End-View Alignment for Panda, Bow Tie, Elliptical-Core Fibers
External Extinction Ratio Feedback for Automatic Alignment of PM Fiber Types
Rotation Drive Resolution
0.02°
Rotation Travel
200°
Tapering
Tapering Length
~2 mmd (Min); Up to 150 mmd (Max)
Tapering Ratio (Max)
Adiabatic Tapers up to 1:10 (Ratios Up to 1:100 Possible)
Tapering Speed
1 mm/s (Typical)e
Adiabatic Tapering Loss
<0.01 dB (Typical)
Computer and Software
PC Computer
Included
Splice Files
Built-In Library for Common Fibers and Processes
Physical
Size
16.0" x 12.5" x 6.3" (410 mm x 320 mm x 160 mm)
Weight
45 lbs (20 kg)
External Power Supply
Universal Input: 96 - 260 VAC, 47 - 63 Hz, Single Phase
Glass Processor Input: 12 V and 48 V DC, 10 A
PC Input: 115 or 230 VAC, 47 - 63 Hz, Single Phase
Gas Supply
Argon, >99.999% Purity at 12 psig (Not Included)
Environmental
Operating Temperature
15 to 40 °C
Altitude Range
0 to 2000 m Above Sea Level
Operating Humidity
0 to 75% Relative Humidity (Non-Condensing)
Storage Temperature
-20 to 60 °C
Storage Humidity
0 to 90% Relative Humidity (Non-Condensing)
Fiber Holder Inserts Selection Guide (Top Inserts and Standard or Transfer Bottom Inserts)
Fiber Holder Inserts, which are designed to hold various sized fibers within the glass processors, must be purchased separately. Standard and transfer bottom inserts have V-grooves to hold the fiber, while the top inserts each feature a recessed, flat surface that clamps the fiber against the V-groove in the bottom insert. Each top and bottom insert is sold individually, as the fiber outer diameter clamped by the left and right holding blocks may not be the same. At least two top inserts and two bottom inserts are required to operate the glass processor. For multi-fiber inserts, which are used to make fused couplers or combiners, the recommended top inserts are listed in the multi-fiber insert table.
The table below indicates the maximum and minimum outer diameters that can be accommodated by different combinations of top and bottom inserts. It also indicates how far offset the fiber will be for recommended combinations of top and bottom inserts. Note that this outer diameter may be the fiber cladding, jacket, or buffer. If one side of the fiber is being discarded, it is preferable to clamp onto the cladding of this section except in special cases (such as non-circular fiber) where the coating or buffer may be preferable. Sections of fiber that are not being discarded should always be clamped on the coating or buffer in order to avoid damaging the glass. This may require different sets of fiber holder inserts to be used in the left and right holding blocks. In this case, it is important to minimize the difference in the offsets introduced by the left and right sets of inserts when attempting to produce high-quality splices.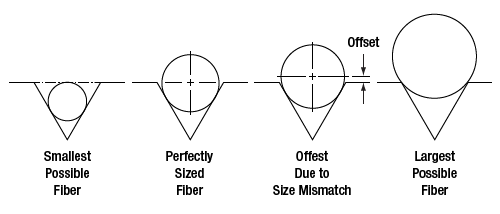 Each V-groove can accommodate a range of fiber sizes.
Legend
Best Fit
Second Best Fit: Try these options if the best fit does not incorporate your fiber sizes.
Third Best Fit: Try these options if the other two categories do not incorporate your fiber sizes.
Fiber Insert Selection Chart
First, select the bottom insert that matches your fiber size most closely.
Example: For a Ø800 µm fiber, the VHF750 insert is the closest match, since it is only 50 µm smaller.
On the chart below, look to the right of your chosen bottom insert. Select a compatible top insert based on the accepted diameter size range shown in each cell.
Example: For the Ø800 µm example fiber from step 1, the green cell is in the 750 µm groove column for the VHA05 top insert, which has two grooves. The numbers listed in the green cell indicate that this combination of inserts is good for fibers from 728 to 963 µm in diameter. Our Ø800 µm fiber is within this range, so this is a good choice. There are several other options as well that will accommodate a Ø800 µm fiber as well, but the green shading in the chart indicates that the 750 µm groove in the VHA05 provides the best fit.
The second line of numbers in each cell shows the range of offsets that can be expected for any given combination of top and bottom inserts. When selecting inserts for the right and left fiber holding blocks, try to minimize the offsets between the pairs of inserts on each side.
Example: If we choose a VHF750 bottom insert and the Ø750 µm groove in the VHA05 top insert, we can use fiber as small as 728 µm, in which case the center of the fiber would sit 23 µm below the surface of the bottom insert. We could also clamp a fiber as large as 963 µm, in which case the center of the fiber would sit 213 µm above the surface of the bottom insert. We could interpolate to find the offset experienced by our hypothetical 800 µm fiber, but it turns out that in a 60° V-groove, the offset is equal to the outer diameter difference. So in our example, that means that the center of our fiber is going to sit 50 µm above the bottom insert surface, since it is 50 µm larger than the fiber that the bottom insert was designed for (800 - 750 = 50).
Holding blocks designed for fibers less than Ø1000 µm have vacuum holes, designed to aid in aligning small fiber within the groove, while bottom inserts for fibers of Ø1000 µm or larger do not have these holes. The glass processors have a vacuum pump that provides a small holding force via these holes, keeping small fibers in place as the clamps are lowered. Inserts with vacuum holes are indicated by a superscript "d" in the table below.
Top Insert Item #
VHA00a
VHB00b
VHA00a
VHA05c
VHB05b
VHA10c
VHA15c
VHA20c
VHA25
VHA30
Accepted Diameter (Nominal)
≤320 µm
400 µm
500 µm
750 µm
1000 µm
1250 µm
1500 µm
1750 µm
2000 µm
2250 µm
2500 µm
3000 µm
Bottom
Insert
Item #
Accepted
Diameter
(Nominal)
Min / Max Accepted Diameter (µm)
Min / Max Fiber Offset (µm)
VHF160d,e
160 µm
112 / 208
-49 / 48
-
-
-
-
-
-
-
-
-
-
-

VHF250

d,e

250 µm
177 / 320
-73 / 69
275 / 323
23 / 74
-
-
-
-
-
-
-
-
-
-
VHF400d,e

400 µm
279 / 519
-122 / 119
377 / 517
-23 / 117
410 / 519
-9 / 119
-
-
-
-
-
-
-
-
-
VHF500d,e

500 µm
346 / 592
-153 / 93
447 / 647
-53 / 147
476 / 711
-24 / 211
560 / 795
61 / 296
-
-
-
-
-
-
-
-
VHF750d,e

750 µm
516 / 759
-234 / 9
617 / 970
-132 / 221
643 / 878
-107

/

128
728 / 963
-23 / 213
812 / 1047
62 / 297
-
-
-
-
-
-
-
VHE10c
1000 µm
-
-
773

/

1008
-172 / 63
858 / 1093
-88 / 147
943 / 1178
-3 / 232
1036 / 1271
90 / 325
-
-
-
-
-
-
1250 µm
-
-
-
1034

/

1269
-176 / 59
1119 / 1354
-91 / 144
1212 / 1447
2 / 237
1288

/

1523
78 / 313
-
-
-
-
-
VHE15c
1500 µm
-
-
-
-
1280

/

1515
-172 / 63
1373 / 1608
-79 / 156
1449 / 1684
-2 / 233
1534

/

1769
82 / 314
-
-
-
-
1750 µm
-
-
-
-
-
1534 / 1770
-159 / 76
1611 / 1846
-83 / 152
1695 / 1930
2 / 237
1772

/

2007
78 / 313
-
-
-
VHE20c
2000 µm
-
-
-
-
-
-
1787 / 2022
-171 / 64
1871 / 2106
-86 / 149
1947 / 2183
-10 / 225
2032

/

2267
74 / 309
-
-
2250 µm
-
-
-
-
-
-
-
2033 / 2268
-167 / 68
2109 / 2344
-91 / 144
2193 / 2429
-6 / 229
2278

/

2513
78 / 313
-
VHE25
2500 µm
-
-
-
-
-
-
-
-
2270 / 2505
-172 / 64
2355 / 2590
-87 / 148
2439 / 2675
-2 / 233
2609

/

2844
167 / 402
VHE30
3000 µm
-
-
-
-
-
-
-
-
-
2692 / 2944
-256 / -4
2777 / 3029
-171 / 81
2946 / 3198
-2 / 250
Included Splice Files

FTAV2 (V2) Filament Burn-In and Normalization
Ø125 µm Single Mode Fiber Splice
Ø125 µm Polarization-Maintaining Fiber Splice
FTAV4 (V4) Filament Burn-In and Normalization
Ø400 µm Fiber Splice
Ø400 µm to Ø200 µm Taper
Each glass processor workstation is shipped with a PC and monitor pre-installed with the GUI software for operating the glass processor. An abbreviated library of splice process files, listed to the right, is included for common splicing and tapering procedures. The GUI and splice library software enables users to create their own splice files for new processes or to customize existing files as necessary. Additionally, an add-on software package is available that includes application files for specialized applications that can be purchased separately below. Please contact Tech Support for inquiries regarding your specific application.
The sections below illustrate several fiber splicing and tapering applications that can be programmed through the software GUI.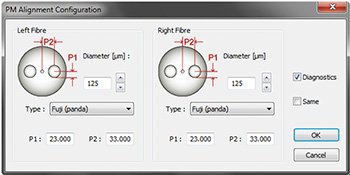 Click to Enlarge

Figure 1.
Screenshot of PM Fiber Alignment Configuration Window
End-View Alignment
End-view alignment is used for polarization-maintaining fibers such as elliptical-core fiber (PM or PZ), panda or bow-tie polarization-maintaining fiber, or a hybrid splice between any of these. These types of fiber require a rotation alignment in addition to the XY alignment to align the stress regions within the cladding region.
The end-view alignment process is initiated by pulling the fibers back so that an end-view mirror can be inserted between two fiber end faces. An LED illuminates the fiber cladding, allowing the software to image the fiber end. Then, the image of the fiber end face is displayed and used to automatically align the cores of the two fibers. PM alignment parameters can be set for each fiber type as shown Figure 1 to the right. This window consists of four parameters: diameter (fiber cladding), fiber type, and two PM geometry parameters for both the left and right fiber. If these parameters are not known, it is possible to directly measure them using the displayed image of the fiber end face.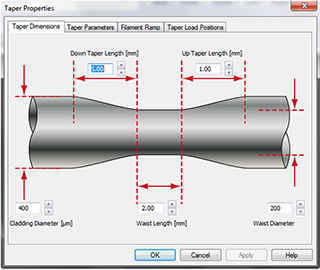 Click to Enlarge

Figure 2.
Screenshot of Taper Geometry Customization Window
Fiber Taper Customization
Users can define the geometry of fiber tapers using the Taper Properties menu, shown in Figure 2 to the left.
During the tapering process, three different regions are created. Initially, the fiber is elongated and tapered under constant heating creating the "down taper" region where the fiber diameter is decreasing. Once the fiber has been tapered down to a desired diameter, a constant rate of elongation is applied so that there is a region with a reduced, but constant diameter, known as the "waist" of the fiber. Finally, the pulling force on the fiber is reduced until finally it is no longer elongating, creating the "up taper." The filament temperature and pull velocities are controlled to achieve the desired geometry of the fiber.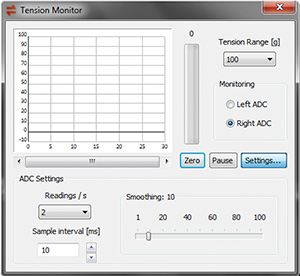 Click to Enlarge

Figure 3.
Screenshot of Tension Monitor and Control System
Tension Monitor and Control
The Tension Monitoring System (shown in Figure 3 to the right) is included with all Vytran® glass processors to provide feedback during a tapering process. Users can then pre-load a tension to the fiber before heating the fiber to begin the tapering process and also use the tension feedback to modify the taper process parameters as necessary.
As an example, a standard 400 to 200 µm taper should be pre-tensioned to approximately 20 g. The desired pre-tension is applied by pulling the fiber in fine steps using one of the fiber holding blocks. Feedback loops can be set during the taper process to monitor the tension in the fiber. For example, if the tension drops to 0 or negative values, the heating should be decreased because the glass has been softened too much. Conversely, if the tension increases beyond a given set point, heating should be increased because the fiber has not been sufficiently softened.
Thorlabs' Vytran® Optical Fiber Glass Processors are versatile, fully integrated glass processing and fiber splicing platforms for fabricating splices, tapers, and custom terminations with high precision and low loss. Featuring a comprehensive applications library, these processes can be performed for many different fiber sizes and types. Examples of a few fiber splicing/processing applications are listed in the sections below and highlighted in the video to the right.
---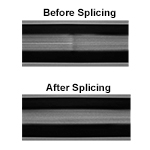 Click to Enlarge

Two fibers with dissimilar cores before and after splicing. The dissimilar cores are clearly visible before the cores are thermally expanded.
Filament Fusion
Fusion Splicing is a process of joining two optical fibers end-to-end using heat. The goal is to fuse the two fibers together in such a way that light passing through the fibers is not scattered or reflected by the splice while ensuring that the splice and the region surrounding it should be almost as strong as the original fiber. The glass processors use a resistive graphite or iridium filament shaped like an upside-down omega to provide the heat necessary for fusion.
Once the two fibers to be spliced are aligned, the splice head is repositioned so that the filament is centered under the fiber ends. Power is then applied to the filament to raise its temperature to a level hot enough to fuse the fibers together, typically about 3000 °C. Because the filament would oxidize if it were brought to such a high temperature in air, high-purity argon gas is used to purge the splicing chamber of oxygen during the filament fusion process. In order to keep the fibers clean and improve splice strength, the purging gas (not available from Thorlabs) is set to flow over the fibers at a high rate during the fusion process.
Mode Adapters and NA Converters
In many applications, large-mode-area gain fibers may need to be coupled to fibers with a non-matching mode field diameter or NA. Glass processors can help optimize coupling between dissimilar fibers by altering the mode field diameter or NA of one fiber to match the other. This is accomplished by applying heat prior to splicing and/or to physically taper the fibers to change the core diameter. In the example shown to the right, two fibers (single mode fiber and Ø20 µm large-mode-area fiber) have dissimilar core sizes. In the lower image, the small cored fiber has been thermally expanded by diffusing the core dopants and then spliced together.
---
Fiber Processing Applications

Click to Enlarge

Ø20 µm core, Ø400 µm cladding large-mode-area (LMA) fiber tapered to Ø125 µm cladding.
Tapering and Drawing
All Vytran glass processor configurations are capable of tapering (altering the cross-sectional diameter) or drawing out (increasing the length) of a fiber. This is accomplished by using the filament furnace to heat the fiber to its softening point and then applying a tensile force to elongate the fiber, reducing the cross section of the fiber. The fiber holders provide up to 180 mm of z-axis travel, enabling the fabrication of long tapers up to 150 mm in length. This process can be programmed through the GUI by entering the physical characteristics of the desired taper into a taper interface menu (see the Software tab for details). The software GUI also includes a tension monitor and control function, which can accurately monitor drawing conditions during tapering.
Fiber Terminations
These glass processing systems, which have an integrated platform that combines precise fiber positioning, control over the filament fusion process, and long tapering/drawing lengths, are ideal for adding or fabricating complex terminations to the ends of bare fibers. Examples of developed terminations include ball lenses, fiber catheters, and fiber probes.
End caps are large-core-diameter, short-length fibers used to diffuse the beam intensity of high-power fibers to prevent damage to fiber end faces. Glass processors are well suited for fusing large-core-silica end caps to the ends of power beam delivery fibers. We recommend using an LDC401 or LDC401A Fiber Cleaver to fabricate end caps with precise lengths.
Couplers and Combiners
Glass processors can fuse fibers side-by-side or into bundle configurations; this process is critical for fabricating fused fiber couplers and pump or output combiners. Through precise control of heating and tapering conditions and using multi-fiber holding block inserts, the operator is able to develop application-specific coupler and combiner solutions that feature very low loss.


Click to Enlarge

Two single mode fibers tapered and fused together for 50/50 coupling in a glass processor. Spacing between the fiber cores is approximately 15 to 20 µm.

Product Demonstrations
Thorlabs has demonstration facilitates for the Vytran® fiber glass processing systems offered on this page within our Morganville, New Jersey and Shanghai, China offices. We invite you to schedule a visit to see these products in operation and to discuss the various options with a fiber processing specialist. Please schedule a demonstration at one of our locations below by contacting technical support. We welcome the opportunity for personal interaction during your visit!
Thorlabs China
Shanghai, China
Room A101, No.100, Lane 2891, South Qilianshan Road
Shanghai 200331
China
Appointment Scheduling and Customer Support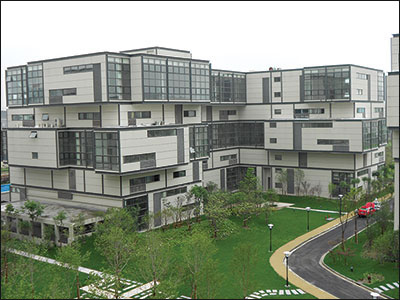 Click to Enlarge
Thorlabs Vytran USA
Morganville, New Jersey, USA
1400 Campus Dr
Morganville, NJ 07751
USA
Appointment Scheduling and Customer Support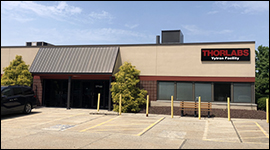 Click to Enlarge
Vytran® Optical Fiber Glass Processor Selection Guide
Item #
GPX3400
GPX3600
GPX3800
GPX3850
GPX4000LZ
Fiber Cladding Diameter
80 µm to 1000 µm
-
Up to 1.25 mm
-
Up to 1.7 mm
-
-
a
250 µm to 2 mm
-
-
-
-
b
250 µm to 5 mm
-
-
-
-
c
Fiber Type
Multimode
Single Mode
Double Clad
Polarization Maintaining
Automated Measurement and Alignment
End-View Illumination and Imagingb
Tension Monitor and Control System
Integrated Fiber Cleaver
-
-
-
Real-Time Hot Image Monitoring
-
-
Liquid Cooling System
Optional Add-On
Optional Add-On
Optional Add-On
Fused Taper Software Enhancement and Handling Fixtures

Optional Add-On

-

Fiber Combiner Loading Fixture

Optional Add-On

-