Multimode Fiber and Patch Cables with Lensed Tips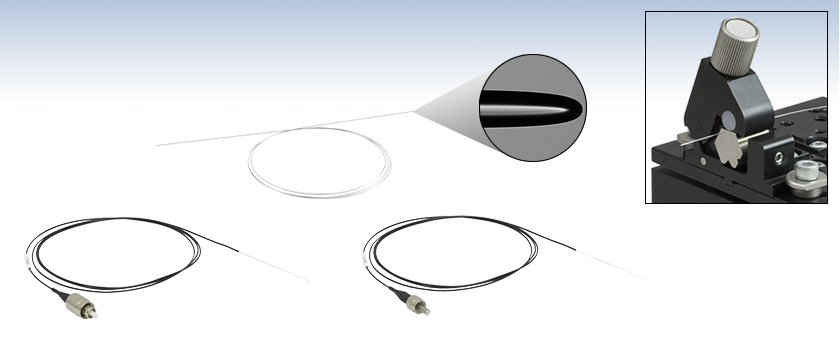 Graded-Index Multimode Fiber with Lensed Tip
Focuses to Ø25 µm Spot at 30 µm Working Distance
Available as Bare Fiber or Patch Cable
Custom Versions Available
LFM100
Lensed Tip
Scissor Cut
Application Idea
LFM100 Lensed Fiber Mounted in a MBT616D 3-Axis Stage and HFF001 Fiber Clamp for Use in a Fiber Coupling Application
FC/PC Connector
SMA Connector
LFM1F-1
LFM1S-1

Please Wait
Key Specificationsa
Fiber Typeb
GIF50E
Wavelength Range
800 - 1600 nm
Focused Spot Size
Ø25 µm (Typ.)
Working Distance
30 µm (Typ.)
GIF50E Fiber Specificationsc
Numerical Aperture
0.200 ± 0.015
Core Diameter
50.0 ± 2.5 µm
Cladding Diameter
125.0 ± 1.0 µm
Coating Diameter
242 ± 5 µm
Please see the Specs tab for complete specifications.
Lensed fiber can be requested for other fiber types; please contact Tech Support with inquiries.
Specified for GIF50E Fiber Not Including the Lensed Tip


Click to Enlarge

Comparison of Beam Output for Flat-Cleaved Tip and Lensed Tip
Features
GIF50E Graded-Index Multimode Fiber with Lensed Tip
Focus Light to Ø25 µm Spot at 30 µm Working Distance
Available as Bare Fiber or Patch Cable
Patch Cables are FC/PC (2.0 mm Narrow Key) or SMA Terminated on One End
Useful for Waveguide and Photodiode Coupling Applications
Manufactured Using Vytran® Fiber Processing Technology
Thorlabs' Multimode Lensed Fiber is a graded-index multimode fiber (Item # GIF50E) with a shaped tip on one end. Unlike light emitted from a flat cleaved fiber tip that diverges immediately, a fiber with a lensed tip will focus the light at a point in front of the tip. Each fiber provides a Ø25 µm spot at a 30 µm working distance. Lensed fibers are useful for applications such as coupling to and from waveguides, active device pigtailing, and waveguide packaging.
This lensed-tip fiber is available from stock as either a 1 m length of bare fiber with one scissor cut end or as a patch cable with a 2.0 mm narrow key FC/PC or SMA connector on one end. Patch cable versions are jacketed in Ø900 µm black Hytrel® tubing. The lensed tip is shipped with a protective plastic sleeve to prevent physical damage. Prior to use, the plastic sleeve should be removed and the tip cleaned gently using compressed air.
Lensed fibers are fabricated using Vytran® glass processing technology. Precise heating of the fiber end face provides a high degree of control over the curvature of the lens. Thorlabs is able to leverage our fiber processing experience to create lensed fibers using single mode, multimode, and polarization-maintaining fiber; please contact Tech Support to inquire about custom lensed fibers for your application.
Lensed Tip Specifications
Focused Spot Size
Ø25 µm (Typ.)
Working Distance
30 µm (Typ.)
Taper Length
410 µm
Radius of Curvature
31 ± 1 µm
Insertion Loss
0.2 dB (Typ.)
Fiber Specificationsa
Fibera
Fiber Typea
GIF50E
Wavelength Range
800 - 1600 nm
Numerical Aperture
0.200 ± 0.015
Core Diameter
50.0 ± 2.5 µm
Cladding Diameter
125 ± 1 µm
Coating Diameter
242 ± 5 µm
Core-Cladding Concentricity
≤1.5 µm
Coating-Cladding Concentricity
≤12 µm
Attenuation
≤2.3 dB/km @ 850 nm
≤0.6 dB/km @1300 nm
Specified for GIF50E Fiber Not Including the Lensed Tip
Lensed tips can be requested for other fiber types; please contact Tech Support with inquiries.
Physical Specifications
Item #
LFM100
LFM1F-1
LFM1S-1
Fiber Termination
Scissor Cut
FC/PC,
2.0 mm Narrow Key
SMA
Fiber Length
1 +0.1 / -0.0 m
Stripped Fiber Lengtha
11 ± 1 mm
Tubing
N/A
Ø900 µm Black Hytrel®
Length without Tubingb
N/A
5 ± 1 cm
Operating Temperature
-60 to 85 °C
The length of fiber stripped to the cladding on the end with the lensed tip.
Length of fiber before the lensed tip without protective tubing. The LFM100 fiber does not have any protective Hytrel tubing.

1 m of GIF50E Fiber with Lensed Tip
11 ± 1 mm Stripped to Cladding on End with Lensed Tip
Other End is Scissor Cut
LFM100 Multimode Lensed-Tip Fiber is available from stock in 1 m lengths. The non-lensed, scissor cut end can be spliced into a setup if desired, or terminated with a connector using Thorlabs fiber termination kit.

GIF50E Fiber Patch Cables with Lensed Tip
2.0 mm Narrow Key FC/PC or SMA Connector Options
1 m Length
11 ± 1 mm of Fiber Stripped to Cladding on End with Lensed Tip
Ø900 µm Black Hytrel Tubing
These multimode lensed-tip fiber patch cables are offered with either an FC/PC or SMA connector on the non-lensed end and Ø900 µm black Hytrel® tubing. On the end with the lensed tip, 5 ± 1 cm of the cable is left free of the tubing to expose the inner GIF50E fiber. The last 11 ± 1 mm of fiber before the lens is stripped to the cladding.