Specifications
Supported Fiber Diametera
125 - 600 µm
Tank Capacity
100 mL
Tank Dimensions
Ø1.7" x 2.8" Deep
(Ø43 mm x 71 mm Deep)
Cleaning Duration
(Max Setting)
>1 Minute
Peak Output Frequency
75.2 - 76.4 kHz
Transducer Power (Max)
6 W
Operating Power
36 W
Operating Current
1.5 A
Input Voltageb
100 - 240 VAC @ 47 - 63 Hz
Overall Dimensionsa

6.95" x 4.78" x 4.13"
(176.5 mm x 121.5 mm x 104.8 mm)
Mass
1.28 kg (2.82 lbs)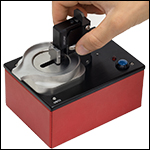 Click to Enlarge
The knurled adjuster allows users to set the fiber immersion depth.
Features
Easy-to-Adjust Immersion Depth, Cleaning Duration, and Power Level
Bare Fiber Nest with Magnetic Clamp Included with Ultrasonic Fiber Cleaner
Compatible Solvents: Acetone or Isopropanol (Isopropyl Alcohol)
Spout for Easy Fluid Disposal; Slotted Shield for Reduced Solvent Evaporation
Interchangeable Fiber Holder Nests Sold Separately:

USC2NVT Nest for Vytran Transfer Bottom Inserts
USC2NFJ Nest for Fujikura® FH-100 Series Fiber Holders
USC2NFT Nest for Fitel® S710S Series Fiber Holders

Accessories Available for Vytran Nest:

Clamp for Non-Magnetic Inserts
Spacers for Long Inserts
Thorlabs' Vytran® USC2 Ultrasonic Fiber Cleaner is designed for volume processing of bare fiber. Adjustment knobs for cleaning intensity and cleaning duration allow the user to easily set repeatable cleaning parameters. The dunking jig offers adjustable immersion depth and is compatible with interchangeable fiber holder nests (each sold separately). A red LED indicates when the cleaning cycle is active.
Tilting the dunking jig submerges the fiber in the tank and initiates the ultrasonic cleaning process. The ultrasonic agitation ceases after the chosen cleaning duration. The height of the fiber holder above the solvent tank can be changed over a 0.5" (12.7 mm) range using the knurled adjuster on the side of the dunking jig, as shown in the photo above. The knurled adjuster can also be reversed to disengage the bare fiber nest and switch it out for another fiber holder nest. Each cleaner is shipped with a bare fiber nest installed in the dunking jig. Nests for Vytran, Fujikura®, and Fitel® fiber holders are sold separately below. Accessories are available below for the Vytran fiber nest to support a wider range of usage scenarios, including spacers for recessing inserts farther from the solvent tank and a clamp for non-magnetic bottom inserts.
Please note that the 100 mL solvent tank is only suitable for use with acetone or isopropyl alcohol.