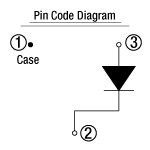 Modified H pin code, in which the cathode is not grounded to the case.
Features
Five Center Wavelengths: 250 nm, 255 nm, 260 nm, 275 nm, or 280 nm
Optical Output Power Exceeds 1 mW
Integrated Ball Lens for Increased Forward Intensity
Lifetime >1000 Hours
These UV LEDs are compact light sources in a hermetically sealed TO-39 package with an integrated ball lens. They provide an output power of at least 1 mW at peak wavelengths from 250 nm to 280 nm, with a small viewing half angle of 7.5°. An exceptionally long lifetime of at least 1000 hours ensures uninterrupted, continuous operation. With these specifications, these UV LEDs are well suited for a wide range of applications including disinfection, forensic analysis, and optical sensing and imaging of biological markers.
These UV LEDs can be mounted in Thorlabs' SM-threaded passive mounts for LEDs, such as the SM1 (1.035"-40) threaded S1LEDM. The LEDs generate up to 1 W of heat and must be kept at a case temperature below 55 °C at a forward current of 100 mA. For temperature regulation, the passive HSLT2 heat sink lens tube is recommended for use with the S1LEDM mount. The TO-39 package of the UV LEDs follows a modified H pin code, in which the cathode is not grounded to the case. In addition to the UV LEDs on this page, Thorlabs also offers a selection of other LEDs in the 245 - 4600 nm spectral range.
Light Emitting Diode (LED) Selection Guide
(Click
Representative
Photo to Enlarge;
Not to Scale)
Wavelength
Unmounted
LEDs
Pigtailed LEDs
LEDs in
SMT Packages
PCB-
Mounted LEDs
Heatsink-
Mounted LEDs
Collimated LEDs
for Microscopy
(Item # Prefixa)
Fiber-
Coupled LEDsb
High-Power LEDs
for Microsocopy
4-Wavelength
LED Source
Optionsc
LED Arrays
Single Color LEDs
250 nm
LED250J
(1 mW Min)
-
-
-
-
-
-
-
-
-
255 nm
LED255J
(1 mW Min)
-
-
-
-
-
-
-
-
-
260 nm
LED260W
(0.3 mW)
LED260J
(1 mW Min)
-
-
-
-
-
-
-
-
-
265 nm
-
-
-
M265D2
(10 mW Min)
M265L3
(10 mW Min)
-
-
-
-
-
M265D3
(24 mW Min)
M265L4
(24 mW Min)
275 nm
LED275W
(0.8 mW)
LED275J
(1 mW Min)
-
-
M275D2
(45 mW Min)
M275L4
(45 mW Min)
-
-
-
-
-
280 nm
LED280J
(1 mW Min)
-
-
-
-
-
-
-
-
-
285 nm
LED285W
(0.8 mW)
-
-
M285D3
(50 mW Min)
M285L5
(50 mW Min)
-
M285F4
(420 µW)
-
-
-
290 nm
LED290W
(0.8 mW)
-
-
-
-
-
-
-
-
-
300 nm
LED300W
(0.5 mW)
-
-
M300D3
(26 mW Min)
M300L4
(26 mW Min)
-
M300F2
(320 µW)
-
-
-
315 nm
LED315W
(0.6 mW)
-
-
-
-
-
-
-
-
-
340 nm
LED341W
(0.33 mW)
-
-
M340D3
(53 mW Min)
M340L4
(53 mW Min)
-
M340F3
(1.06 mW)
-
-
-
365 nm
-
-
-
M365D1
(190 mW Min)
M365L2
(190 mW Min)
M365L2
(60 mW)d
M365F1
(4.1 mW)
SOLIS-365C
(3.0 W)e
Available
(85 mW)
LIU365A
(31 mW)
M365D2
(1150 mW Min)
M365LP1
(11-50 mW Min)
M365LP1
(350 mW)d
M365FP1
(15.5 mW)
375 nm
LED375L
(1 mW)
-
-
M375D4
(1270 mW Min)
M375L4
(1270 mW Min)
-
M375F2
(4.23 mW)
-
-
-
LED370E
(2.5 mW)
385 nm
LED385L
(5 mW)
-
-
M385D1
(270 mW Min)
M385L2
(270 mW Min)
M385L2
(90 mW)d
M385F1
(10.7 mW)
SOLIS-385C
(5.8 W)e
Available
(95 mW)
-
M385D2
(1650 mW Min)
M385LP1
(1650 mW Min)
M385LP1
(520 mW)d
M385FP1
(23.2 mW)
395 nm
LED395L
(6 mW)
-
-
M395D3
(400 mW Min)
M395L4
(400 mW Min)
-
M395F3
(6.8 mW)
-
-
-
Wavelength
Unmounted
LEDs
Pigtailed LEDs
LEDs in
SMT Packages
PCB-
Mounted LEDs
Heatsink-
Mounted LEDs
Collimated LEDs
for Microscopy
(Item # Prefixa)
Fiber-
Coupled LEDsb
High-Power LEDs
for Microsocopy
4-Wavelength
LED Source
Optionsc
LED Arrays
Single Color LEDs
405 nm
LED405L
(6 mW)
-
-
M405D2
(1500 mW Min)
M405L4
(1000 mW Min)
M405L3
(440 mW)d
M405F1
(3.7 mW)
SOLIS-405C
(3.9 W)e
Available
(290 mW)
-
M405L4
(510 mW)f
LED405E
(10 mW)
M405LP1
(1200 mW Min)
M405LP1
(450 mW)d
M405FP1
(24.3 mW)
415 nm
-
-
-
M415D2
(1640 mW Min)
M415L4
(1310 mW Min)
-
M415F3
(21.3 mW)
SOLIS-415C
(5.8 W)e
-
-
M415LP1
(1640 mW Min)
420 nm
-
-
-
-
-
-
-
-
Available
(95 mW)
-
430 nm
LED430L
(8 mW)
-
-
M430D2
(490 mW Min)
M430L4
(490 mW Min)
-
-
-
-
-
445 nm
-
-
-
-
-
-
-
SOLIS-445C
(5.4 W)e
-
-
450 nm
LED450L
(7 mW)
-
LEDS450
(250 mW)
M450D3
(1850 mW Min)
M450LP1
(1850 mW Min)
-
-
-
-
-
455 nm
-
-
-
M455D3
(1150 mW Min)
M455L4
(1150 mW Min)
M455L3
(360 mW)d
M455F3
(24.5 mW)
-
Available
(310 mW)
-
M455L4
(490 mW)d
465 nm
LED465E
(20 mW)
-
-
-
-
-
-
-
-
-
470 nm
LED470L
(170 mW)
EP470S04
(18 mW Min)
-
M470D2
(650 mW Min)
M470L4
(760 mW Min)
M470L4
(330 mW)d
M470F3
(17.2 mW)
SOLIS-470C
(3.0 W)e
Available
(250 mW)
LIU470A
(253 mW)
EP470S10
(100 mW Min)
M470D3
(760 mW Min)
490 nm
LED490L
(3 mW)
-
-
M490D3
(205 mW Min)
M490L4
(205 mW Min)
-
M490F3
(2.3 mW)
-
Available
(50 mW)
-
505 nm
LED505L
(4 mW)
-
-
M505D2
(400 mW Min)
M505L3
(400 mW Min)
M505L3
(150 mW)d
M505F3
(11.7 mW)
SOLIS-505C
(1.0 W)e
Available
(170 mW)
-
M505D3
(400 mW Min)
M505L4
(400 mW Min)
M505L4
(170 mW)d
525 nm
LED525E
(2.6 mW Max)
-
-
-
-
-
-
SOLIS-525C
(2.4 W)e
-
LIU525A
(111 mW)
LED525L
(4 mW)
LED528EHP
(7 mW)
530 nm
-
-
-
M530D2
(350 mW Min)
M530L4
(370 mW Min)
M530L3
(130 mW)d
M530F2
(6.8 mW)
-
Available
(100 mW)
-
M530D3
(370 mW Min)
M530L4
(160 mW)d
554 nm
-
-
-
MINTD3
(650 mW Min)
MINTL5
(650 mW Min)
-
MINTF4
(21 mW Min)
-
-
-
555 nm
LED555L
(1 mW)
-
-
-
-
-
-
-
-
-
565 nm
-
-
-
M565D2
(880 mW Min)
M565L3
(880 mW Min)
-
M565F3
(13.5 mW)
SOLIS-4C
(3.2 W)e
Available
(106 mW)
-
570 nm
LED570L
(0.3 mW)
-
-
-
-
-
-
-
-
-
590 nm
LED590L
(2 mW)
EP590S04
(3.5 mW Min)
-
M590D2
(160 mW Min)
M590L3
(160 mW Min)
M590L3
(60 mW)d
M590F3
(4.6 mW)
SOLIS-590C
(350 mW)e
Available
(65 mW)
LIU590A
(109 mW)
LED591E
(2 mW)
EP590S10
(18 mW Min)
M590D3
(230 mW Min)
M590L4
(230 mW Min)
M590L4
(100 mW)d
595 nm
-
-
-
M595D2
(445 mW Min)
M595L3
(445 mW Min)
-
M595F2
(8.7 mW)
SOLIS-595C
(700 mW)e
-
-
Wavelength
Unmounted
LEDs
Pigtailed LEDs
LEDs in
SMT Packages
PCB-
Mounted LEDs
Heatsink-
Mounted LEDs
Collimated LEDs
for Microscopy
(Item # Prefixa)
Fiber-
Coupled LEDsb
High-Power LEDs
for Microsocopy
4-Wavelength
LED Source
Optionsc
LED Arrays
Single Color LEDs
600 nm
LED600L
(3 mW)
-
-
-
-
-
-
-
-
-
610 nm
LED610L
(8 mW)
-
-
-
-
-
-
-
-
-
617 nm
-
-
-
M617D2
(600 mW Min)
M617L3
(600 mW Min)
M617L3
(230 mW)d
M617F2
(10.2 mW)
SOLIS-617C
(1.5 mW)e
Available
(210 mW)
-
M617D3
(660 mW Min)
M617L4
(660 mW Min)
M617L4
(280 mW)d
623 nm
-
-
-
-
-
-
-
SOLIS-623C
(3.8 W)e
-
-
625 nm
LED625L
(12 mW)
-
-
M625D3
(700 mW Min)
M625L4
(700 mW Min)
M625L3
(270 mW)d
M625F1
(13.2 mW)
-
Available
(240 mW)
-
M625L4
(490 mW)d
630 nm
LED630L
(16 mW)
-
-
-
-
-
-
-
-
LIU630A
(208 mW)
635 nm
LED631E
(4 mW)
-
-
-
-
-
-
-
-
-
LED635L


(170 mW)

639 nm
LED630E
(7.2 mW)
-
-
-
-
-
-
-
-
-
645 nm
LED645L
(16 mW)
-
-
-
-
-
-
-
-
-
660 nm
LED660L
(13 mW)
-
-
M660D2
(940 mW Min)
M660L4
(940 mW Min)
M660L4
(400 mW)d
M660F1
(14.5 mW)
SOLIS-660C
(2.0 W)e
Available
(210 mW)
-
670 nm
LED670L
(12 mW)
-
-
-
-
-
-
-
-
-
680 nm
LED680L
(8 mW)
-
-
M680D2
(180 mW Min)
M680L4
(180 mW Min)
-
M680F3
(2.7 mW)
-
-
-
700 nm
-
EP700S04
(5 mW Min)
-
M700D2
(80 mW Min)
M700L4
(80 mW Min)
-
M700F3
(1.7 mW)
-
-
-
EP700S10
(30 mW Min)
730 nm
-
-
-
M730D3
(540 mW Min)
M730L5
(540 mW Min)
M730L4
(165 mW)d
-
-
-
-
740 nm
-
-
-
-
-
-
M740F2
(6.0 mW)
SOLIS-740C
(2.0 W)e
-
-
750 nm
LED750L
(18 mW)
-
-
-
-
-
-
-
-
-
760 nm
LED760L
(24 mW)
-
-
-
-
-
-
-
-
-
770 nm
LED770L
(22 mW)
-
-
-
-
-
-
-
-
-
780 nm
LED780E
(18 mW)
-
-
M780D2
(200 mW Min)
M780L3
(200 mW Min)
M780L3
(130 mW)d
M780F2
(7.5 mW)
-
-
LIU780A
(315 mW)
LED780L
(22 mW)
M780D3
(800 mW Min)
M780LP1
(800 mW Min)
800 nm
LED800L
(20 mW)
-
-
-
-
-
-
-
-
-
810 nm
LED810L
(22 mW)
EP810S04
(16 mW Min)
-
M810D2
(325 mW Min)
M810L3
(325 mW Min)
M810L3
(210 mW)d
M810F2
(6.5 mW)
-
-
-
EP810S10
(90 mW Min)
M810D3
(363 mW Min)
M810L4
(363 mW Min)
830 nm
LED830L
(22 mW)
-
-
-
-
-
-
-
-
-
840 nm
LED840L
(22 mW)
-
-
-
-
-
-
-
-
-
850 nm
LED851L
(13 mW)
-
-
M850D2
(900 mW Min)
M850L3
(900 mW Min)
M850L3
(330 mW)d
M850F2
(13.4 mW)
SOLIS-850C
(2.7 W)e
-
LIU850A
(322 mW)
M850D3
(1400 mW)
M850LP1
(1400 mW Min)
870 nm
LED870E
(22 mW)
-
-
-
-
-
-
-
-
-
LED870L
(24 mW)
880 nm
-
-
-
M880D2
(300 mW Min)
M880L3
(300 mW Min)
-
M880F2
(3.4 mW)
-
-
-
890 nm
LED890L
(12 mW)
-
-
-
-
-
-
-
-
-
910 nm
LED910L
(10 mW)
-
-
-
-
-
-
-
-
-
LED910E
(12 mW)
930 nm
LED930L
(15 mW)
-
-
-
-
-
-
-
-
-
940 nm
LED940E
(18 mW)
-
-
M940D2
(800 mW Min)
M940L3
(800 mW Min)
M940L3
(320 mW)d
M940F3
(14.2 mW)
SOLIS-940C
(2.5 W)e
-
-
970 nm
LED970L
(5 mW)
-
-
M970D3
(600 mW Min)
M970L4
(600 mW Min)
-
M970F3
(8.1 mW)
-
-
-
Wavelength
Unmounted
LEDs
Pigtailed LEDs
LEDs in
SMT Packages
PCB-
Mounted LEDs
Heatsink-
Mounted LEDs
Collimated LEDs
for Microscopy
(Item # Prefixa)
Fiber-
Coupled LEDsb
High-Power LEDs
for Microsocopy
4-Wavelength
LED Source
Optionsc
LED Arrays
Single Color LEDs
1050 nm
LED1050E
(2.5 mW)
-
-
M1050D1
(50 mW Min)
M1050L2
(50 mW Min)
-
-
-
-
-
LED1050L
(4 mW)
M1050D3
(160 mW Min)
M1050L4
(160 mW Min)
M1050F3
(3 mW)
1070 nm
LED1070L
(4 mW)
-
-
-
-
-
-
-
-
-
LED1070E
(7.5 mW)
1085 nm
LED1085L
(5 mW)
-
-
-
-
-
-
-
-
-
1200 nm
LED1200E
(2.5 mW)
-
-
M1200D2
(30 mW Min)
M1200L3
(30 mW Min)
-
-
-
-
-
LED1200L
(5 mW)
1300 nm
LED1300E
(2 mW)
-
-
M1300D2
(25 mW Min)
M1300L3
(25 mW Min)
-
-
-
-
-
LED1300L
(3.5 mW)
1450 nm
LED1450E
(2 mW)
-
-
M1450D2
(31 mW Min)
M1450L3
(31 mW Min)
-
-
-
-
-
LED1450L
(5 mW)
1550 nm
LED1550E
(2 mW)
-
-
M1550D2
(31 mW Min)
M1550L3
(31 mW Min)
-
-
-
-
-
LED1550L
(4 mW)
1600 nm
LED1600L
(2 mW)
-
-
-
-
-
-
-
-
-
1650 nm
LED1600P
(1.2 mW)
-
-
M1650D2
(13 mW)
M1650L4
(13 mW)
-
-
-
-
-
1750 nm
LED1700P
(1.2 mW
Quasi-CW,
30 mW Pulsed)
-
-
-
-
-
-
-
-
-
1850 nm
LED1800P
(0.9 mW
Quasi-CW,
20 mW Pulsed)
-
-
-
-
-
-
-
-
-
1950 nm
LED1900P
(1.0 mW
Quasi-CW,
25 mW Pulsed)
-
-
-
-
-
-
-
-
-
2050 nm
LED2050P
(1.1 mW
Quasi-CW,
28 mW Pulsed)
-
-
-
-
-
-
-
-
-
2350 nm
LED2350P
(0.8 mW
Quasi-CW,
16 mW Pulsed)
-
-
-
-
-
-
-
-
-
4200 nm
LED4300P
(0.03 mW
Quasi-CW,
0.2 mW Pulsed)
-
-
-
-
-
-
-
-
-
4500 nm
LED4600P
(0.006 mW
Quasi-CW,
0.12 mW Pulsed)
-
-
-
-
-
-
-
-
-
Wavelength
Unmounted
LEDs
Pigtailed LEDs
LEDs in
SMT Packages
PCB-
Mounted LEDs
Heatsink-
Mounted LEDs
Collimated LEDs
for Microscopy
(Item # Prefixa)
Fiber-
Coupled LEDsb
High-Power LEDs
for Microsocopy
4-Wavelength
LED Source
Optionsc
LED Arrays
Multi-Color, Broadband, and White LEDs
455 nm (12.5%g) and 640 nm
-
-
-
MPRP1D2
(275 mW Min)
MPRP1L4
(275 mW Min)
-
-
-
-
-
572 nm and 625 nm
LEDGR
(0.09 mW
and 0.19 mW)
-
-
-
-
-
-
-
-
-
588 nm and 617 nm
LEDRY
(0.09 mW
and 0.19 mW)
-
-
-
-
-
-
-
-
-
467.5 nm,
525 nm,
and 627.5 nm
LEDRGBE
(5.8 mW,
6.2 mW,
and 3.1 mW)
-
-
-
-
-
-
-
-
-
430 - 660 nm
(White)
LEDWE-15


(13 mW)

-
-
-
-
-
-
-
-
-
LEDW7E
(15.0 mW)
LEDW25E
(15.0 mW)
470 - 850 nm
(Broadband)
-
-
-
MBB1D1
(70 mW Min)
MBB1L3
(70 mW Min)
-
MBB1F1
(1.2 mW)
-
-
-
6500 K
(Cold White)
-
-
-
MCWHD2
(800 mW Min)
MCWHL5
(800 mW Min)
MCWHL5
(320 mW)d
-
SOLIS-1C
(3.3 W)e
-
-
MCWHD4
(990 mW Min)
MCWHL6
(990 mW Min)
MCWHL6
(354 mW)d
MCWHD3
(2350 mW Min)
MCWHLP1
(2350 mW Min)
-
6200 K
(Cold White)
-
-
-
-
-
-
MCWHF2
(21.5 mW)
-
-
-
5000 K
(Cold White)
-
-
LEDSW50
(110 mW)
-
-
-
-
-
-
-
4600 - 9000 K
(Cold White)
-
-
-
-
-
-
-
-
-
LIUCWHA


(250 mW)

4000 K
(Warm White
-
-
LEDSW40
(115 mW)
-
-
-
MWWHF2
(16.3 mW)
-
-

-

3000 K
(Warm White)
-
-
LEDSW30
(100 mW)
MWWHD3
(2000 mW Min)
MWWHL4
(570 mW Min)
-
-
SOLIS-2C
(3.2 W)e
-
-
MWWHLP1
(2000 mW Min)
5700 K
(Day Light White)
-
-
-
-
-
-
-
SOLIS-3C
(3.5 W)
-
-