2" Rails for Compact Quick-Connect Stages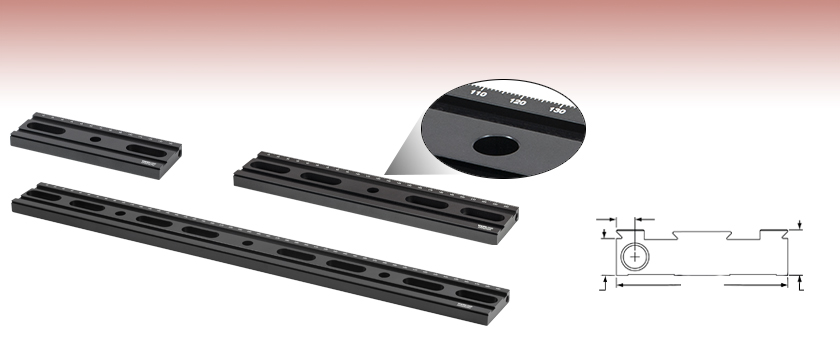 Compact Rails Designed for Extended Linear Positioning
150 mm, 250 mm, and 500 mm Stock Lengths
Custom Lengths up to 750 mm
XRN25DR2
XRN25DR
XRN25DR3
1/4" (M6) Counterbored Holes and Slots for Breadboard Mounting
0.39"
0.49"
2.00"
0.20"

Please Wait


Click to Enlarge
XRNR1 Rotation Stage Mounted on XRN25DR2 Rail for Coarse Linear Positioning


Click to Enlarge
XRNV1 Vertical Translation Stage Mounted on XRN25DR Rail for Coarse Linear Positioning

Click to Enlarge
When mounted on a rail, a stage's translation axis is perpendicular to the adjustment axis of the rail.
Features
Outer Dovetail Compatible with 2" XRN Quick Connect Stages
Allows for Coarse Adjustment of Mounted Components
150 mm, 250 mm, and 500 mm Lengths Available
Counterbored 1/4" (M6) Mounting Slots Compatible with Imperial and Metric Breadboards
Additional Dovetail Compatible with 34 mm Rail Accessories
These 2" rails provide a convenient way to mount our XRN series stages and accessories on a breadboard or optical table. All rails feature an outer 2" male dovetail for mounting components with matching female dovetails as well as an inner 34 mm male dovetail for mounting other clamps and platforms.
A mounted component can be translated across the entire length of the rail. The XRN25DR2, XRN25DR, and XRN25DR3 come in lengths of 150 mm, 250 mm, and 500 mm, respectively. Rails with custom lengths up to 750 mm can be custom ordered by contacting Tech Support. For XRN25 stages, travel along the rail would be in the direction orthogonal to the stage's translation axis. The graduated scale engraved along one edge of each rail makes it easy to repeat adjustments between multiple locations on the rail; XRN25-RC3 rail carriers can be used to mark a specific location on the rail before moving the stage.
The rails feature 1" long, 1/4" (M6) counterbored mounting slots and a central 1/4" (M6) counterbored mounting hole that allow the rail to be used with both imperial and metric breadboard hole patterns. Standard cap screws can be used with these rails without interrupting the translation of mounted components.
For our complete selection of 2" dovetail components, see the Quick-Connect Stages tab.
Posted Comments:
No Comments Posted
Build Multi-Axis Configurations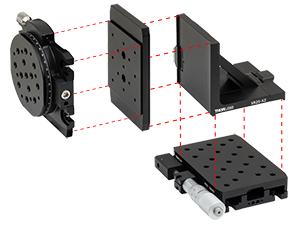 Click for Details
Z-axis assembly kits allow stages to be mounted in vertical orientations.
Quick-Connect Dovetails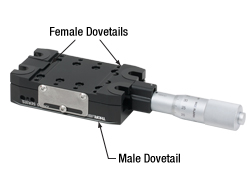 Click to Enlarge

The female dovetails on the bottom of one stage mate with the male dovetails on another.
XR & XRN Dovetail Stages and Accessories
Our XR series manual stages feature quick-connect dovetails that allow for the construction of multi-axis systems without the need for additional hardware. The common dovetail feature with a single locking clamp makes it quick and simple to swap parts in and out while preserving excellent orthogonality.
Our selection of products with a quick-connect dovetail includes:
Linear Translation Stages:

Stackable 1-Axis Stages
Pre-Assembled 2- and 3-Axis Configurations

Rotational Stages:

360° Flat Rotation
Tip/Tilt Goniometers

Adapters:

Z-Axis Assembly Kits
Parallel and Perpendicular Mounting between 2" and 3" Dovetails

Rail Accessories:

Stationary Mounting Platforms
Rail Component Positioners

Base Plates and Rails
Most items are available in compact (2" dovetail) and full-size (3" dovetail) varieties. Adapters are available to interface between the two sizes. See the tables below for all available options.
Linear Translation Stages
Click Photo to Enlarge
Items
Compact 25 mm Stages
Compact 9 mm Vertical Stage
Full-Size 25 mm Stages
Full-Size 50 mm Stages
Motion
X, XY, XZ, YZ, XYZ
Z (Vertical)
X, XY, XZ, YZ, XYZ
X, XY, XZ, YZ, XYZ
Quick-Connect Dovetail
2" Dovetail
3" Dovetail
Additional Features