Quick Connect Rail Platforms for 3" Rails and Stages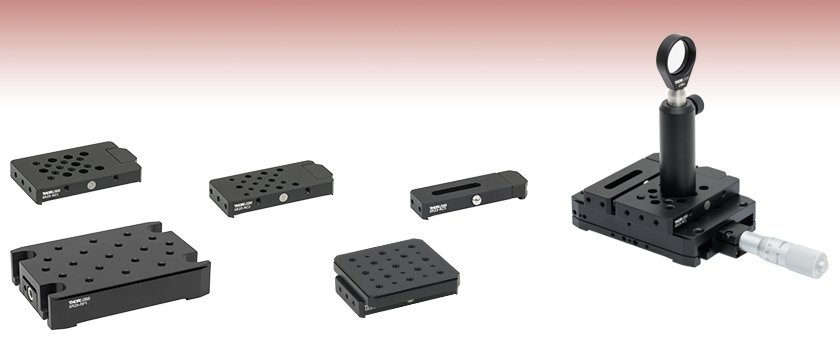 Contains Array of Tapped Holes, Counterbored Holes, or Slot
Quickly Build Subassemblies for XR Rails
Provides Coarse Translation Along Rail or Stage
XR25-RC1
XR25-RC2
XR25-RC3
XR25-RP1
XR25-R1
Application Idea
Rail carriers can quickly attach post assemblies to dovetailed components.

Please Wait
Features
Inner Dovetail Compatible with 3" Mating Dovetail Stages
Included Dovetail Clamp Screw has a Maximum Torque of 15 in•lbs
Mount Subassemblies to Rails Without Access to Ends
Slides Along Rail Side Prior to Lockdown
Variety of Form Factors Available

Rail Carriers: Removable Plates with Additional Mounting Options
Rail Plate: Deck Height Matches XR25 and XR50 Series Stages
Rotation Adapter: Coarse Rotation Between Components
Thorlabs XR Rail Platforms are designed to mount components to our XR Series 3" dovetail rails. Once attached, these platforms enable optomechanical components to slide to any position along the length of a rail, or to attach to any other component with an XR dovetail. The surfaces of these platforms are machined from cast tool and jig aluminum for minimal internal stress and improved stability. Their dovetail clamp screw makes them easy to place into any existing rail system without requiring access to the rail ends. These rail platforms are provided in three varieties: rail carriers, rail plates, and a rotation adapter.
Rail carriers feature a mating female dovetail on the bottom of the plate and a combination of mounting taps, counterbores, or slots on their exterior faces. The XR25-RP1(/M) rail plate provides many of the same benefits as our rail carriers–a mating female dovetail on the bottom of the plate and mounting taps on the top–with a larger mounting surface and a deck height shared with all XR linear and rotation stages. The XR25-R1(/M) rotation adapter is made up of a specialized rail carrier and a rotating platform that together share the deck height of the XR stages and rail plate. The XR25-R1(/M) provides coarse rotational adjustment of its top plate. This top plate can be removed to reveal a Ø1/2" bore and flexure clamp, which can be purchased separately as the XR25-RB(/M).
Additional functionality is provided by a complete line of accessories that include multi-axis assembly kits, rail carriers, a rotation adapter, rails, and micrometer conversion kits. An adapter plate is also available for mounting these compact 25 mm stages with an integrated 2" dovetail onto 25 mm and 50 mm stages with a 3" dovetail. For more information about a specific accessory, please click on the link in the table below.
Posted Comments:
No Comments Posted