Post-Mountable XY Translation Mounts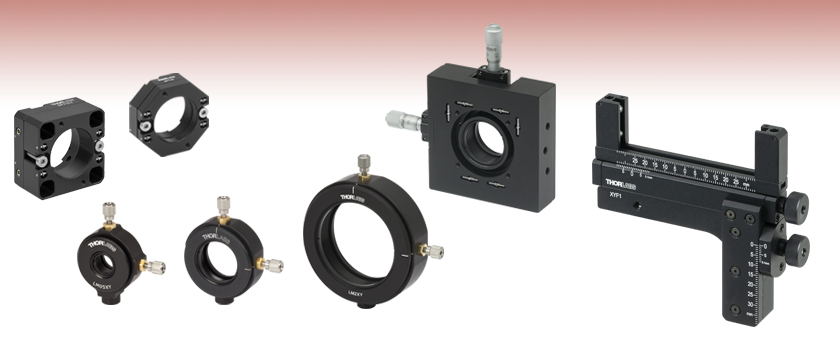 Provides Travel in the X and Y Directions
Models for Ø1/2", Ø1", Ø2", and Rectangular Optics
Slip Plate
Positioners
SPT1N
SPT1CT
LM05XY
LM1XY
LM2XY
ST1XY-S
XYF1
6 mm XY
Travel Mounts
Translation Mount for
Rectangular Optics

Please Wait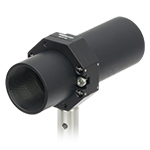 Click to Enlarge
SM1-threaded lens tubes can be threaded onto both the front and back plate of the SPT1N slip plate mount.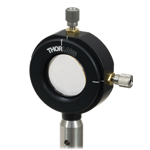 Click to Enlarge
The LM1XY(/M) provides 1 mm travel in both X and Y with 250 µm per revolution for careful centering of lenses or pinholes.
Features
XY Translation Mounts for Ø1/2", Ø1", Ø2", or Rectangular Optics
Provides Precision XY Travel
Slip-Plate, Adjuster-Screw, Micrometer, or Differential Drive Translation Modes
Various Models Compatible with Our SM-Threaded Lens Tubes
Post Mountable via One or More 8-32 (M4) Tapped Holes
Thorlabs offers a variety of mounts that provide coarse or precise XY translation when positioning optical components. The different models offered include slip plate positioners, Mini-Series compatible XY travel mounts, precision XY mounts, 6 mm XY travel mounts, as well as a translation mount for rectangular optics. All items featured on this page can accept Ø1/2", Ø1", Ø2", or rectangular optics directly. With the exception of the XYF1(/M), they can also accept optics mounted inside lens tubes with respective SM05 (0.535"-40), SM1 (1.035"-40), or SM2 (2.035"-40) threading.