Manual Differential Drive, 18 mm Travel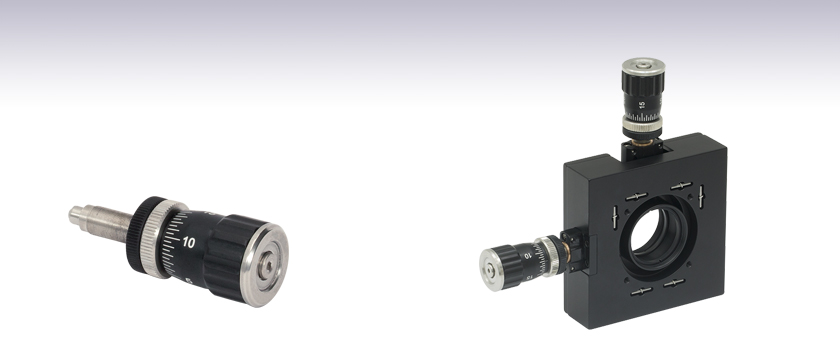 Lockable Coarse Adjustment:
Range: 0.72" (18.3 mm)
Pitch: 0.012" (300 µm) per Revolution
Fine Adjustment:
Range: 0.01" (250 µm)
Pitch: 0.001" (25 µm) per Revolution
Application Idea
Our ST1XY-D Translation Stage
Incorporates a DM22 Micrometer
DM22

Please Wait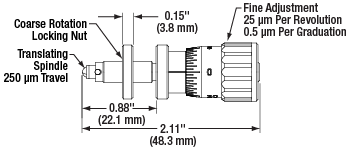 Features
Fine Adjustment Range: 250 µm
Fine Adjustment per Revolution: 25 µm
Coarse Adjustment Range: 0.72" Long 1/4"-80 Threads
Coarse Adjustment per Revolution: 0.012" (80 TPI)
On-Axis Load Capacity: 11 lbs (5 kg)
The DM22 Differential Adjuster uses two internal leadscrews; one pushes the center spindle forward at 400 µm per revolution while the other pulls it back at 375 µm per revolution. The resultant total forward motion of the center spindle is just 25 µm for one complete revolution of the graduated knob. Each small graduation of the fine control knob is 0.5 µm; the smallest incremental move for the DM22 is approximately 50 nm. When performing fine adjustment the coarse adjustment mechanism can be locked by means of a small locking collar. For more details on the operating mechanism of the DM22, please refer to the DM22 Operation tab.
Prior to installation, the adjuster should be greased slightly. To install the adjuster, screw the threads into the bushing by hand. Ensure that cross threading does not occur in order to avoid damage to the adjuster and bushing.
If the fine adjustment knob on the DM22 is ever removed from the actuator body, it can be reattached. Please see the DM22 Knob Attachment tab for more details. Follow the reattachment instructions carefully so that the actuator functions properly.
Fine Adjustment Knob Reattachment for Differential Adjusters
Step 1: Fully remove the detached knob.
Step 2: Apply pressure to the tip of the actuator.
Step 3: While maintaining pressure, screw in the knob 2 to 3 threads.
Step 4: Once threaded, remove pressure from Step 2 and continue to slowly screw in the knob. Please note that this should be done slowly and with little force. If too much force is applied, cross-threading may occur and may damage the threads.
Differential Adjuster Operation Mechanisms
A differential adjuster consists of four basic parts: outer body, coarse adjustment lock, inner spindle, and fine adjustment knob. Using the DM22 as an example, the video to the left demonstrates how these four parts come together to create a device that allows for coarse and fine adjustments. Also detailed are two different methods of mounting these actuators into an assembly.
Differential Adjuster Mechanisms
Outer Body:

Provides Coarse Adjustment
Contains Internal Threads with a Pitch Smaller than the External Threads of the Inner Spindle

Coarse Adjustment Lock:

Prevents the Outer Body from Rotating; Locks Coarse Translation
Enables Fine Adjustment

Inner Spindle:

Mounted within Outer Body
Contacts the Moving Platform and will Translate with the Coarse Adjuster
Contains External Threads with Greater Pitch than the Internal Threads of the Outer Body

Fine Adjustment Knob:


Internal and External Threads that Match the Inner Spindle and the Outer Body Threads
Rotating the Knob Provides Inner Spindle Translation that is Equal to the Difference Between the Two Thread Pitches