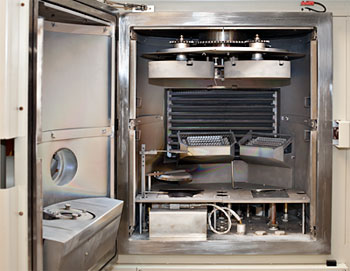 Click to Enlarge
Interior of an E-Beam Deposition Chamber
Thorlabs' Coating Capabilities
Thorlabs' state-of-the-art, in-house, optical coating department provides us with coating capabilities ranging from metal coatings and antireflective coatings to cutting edge Ion Beam Sputtered (IBS) and Plasma Assisted coatings. This full-scale facility not only allows us to produce large numbers of our catalog optics in house but also expands our ability to manufacture custom-coated optics to suit a variety of customer needs.
Coating Design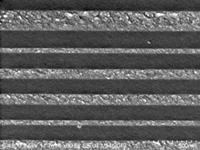 Click to Enlarge
Layered Coating Stack
The spectral performance and other key characteristics of optical thin films are determined by the structure and number of layers in the coating, the refractive indices of the materials used, and the optical properties of the substrate.
The structure of most coatings resembles a series of discrete alternating layers of high index and low index materials. Different arrangements of stack structure result in different types of coatings (e.g., Bandpass vs. Edgepass vs. BBAR). Fine tuning of layer thicknesses and refractive indices is done to optimize performance characteristics in the wavelength range of interest. Thorlabs has a selection of thin film modeling tools to design, characterize, and optimize many aspects of an individual coating's performance.
Cleaning
The first and one of the most critical steps of our process is cleaning uncoated substrates with an automated ultrasonic clean line. Using a series of ultrasonic solvent and detergent baths, each step of the cleaning process removes different types of contamination from the surfaces of the substrate. This ensures surface contamination does not interfere with adhesion of coatings to the substrate.

Click to Enlarge
IBS Deposition
Our Ion Beam Sputtering (IBS) deposition chamber is the most recent addition to our line-up of coating tools. This process uses a high energy, radio frequency, plasma source to sputter coating materials and deposit them on substrates while another RF ion source (Assist source) provides IAD function during deposition. The sputtering mechanism can be characterized as momentum transfer between ionized gas molecules from the ion source and the atoms of the target material. This is analogous to a cue ball breaking a rack of billiard balls, only on a molecular scale and with several more balls in play.
Advantages of IBS
Better Process Control
Wider Selection of Coating Designs
Improved Surface Quality and Less Scatter
Reduced Spectral Shifting
Thicker Coating in a Single Cycle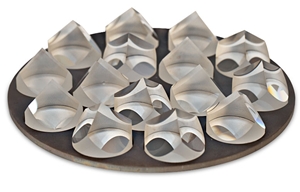 Click to Enlarge
Coated Retroreflectors in Tool
Metrology
Thorlabs uses a selection of research-grade spectroscopy instruments to characterize coating performance from the UV to the Far Infrared. Varian Cary 5000 and PE Lambda 950 spectrophotometers are used to characterize the spectral performance of our coatings in the UV-VIS-NIR ranges and an Olis PE 983 IR spectrophotometer is used for infrared coatings (2 - 55.5 µm). In addition to the spectroscopy tools, we also use a variety of laser and laser diode sources, power meters, detectors, and polarimeters to test the performance of our optics. We build custom setups to test both catalog and OEM parts to ensure every optic we offer performs well within the specified range. All of our metrology instruments are calibrated regularly per ISO9001:2000 standard.
Laser Line/Bandpass Filters
Laser Line and Bandpass filters transmit light in a narrow, well-defined spectral region while rejecting other unwanted radiation. This type of filter displays very high transmission in the bandpass region and blocks a limited spectral range of light on either side of the bandpass region. To compensate for this deficiency, an additional blocking component is added, which is either an all-dielectric or a metal-dielectric depending on the requirements of the filter. Although this additional blocking component eliminates any unwanted out-of-band radiation, it also reduces the filter's overall transmission throughput.
These coatings are formed by vacuum deposition coating techniques and consist of two reflecting stacks, separated by an even-order spacer layer. These reflecting stacks are constructed from alternating layers of high and low refractive index materials, which can have a reflectance in excess of 99.99%. By varying the thickness of the spacer layer and/or the number of reflecting layers, the central wavelength and bandwidth of the filter can be altered.
Dichroic Beamsplitters
Dichroic Beamsplitters are used as beam directors at 45° and are either longpass or shortpass. The longpass variety reflects >90% of the incident light below the design wavelength and transmits >90% of the incident light above the design wavelength. The shortpass variety transmits below the design wavelength, and reflects above the design wavelength. Dichroic beamsplitters are used in many applications, the most common one being fluorescence microscopy.
The dielectric coating on dichroic beamsplitters is the source of their functionality. The alternating layers in the coating are designed to cause constructive interference for those wavelengths to be transmitted and destructive interference for those wavelengths to be reflected. The thickness of the coating and the refractive index of the materials in the layers determine the design wavelength for a given beamsplitter.
Antireflective (AR) coatings are hard refractory-oxide coatings that minimize surface reflections within specified wavelength ranges when applied to the surface of optical components. Without AR coating, 4% of the light is lost at each optical surface due to reflections. For example, if three uncoated lenses are being used in series, this 4% loss occurs at each of the six optical surfaces. This results in a total loss of 21.7%. If three AR-coated lenses with a "B" coating (Ravg <0.5% per surface) are used instead, the total loss of incident light due to surface reflections is <3%. The use of AR-coated optics improves transmission from 78.3% to greater than 97% in this case. Please note that the 4% loss at the interfaces of uncoated optics is an approximate value that varies greatly with material and angle of incidence (AOI).
The AR Coating Range graph below shows the specified wavelength range of Thorlabs' in-house AR coatings. Click on the bars in the graph below to view the performance plot for each coating.
Broadband antireflective (BBAR) coatings consist of multiple layers, alternating between a high index material and a low index material. The layers are deposited on the substrate via electron-beam deposition. The thickness of the layers is optimized, using modeling software, to produce destructive interference between reflected waves and constructive interference between transmitted waves. This results in an optic that has enhanced performance within a specified wavelength band as well as minimal internal reflections (ghosting). Thorlabs' BBAR coatings provide good performance for angles of incidence between 0° and 30° and a numerical aperture (NA) of 0.5. Thorlabs currently offers BBAR coatings designed to maximize performance within 8 different wavelength ranges.
V-coatings are multilayer, dielectric, thin-film, AR coatings that are designed to minimize reflectance over a short wavelength range. Surface reflectance rises rapidly on either side of this minimum, which gives the reflectance curve a "V" shape. Compared to the broadband AR coatings, V-coatings achieve lower reflectance over a narrower bandwidth when used within their design AOI range. See the graph to the right for an example of the reflectance of a 633 nm V-coat designed for 0° AOI at various angles. We offer a variety of different V-coatings; see the table below for more information.
The tables below give the specifications for Thorlabs' in-house antireflection coatings, which are deposited on the surfaces of many optics in our catalog. However, we also offer optics that are coated by external vendors. As such, the specifications for some of our antireflection coated optics may be slightly different than the specifications given on this page. The AR coating specifications for any individual item are always included in that item's web presentation.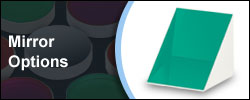 Thorlabs' Selection of HR-Coated Optics
Table of Contents
The tables below give specifications for our broadband and narrowband high-reflectance (HR) coatings. Thorlabs offers dielectric and metallic broadband coatings, as well as dielectric narrowband coatings for laser line applications. We also offer specialty ultrafast mirrors for femtosecond pulsed lasers.
Dielectric HR coatings, available in broadband or narrowband designs, are hard, refractory, oxide coatings that maximize surface reflections within a specific wavelength range and angle of incidence. The coating consists of alternating layers of high and low index materials. The layer's thickness is optimized, using computer models, to produce constructive interference for reflected waves and destructive interference for all other wavelengths. The reflectance of the surface is improved greatly by the addition of an HR coating; however, its performance is dependent on the angle of incidence (AOI). At high AOIs, the reflection band shifts to shorter wavelengths and performs differently for S and P polarizations.
Broadband HR Coatings
Thorlabs currently offers nine different broadband HR coatings optimized for various performance parameters. The graph below shows the specified wavelength range of Thorlabs' in-house broadband HR coatings. Click on the bars in the graph below to view the performance plot for each coating. Click here to view a reflectance plot that compares all of our broadband HR Coatings. Click here for raw data.

Click to Enlarge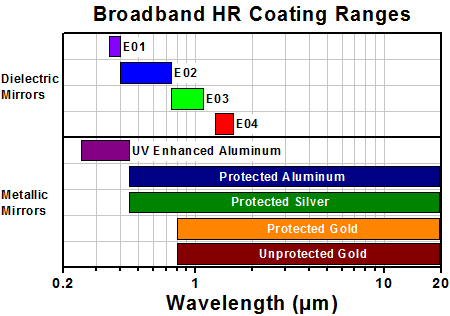 The E01, E02, E03, and E04 dielectric HR coatings offer high reflectance over broad wavelength ranges. Of the metallic coatings, the Protected Silver coating has the highest reflectance in the visible spectrum of all of our metallic coatings. Silver is susceptible to oxidation; to prevent this, the surface is protected with an overcoat of SiO2. The Protected Aluminum coating is an inexpensive solution for general use. The surface is also protected with an overcoat of SiO2 to make the aluminum coat suitable for laboratory and industrial use. Our UV-Enhanced Aluminum coating has an overcoat of MgF2 to increase the average reflectance in the UV portion of the spectrum. The Protected Gold coating is the most efficient metallic coating over the entire IR range. Thorlabs uses an overcoat to protect the gold surface and to make the mirror easy to clean. Finally, the Unprotected Gold coating offers even higher reflectance than the protected gold coating, but is slightly more delicate. The table below contains key specifications and reflectance plots for each of our broadband HR coatings.
Broadband HR Coating Specifications
Coating Namea
Wavelength Range
Average Reflectanceb
Laser Damage Thresholdc
Performance Plotd
Coating Variatione
E01
350 - 400 nm
>99%
1 J/cm2 at 355 nm,
Ø0.373 mm pulsed beam,
10 ns pulses @ 10 Hz.

Unavailable
E02
400 - 750 nm
>99%
0.25 J/cm2 at 532 nm,
Ø0.803 mm pulsed beam,
10 ns pulses @ 10 Hz.

8° AOI

45° AOI

E03
750 - 1100 nm
>99%
1 J/cm2 at 810 nm,
Ø0.133 mm pulsed beam,
10 ns pulses @ 10 Hz.

8° AOI

45° AOI

E04
1280 - 1600 nm
>99%
2.5 J/cm2 at 1542 nm,
Ø0.181 mm pulsed beam,
10 ns pulses @ 10 Hz.

Unavailable
UV Enhanced Aluminum
250 - 450 nm
>90%
0.3 J/cm2 at 355 nm,
Ø0.38 mm pulsed beam,
10 ns pulses @ 10 Hz.

Unavailable
Protected Aluminum
450 nm - 20 µm
>90% (450 nm - 2 µm)
>95% (2 - 20 µm)
0.3 J/cm2 at 1064 nm,
Ø1.00 mm pulsed beam,
10 ns pulses @ 10 Hz.

Unavailable
Protected Silver
450 nm - 20 µm
>97.5% (450 nm - 2 µm)
>96% (2 - 20 µm)
3 J/cm2 at 1064 nm,
Ø1.00 mm pulsed beam,
10 ns pulses @ 10 Hz.

Protected Gold
800 nm - 20 µm
>96%
2 J/cm2 at 1064 nm,
Ø1.00 mm pulsed beam,
10 ns pulses @ 10 Hz.

Unprotected Gold
800 nm - 20 µm
>97%
-
Unavailable
Narrowband Laser Line HR Coatings
Thorlabs currently offers twelve different laser line HR coatings optimized for various performance parameters. These dielectric HR coatings offer very high reflectance over specific laser line wavelength ranges.
Narrowband Laser Line HR Coating Specifications
Coating Namea
Wavelength
Range
Laser Line
Average Reflectanceb
Angle of
Incidence
Laser Damage Thresholdc
Performance Plotd,e
H01
193 nm
ArF Excimer
>98% (S- and P-Pol)
0°
3 J/cm2 (10 ns Pulse)
K04
262 - 266 nm
Nd:YAG,
4th Harmonic
>99.0% (S- and P-Pol)
0° to 45°
2 J/cm2 (266 nm, Ø0.416 mm, 10 ns, 10 Hz)

K05
300 - 308 nm
Ar Ion
>99.5% (S-Pol)
>98.0% (P-Pol)
0° to 45°
-

8° AOI

45° AOI

K07
333 - 364 nm
Ar Ion
>99.5% (S-Pol, 45° AOI)f
>99.0% (P-Pol, 45° AOI)f
>98.7% (Unpol, 0° AOI)f
0° to 45°
-

8° AOI

45° AOI

K08
349 - 355 nm
Nd:YAG,
3rd Harmonic
>99.5% (S- and P-Pol)
0° to 45°
3.5 J/cm2 (355 nm, Ø0.350 mm, 10 ns, 10 Hz)

H09
352 nm
XeF Excimer
>99.5% (S- and P-Pol)
0°
10 J/cm2 (355 nm, 10 ns, 10 Hz, Ø0.170 mm)
K10
458 - 528 nm
Ar Ion
>99.0% (S- and P-Pol)
0° to 45°
-
J11
520 - 647 nm
Kr Ion
>99.7% (S- and P-Pol)
45°
1 kW/cm2 (CW)
K12
524 - 532 nm
Nd:YAG,
2nd Harmonic
>99.5% (S-Pol)
>99.0% (P-Pol)
0° to 45°
8 J/cm2 (532 nm, Ø0.491 mm, 10 ns, 10 Hz)

K13 g
(Dual Coating)
532 nm
Nd:YAG,
2nd Harmonic
>98.0% (S- and P-Pol)
0° to 45°
8 J/cm2 (532 nm, Ø0.491 mm, 10 ns, 10 Hz)

1064 nm
Nd:YAG
>99.0% (S- and P-Pol)
0° to 45°
5 J/cm2 (1064 nm, Ø1.010 mm, 10 ns, 10 Hz)
K14
1047 - 1064 nm
Nd:YAG
>99.5% (S- and P-Pol)
0° to 45°
25 J/cm2 (1064 nm, Ø0.552 mm, 10 ns, 10 Hz)

L01
10.6 µm
CO2
>99% (S- and P-Pol)
0° to 45°
Pulsed: 6 J/cm2 (10.6 µm, 100 ns, 1 Hz, Ø0.362 mm)
CW: 10 kW/cm at Ø0.115 mm