Kr-Ion Laser Mirrors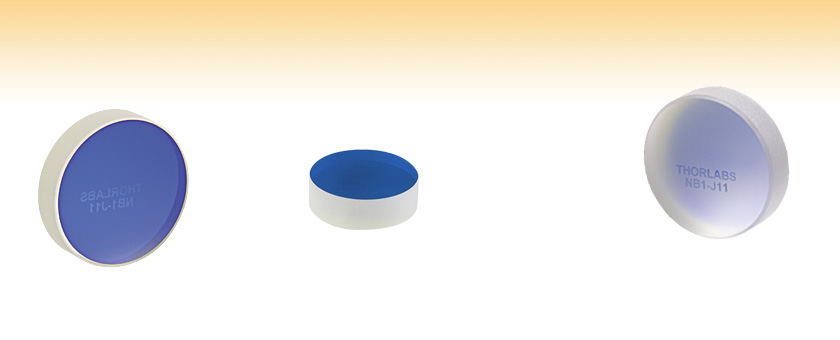 45º Angle of Incidence
Ravg > 99.7% from 520 nm to 647 nm
NB1-J11
Ø1" Kr-Ion Laser Mirror
NB07-J11
Ø19 mm Kr-Ion Laser Mirror
Back Side
Engraved with Item #

Please Wait
Item #
NB07-J11
NB1-J11
Wavelength Range
520 - 647 nm
Reflectance
Ravg > 99.7%
Angle of Incidence
45°
Substrate Material
Fused Silica
Front Surface Flatness
λ/10
Diameter
Ø19 mm
Ø25.4 mm
Diameter Tolerance
+0.0 / -0.1 mm
Clear Aperture
>80% of Diameter
Back Surface
Fine Grounda
Thickness
6.0 ± 0.2 mm
Parallelism
≤3 arcmin
Surface Quality
10-5 Scratch-Dig
A fine ground back surface is frosted and will diffuse light that is not reflected by the mirror's front surface.
Features
45° Angle of Incidence
Ravg > 99.7% from 520 to 647 nm
The Kr-Ion laser line mirror has a specialized coating that provides a high reflectance over the 520 - 647 nm wavelength range. These mirrors are suitable for use with the output beam from large-frame, high-powered CW (continuous wave) Kr-Ion lasers.
Our Ø19 mm mirror is specifically designed to fit our Polaris® Fixed Optic Mounts for laser system design and other OEM applications. This diameter provides a larger clear aperture than Ø1/2" optics while allowing the mounts to maintain a Ø1" footprint.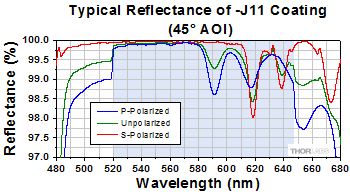 Click to Enlarge
Click
Here
for Data from 200 nm to 25 µm