Fluorescence filter sets can be easily mounted in a fluorescence filter cube (filters sold separately).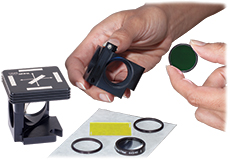 Click to Enlarge
Each filter cube can hold a fluorescence filter set: one dichroic mirror, one excitation filter, and one emission filter.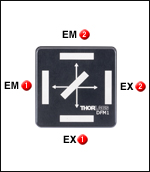 Click to Enlarge
Each filter cube has two excitation (EX) and two emission (EM) filter ports. Ports labeled with the same number should be used together.
Features
Cage Cubes for Holding Fluorescence Filter Set (Sold Separately)
SM1 (1.035"-40) or SM2 (2.035"-40) Lens Tube Compatible
Two Emission Ports with 3° Tilt to Reduce Undesired Reflections
Individual Cube Inserts, Base, and Cover Plate Also Available
Easily Swap Cube Inserts with Different Mounted Optics
Cage Cube Connectors for Connecting Two Cubes Side by Side (Sold Separately Below)
Compatible with Beam-Turning Cube and Beamsplitter Cube Systems
Thorlabs' Fluorescence Filter Cubes are designed to hold a fluorescence filter set (dichroic mirror, excitation filter, and emission filter) in a cage-system-compatible cube for home-built microscopy setups. Each filter cube consists of a post-mountable base and removable insert that accepts filter set components. The insert is magnetically retained in the cube base, allowing for repeatable insertion in an aligned setup. Additional inserts are available to easily exchange alternate filter sets. This enables the user to switch between fluorescence imaging of different wavelengths or to change the direction of the reflected light.
As shown in the animation to the right, the insert is designed to hold a rectangular optic, such as a dichroic mirror, beamsplitter, silver mirror, or polarizing bandpass filter. The rectangular optic is clamped gently in place using a leaf spring that provides a uniform holding force to minimize stress. To mount the rectangular optic, remove the leaf spring using a Phillips #00 screwdriver and then insert the optic with the reflective coating face down. Only light force is needed to prevent the optic from moving; we recommend screwing in both screws most of the way before final tightening.
In addition, the cube insert has four ports for round filters. Excitation and emission filters can be mounted in two possible configurations (see the diagram to the right) and are held using the included retaining rings, which can be tightened or loosened with our spanner wrenches (sold separately). The emission ports are oriented at a 3° angle with respect to the face in order to reduce undesired reflections. To help keep track of your filter sets, spaces are provided on the top to write labels for the mounted filters and mirrors. The cube insert is designed to be inserted in a single orientation with respect to the cube base, so it is important to orient the full cube assembly in the proper direction. The 30 mm cage cubes and cage cube inserts on this page are available with either a left- or right-turning orientation.
The base of these kinematic cubes has an SM-threaded port on each vertical face; the 30 mm cage-compatible cubes have SM1 (1.035"-40) threading, while the 60 mm cage-compatible cubes have SM2 (2.035"-40) threading. The cube base is equipped with three bottom-located 1/4"-20 (M6) tapped holes, which provide direct compatibility with our Ø1" posts or Ø1.5" posts. Alternatively, an AE8E25E (AE4M6M) thread adapter (sold separately) can be used for compatibility with our Ø1/2" posts.
Fluorescence Filter Cubes Selection Guide
Item #
Excitation Filter Dimensions
Emission Filter Dimensions
Dichroic Filter Dimensions
Cage Compatibility
Lens Tube Compatibility
DFM1(/M)
DFM1L(/M)
Ø25 mm,
5.0 mm Max. Thickness
Ø25 mm,
3.5 mm Max. Thickness
Min: 25.0 x 35.6 x 1.0 mm
Max: 25.2 x 36.0 x 2.0 mma
30 mm Cage System
Internal SM1 (1.035"-40) Threading
DFM2(/M)
Ø50 mm,
9.0 mm Max. Thickness
Ø50 mm,
6.0 mm Max. Thickness
Min: 50.8 x 72.0 x 2.0 mm
Max: 50.8 x 72.0 x 3.0 mm
60 mm Cage System
Internal SM2 (2.035"-40) Threading
#
Product Description
Qty.
Photo
(Click to Enlarge)
1
DFM1 - Kinematic
Fluorescence Filter Cube
1
2
Microscopy Filters
1 Set
3
SM1B3 - Lens Tube Bellows
1
4
SM1ZM - Non-Rotating
SM1 Zoom Housing
1
5
Focusing Lens Inside
Zoom Housing
1
6
ST1XY-D - XY Translator
with Differential Drives
1
7
Precision Pinhole Between
XY Translator and Photodetector
1
8
Photodetector
SM1-Compatible Photodetector
1
DFM1 Filter Cubes - Optic Alignment in a Confocal Microscope Detection Module
The DFM1 is ideal for integrating filter sets into a custom microscopy setup. The following example of a partial confocal microscope uses a DFM1 Fluorescence Filter Cube (denoted by 1 in the image below) containing a Microscopy Filter Set (2) and an APD130A(/M) Photodetector (8). A lens (5) located inside the SM1ZM High-Precision Zoom Housing (4) focuses the beam onto a precision pinhole (7) located just before the avalanche photodetector's detector element. The SM1ZM zoom housing is mounted directly onto the ST1XY-D XY Translation Mount with Differential Adjusters (6), creating a compact XYZ mount. SM1 Lens Tubes and the SM1B3 Lens Tube Bellows (3) allow for a light-tight connection without inhibiting the free movement of the XYZ mount.
Components used in the configuration pictured below are listed in the table to the right. These parts, along with SM1 Lens Tubes and 1" Post Assemblies, are sold separately.