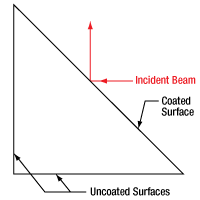 Orient the right-angle mirror in the cube as illustrated to reflect the incident beam. The top of the cube is engraved with a similar diagram showing the intended beam path.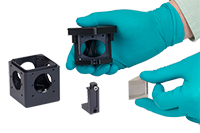 Click for Details
Mount a right-angle mirror using the mounting bar in the cube insert.
Features
Thorlabs' Cage Cubes for Right-Angle Optics allow for mounting of 25 mm x 25 mm right-angle mirrors or prisms within a 30 mm cage system. Each cube consists of a kinematic base with four SM1-threaded (1.035"-40) ports surrounded by four 4-40 tapped holes for compatibility with 30 mm cage systems. The ports are at an optical axis height of 1.25" and 30 mm for the imperial and metric versions, respectively. Magnets in the base and insert of the beam turning cube ensure repeatable positioning of the cube within a cage system. The top is engraved with a diagram of the mirror location and indicates the light path through the cube. The cube insert is designed to be inserted in a single orientation with respect to the cube base. Thus, it is important to orient the full cube assembly in the proper direction within the setup; left-turning and right-turning cage cubes and cage cube inserts are available. To determine how to orient the beam turning cube within your system, please refer to the diagram on the right.
Kinematic Cage Cubes Selection Guide
Type
30 mm Cage Cubes
60 mm Cage Cubes
Empty Fluorescence Filter Cubes
DFM1
DFM2
Empty Beamsplitter Cube
DFM1BS
-
Empty Right-Angle Mirror Cubes
DFM1RM
DFM2RM
Beam Turning Cubes with Pre-Mounted Prism Mirrors
DFM1-xxx
-
Additional cube inserts (sold separately below) can be used to exchange optics and to quickly switch between transmissive and left- or right-deflected beam paths. This is ideal for laser steering applications. The cube base is also separately available for purchase. The same base is used in Thorlabs' Fluorescence Filter Cube System, enabling a user to exchange right-angle mirrors/prisms and fluorescence filter sets within an aligned optical setup. Two adjacent kinematic cubes can be connnected using a Cage Cube Connector (sold separately below); the connector can be attached via the 4-40 tapped holes and unthreaded alignment holes surrounding each port.
For convenience, Thorlabs also offers 30 mm cage cubes with pre-installed right-angle mirrors.