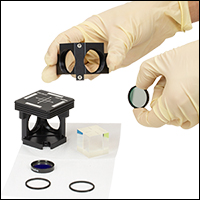 Click for Details
Mount Ø1" optics and a beamsplitter cube in the insert.
Features
Thorlabs' DFM1BS(/M) Beamsplitter Cube is designed to hold Ø1" optics, such as excitation and emission filters, and a 1" beamsplitter cube in the center. This cube consists of a kinematic base with four SM1-threaded (1.035"-40) ports surrounded by four 4-40 tapped holes for compatibility with 30 mm cage systems. The ports are at an optical axis height of 1.25" and 30 mm for the imperial and metric versions, respectively. Magnets in the base and insert of the cube ensure repeatable positioning of the cube within a cage system. The top is engraved with a diagram of the beamsplitter location and indicates the light path through the cube. To help keep track of your optics, spaces are provided on the top to write labels for the mounted filters.
Kinematic Cage Cubes Selection Guide
Type
30 mm Cage Cubes
60 mm Cage Cubes
Empty Fluorescence Filter Cubes
DFM1
DFM2
Empty Beamsplitter Cube
DFM1BS
-
Empty Right-Angle Mirror Cubes
DFM1RM
DFM2RM
Beam Turning Cubes with Pre-Mounted Prism Mirrors
DFM1-xxx
-
Additional cube inserts (sold separately below) can be used to exchange optics and to easily exchange alternate sets of optics within an aligned setup. This enables switching between fluorescence imaging of different wavelengths or changing the direction of the reflected light. The cube base is also separately available for purchase. The same base is used in Thorlabs' Fluorescence Filter Cube and Beam-Turning Cube Systems, enabling a user to exchange right-angle mirrors/prisms, fluorescence filter sets, and beamsplitter cubes within an aligned optical setup. Two adjacent kinematic cubes can be connnected using a Cage Cube Connector (sold separately below); the connector can be attached via the 4-40 tapped holes and unthreaded alignment holes surrounding each port.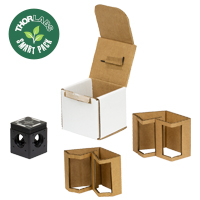 Click to Enlarge
Kinematic Beamsplitter Cage Cube Packaging
Smart Pack Goals
Reduce Weight of Packaging
Increase Usage of Recyclable Materials
Improve Packing Integrity
Decrease Shipping Costs
Thorlabs' Smart Pack Initiative is aimed at minimizing waste while providing adequate protection for our products. By eliminating any unnecessary packaging, implementing design changes, and utilizing eco-friendly materials, this initiative seeks to reduce the environmental impact of our product packaging.

The kinematic beamsplitter cube packaging is made from over 60% recycled paper products. We are transitioning from foam and non-recycled cardboard to recycled paper products to reduce the amount of CO2 produced per kg of packing materials. All products on this page have transitioned, or are in the process of transitioning to recycled paper.
As we move through our product line, we will indicate re-engineered, eco-friendly packaging with our Smart Pack logo, which can be seen in the image to the right.