Prelude™ Multiphoton Microscope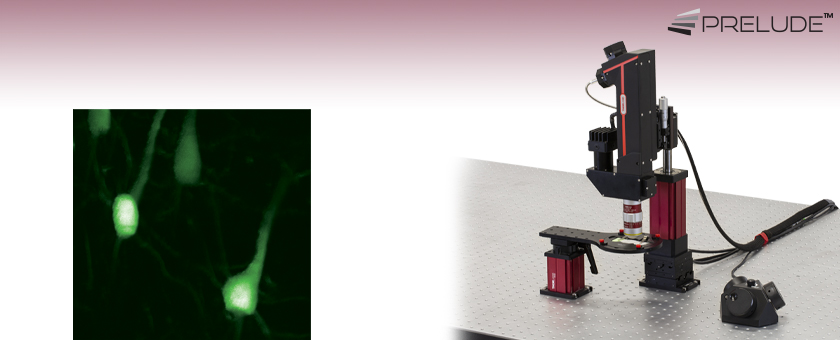 Compact and Maneuverable Multiphoton Imaging System
Designed for Two-Photon Imaging of GFP
Motorized XYZ Translation and Manual ±90° Rotation
GFP-Labeled Mouse Brain Section
Prelude™ shown with TL10X-2P objective. Optical table and sample holder sold separately.

Please Wait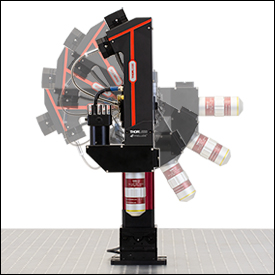 Click to Enlarge

The Prelude's motorized post mounting apparatus enables ±90° of manually operated angular positioning, as well as three-axis XYZ motorized translation.
Features
Laser-Alignment-Free Operation
Integrated Optics and Filters for Two-Photon Imaging of GFP
Fiber-Coupled fs Laser Source with Dispersion Compensation for Improved Contrast
Hypersensitive Silicon Photomultiplier (SiPM) Detector
Includes Long-Working-Distance 10X or 16X Objective
Ushering in a new level of flexibility for functional imaging, Thorlabs has created a completely integrated two-photon microscopy system suitable for samples with demanding positioning requirements. The Prelude™ Multiphoton Microscope offers motorized XYZ translation and manually operated rotation through a ±90° range, providing multi-axis access to samples at non-vertical angles. Its compact fiber-coupled design eliminates the need for complex alignment procedures and provides a high degree of maneuverability.
A near-infrared 920 nm femtosecond pulsed laser and integrated filter set are ideally suited for two-photon imaging of GFP. The fiber-coupled laser source allows for easy assembly, disassembly, and relocation of the system compared to multiphoton microscopes that use free-space laser beams and mirrors.
The Prelude is available with either of two objectives: a 10X dry objective with a long 7.77 mm working distance (Item # TL10X-2P), or a 16X water-dipping objective with a large collection NA of 0.8 (Item # N16XLWD-PF). Non-descanned detection optics collect signals emitted over a 7° angle (for a Ø20 mm entrance pupil) and deliver them to a hypersensitive silicon photomultiplier (SiPM) detector.
Key Specifications
Scanner
4.7 kHz Resonant-Galvo-Galvo Scanning
Scan Speed
>12 fps at 512 x 512 Pixels
Collection Optics
7° Non-Descanned Collection Optics (for a Ø20 mm Entrance Pupil)
Detection
Silicon Photomultiplier (SiPM)
Motion
1" (25.4 mm) of Motorized Travel in X, Y, and Z
±90° of Manually Operated Rotation
Objective Threading
M32 x 0.75
Posted Comments:
No Comments Posted