Concave Mirrors: Visible Dielectric Coating (400 - 750 nm)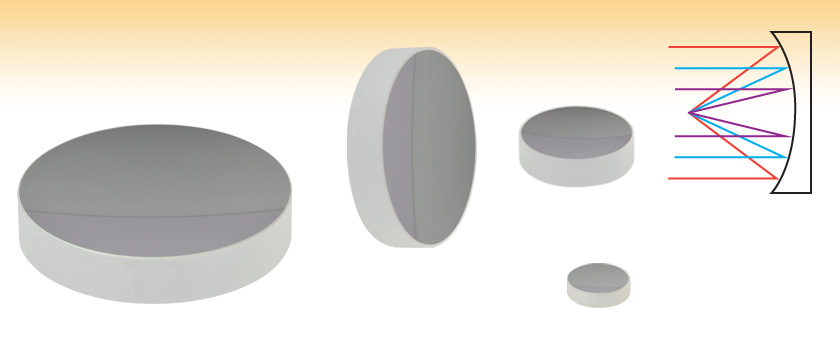 Focal Lengths from 12 - 1000 mm
Ø1/2", Ø1", Ø2", or Ø75 mm
Dielectric Coating for 400 - 750 nm
No Chromatic Aberration
CM750-150-E02
Ø75 mm
CM508-150-E02
Ø2"
CM254-100-E02
Ø1"
CM127-050-E02
Ø1/2"
Focus Polychromatic
Beams without
Chromatic Aberration

Please Wait
Common Specifications
Avaliable Diameters
1/2", 1", 2", and 75 mm
Dielectric Coating Range
400 - 750 nm; Ravg >99%
Clear Aperture
>90% of Diameter
Surface Quality
20-10 Scratch-Dig
Diameter Tolerance
+0.0 / -0.2 mm
Substrate
N-BK7a
Backside Surface
Fine Ground and Engraved with Part Number
(Not Polished)
Click Link for Detailed Specifications on the Substrate
Features
Dielectric Coating Range: 400 - 750 nm (-E02)
Greater than 99% Average Reflectivity in Dielectric Coating Range
Four Diameter Options: 1/2", 1", 2", or 75 mm
Focal Lengths Range from 12 mm - 1000 mm
Thorlabs' Broadband Dielectric Concave Mirrors are designed for a wide variety of light collection, imaging, and focusing applications. These reflective optics focus light without chromatic aberration, making them especially suitable for broadband sources. With low surface irregularity at 633 nm, these mirrors provide excellent image quality.
All of the mirrors on this page can be mounted by our Precision Kinematic Mirror Mounts.
Thorlabs also offers metallic concave mirrors that operate over a broader wavelength range at the expense of lower reflectivity. Please contact Tech Support for custom versions of these optics.
These plots show the reflectivity of our -E02 dielectric coating for a typical coating run. The shaded region in each graph denotes the spectral range over which the coating is highly reflective. Due to variations in each run, this recommended spectral range is narrower than the actual range over which the optic will be highly reflective. If you have any concerns about the interpretation of this data, please contact Tech Support. For applications that require a mirror that bridges the spectral range between two dielectric coatings, please consider a metallic concave mirror.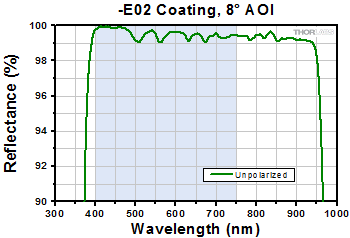 Click to Enlarge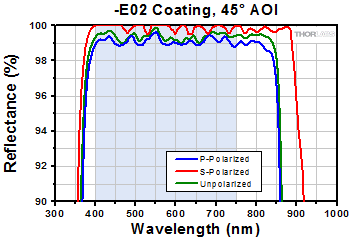 Click to Enlarge
Excel Spreadsheet with Raw Data for -E02 Coating, 8° and 45° AOI