Compact Kinematic Mounts
Hardened Steel Inserts Reduce Wear
Brass Sleeves for Smooth Adjustment
100 TPI Precision Adjusters
Hex Head
Adjuster
KMSS
KMS
Removable Knobs
for Tamper Resistance
KMS
Post
Not Included
MH25T
Ø1" Mirror Holder
KMS with MH25
Ø1" Mirror Holder
Application Idea

Please Wait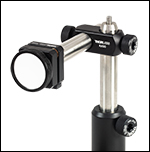 Click to Enlarge
The extra mounting hole on the back of the KMSS Compact Mount can be used for positioning in confined spaces.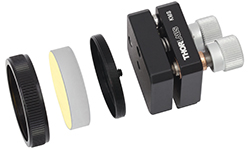 Click for Details
Mirrors can be Mounted to the KMS(/M) or KMSS(/M) using the MH12, MH25, or MH25T Mounting Adapters (Sold Below).
Features
Compact Profile is Ideal for Space Constrained Applications
Hardened Steel Inserts at Kinematic Contact Points to Reduce Wear
Tapped Holes for Vertical or Horizontal Post Mounting
Adapters for Mounting Ø1/2" or Ø1" Optics
Versions Available With or Without Knurled Knobs
The KMS(/M) and KMSS(/M) mounts are compact, general-purpose, two-adjuster kinematic mirror mounts. The adjustment screws on the KMS have a 5/64" hex socket, which can be accessed through the removable knobs. The slimmer design of the KMSS results from removing the adjuster knobs and shortening the adjuster screws to their minimum length. Therefore, a 5/64" hex key is required for adjustments to the KMSS mount.
Both mounts offer an angular displacement range of ±4° with an adjustment per revolution of 15 mrad/rev. They feature two 8-32 (M4) threaded holes on the bottom and back of the mount for vertical or horizontal Ø1/2" post mounting. A 4-40 tapped hole is also included on the front of the mount for attaching our MH12, MH25, and MH25T Mirror Holders (sold below). Both mounts are fabricated from black anodized aluminum.
Mirror Holders
The front plate on each of our compact mirror mounts is equipped with a 4-40 mounting hole that directly accepts either the Ø1/2" mirror holder (MH12) or the Ø1" mirror holders (MH25 or MH25T). The MH12 has a nylon-tipped setscrew that can accommodate Ø1/2" mirrors that are at least 0.10" (2.5 mm) thick. The MH25 and MH25T are two-piece adapters that mount Ø1" mirrors using an internally threaded retainer. The MH25 mounts mirrors from 2.5 mm (0.10") to 6.1 mm (0.24") thick, while the MH25T mounts mirrors from 6.0 mm (0.23") to 10.0 mm (0.39") thick.