Thorlabs offers interconnects and mating sleeves for making connections between our line of optogenetics patch cables and fiber optic cannulae. These ferrule-mating components provide low-loss coupling and are compatible with both stainless steel and ceramic (zirconia) ferrules. The interconnect is designed to facilitate easy connections and disconnections from an implanted cannula, requiring <20% of the force needed to disconnect from mating sleeves. On the other hand, mating sleeves are preferred for very lightweight, low-profile connections between a patch cable and cannula.
Optogenetics Product Family for In Vivo Applications
Thorlabs offers a wide variety of products designed to support in vivo optogenetics applications. Please visit the OG Selection Guide tab above to see a full listing of available products for different applications.

This tab contains instructions for using an interconnect to mate an optogenetics patch cable with a Ø1.25 mm or Ø2.5 mm ferrule to a cannula of the same diameter. Please see the animation below for an illustration of the installation process detailed here.
Connecting the Patch Cable
Insert the patch cable ferrule into the interconnect on the side with the stainless steel setscrew. To secure the patch cable, use the included hex key [0.028" for the ADAL3 and 0.05" (1.3 mm) for the ADAF2] to tighten the setscrew onto the inserted ferrule.
Ensure that the patch cable ferrule tip is clean and free of dust; we recommend our canned compressed air

.

For best results, the patch cable should be inserted past the setscrew and about halfway into the ceramic mating component within the interconnect.
Connecting the Cannula
To connect to a cannula, gently squeeze the interconnect from both sides where indicated by the engraving, then insert the cannula ferrule into the open end until physical contact with the patch cable ferrule is achieved. To lock the cannula in place, simply let go of the interconnect.
Check that the ferrule tip of the cannula is clean and free of dust.
If the cannula is already implanted or glued into position, adjust the cable-side ferrule, if necessary, to ensure physical contact between the ferrules.
When using the dual core cannula and patch cable, please note the orientation of the patch cable for alignment purposes.
Disconnecting the Cannula and Patch Cable
To disconnect the interconnect from a cannula, squeeze the interconnect and gently pull the interconnect until disconnected from the cannula. The patch cable can be released by loosening the setscrew with the included hex key.
Optogenetics Selection Guide
Thorlabs offers a wide range of optogenetics components; the compatibility of these products in select standard configurations is discussed in detail here. Please contact Technical Support for assistance with items outside the scope of this guide, including custom fiber components for optogenetics.
One Light Source to One Cannula Implant
The most straightforward method for in vivo light stimulation of a specimen is to use a single fiber optic with a single LED light source. The single wavelength LED is powered by an LED driver, and then the illumination output is fiber-coupled into a patch cable, which connects to the implanted cannula. See the graphics and expandable compatibility tables below for the necessary patch cables and cannulae to create this setup. To choose the appropriate LED and driver, see below or the full web presentation.
Click on Each Component for More Information



Click for Details
Click to See Ø1.25 mm (LC) Ferrule Compatible Patch Cables, Cannulae, and Interconnects

Click for Detials
Click to See Ø2.5 mm (FC) Ferrule Compatible Patch Cables, Cannulae, and Interconnects
One or Two Light Sources to Two Cannula Implants
Bilateral stimulation of a specimen (two cannula implants) can be achieved in two ways. If the intent is for one LED source to connect to two cannulae for simultaneous light modulation, then a bifurcated fiber bundle can be used to split the light from the LED into each respective cannula. For dual wavelength stimulation (mixing two wavelengths in a single cannula) or a more controlled split ratio between cannula, one can use a multimode coupler to connect one or two LEDs to the cannulae. If one cable end is left unused, the spare coupler cable end may be terminated by a light trap. See the graphic and compatibility table below for the necessary cables and cannulae to create this setup. For LEDs and drivers, see below or the full web presentation.
Click on Each Component Below for More Information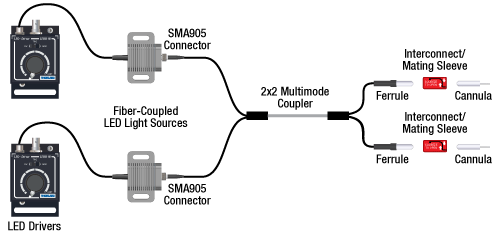 Two Light Sources into One Dual-Core Cannula Implant
For bilateral stimulation applications where the two cannulas need to be placed in close proximity (within ~1 mm), Thorlabs offers dual-core patch cables and cannulae that are designed for this specific application. Each core is driven by a separate light source, enabling users to stimulate and/or supress nerve cells in the same region of the specimen. See the graphic and compatibility table below for the necessary cables and cannulae to create this setup. For LEDs and drivers, see below or the full web presentation.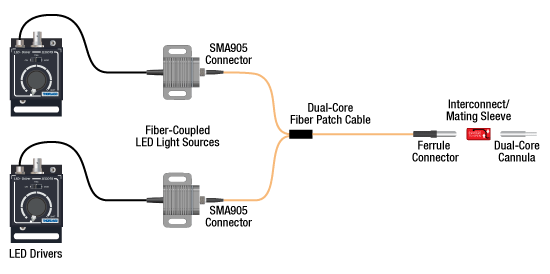 Click on Each Component for More Information
Part Selection Table (Click Links for Item Description Popup)
Common Fiber Properties
Core Diameter
200 µm
Wavelength Range
400 - 2200 nm
NA
0.39
Fiber Type
FT200EMT
Ferrule Stylea
FC

(Ø2.5 mm)

Dual-Core Patch Cable
FC/PC Input
BFY32FL1
SMA905 Input
BFY32SL1
Compatible Mating Sleeve/Interconnect
ADAF1
ADAF2
Dual-Core Fiber Optic Cannulaec
Stainless Steel
CFM32L10
CFM32L20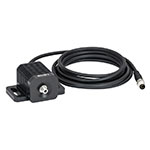 Click to Enlarge
M470F3
Popular Fiber-Coupled LEDs for Optogenetics
Item #
M470F3
M590F2
Center Wavelength
470 nm
590 nm
Bandwidth (FWHM)
20 nm
15 nm
Typical Output Spectrum
(Click to Enlarge)
Ø200 µm Core Fiber Output (Typ.)a

7.0 mW
0.68 mW
Ø400 µm Core Fiber Output (Typ.)b

21.8 mW
2.73 mW
CW Drive Current (Max)
1.0 A
1.0 A
LED Forward Voltage
3.1 V
2.8 V
Typical Lifetime
>50,000 Hours
>50,000 Hours
Fiber-Coupled LEDs
Our fiber-coupled LEDs are ideal light sources for optogenetics applications. They feature a variety of wavelength choices and a convenient interconnection to optogenetics patch cables. Thorlabs offers fiber-coupled LEDs with nominal wavelengths ranging from 280 nm to 1050 nm. See the table to the right for the LEDs with the most popular wavelengths for optogenetics.
LED Drivers
Compatible Driversa
LEDD1Bb
DC2200c
DC4100c,d,e
DC4104c,d,e
Click Photos to Enlarge
Main Driver Features
Very Compact Footprint
60 mm x 73 mm x 104 mm
(W x H x D)
Touchscreen Interface with Internal and External Options for Pulsed and Modulated LED Operation

4 Channels

d

4 Channels

d
LED Driver Current Output (Max)
1.2 A
LED1 Terminal: 10.0 A
LED2 Terminal: 2.0 Af
1.0 A per Channel
1.0 A per Channel
LED Driver Forward Voltage (Max)
12 V
50 V
5 V
5 V
Modulation Frequency
0 to 5 kHz (External)
20 to 100 kHz (Internal)h
DC to 250 kHz (External)g,h
0 to 100 kHz (External)h
Simultaneous Across all Channels
0 to 100 kHz (External)h
Independently Controlled Channels
External Control Interface(s)
Analog (BNC)
USB 2.0 and Analog (BNC)
USB 2.0 and Analog (BNC)
USB 2.0 and Analog (8-Pin)
EEPROM Compatible: Reads Out LED Data for LED Settings
-
LCD Display
-