Thorlabs offers the following line of supplies to clean and maintain your optical components:
Optic Cleaning: Optical Cleaning Pads, Optical Cleaning Tissues, Cotton-Tipped Applicators, and Forceps
Connector Cleaning: Kimwipe™ Boxes and Cotton-Tipped Applicators
Dusters: Cans of Compressed Propellant
Wash & Dropper Bottles Kit: Four Wash Bottles and Three Dropper Bottles All Clearly Marked for Common Laboratory Solvents (Solvents Not Included)
One-Touch Pump Dispenser: Minimizes Solvent Evaporation When Cleaning Optics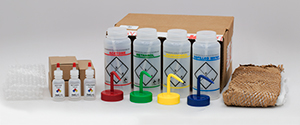 Click to Enlarge
B2939 Packaging

Item #
% Weight
Reduction
CO2-Equivalent
Reductiona
B2939
23.15%
70.86 kg
Smart Pack
Reduce Weight of Packaging Materials
Increase Usage of Recyclable Packing Materials
Improve Packing Integrity
Decrease Shipping Costs
Thorlabs' Smart Pack Initiative is aimed at waste minimization while still maintaining adequate protection for our products. By eliminating any unnecessary packaging, implementing packaging design changes, and utilizing eco-friendly packaging materials for our customers when possible, this initiative seeks to improve the environmental impact of our product packaging. Products listed above are now shipped in re-engineered packaging that minimizes the weight and the use of non-recyclable materials.b As we move through our product line, we will indicate re-engineered packages with our Smart Pack logo.