T-Nuts and Low-Profile Screws for 95 mm Rails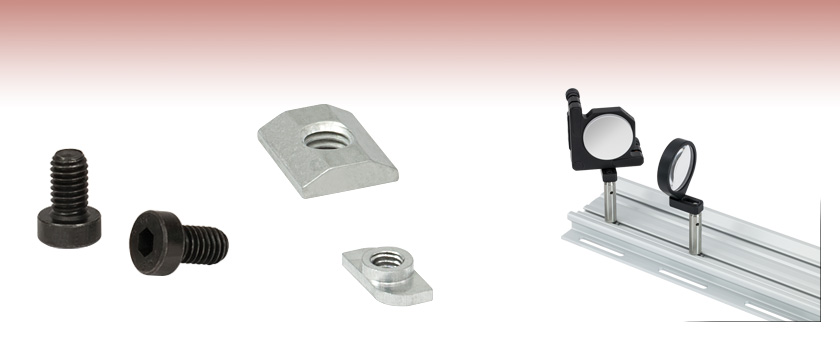 T-Nuts Fasten Rails to Other Mechanical Components
Low-Profile Screws for Corner Cube
SH6M10LP
Low-Profile Channel Screws
XT95N6
Low-Profile T-Nut
M6 Tap
XT95N4
Drop-In T-Nut
M4 Tap
T-Nuts Provide Tapped Holes
on the Rail Side

Please Wait
Features
T-Nuts Mount Optomechanics from T-Slots on 95 mm Rails

Low-Profile T-Nut: M6 Tapped Hole
Drop-In T-Nut: M4 Tapped Hole

Low-Profile Channel Screws with Reduced Cap Height
Thorlabs' T-Nuts and Low-Profile Channel Screws are designed to link 95 mm rails to other optomechanical components.
T-Nuts
T-Nuts effectively add an M4 or M6 tapped hole to the rail side. They are available in two styles: Low-Profile or Drop-In. Our XT95N6 Low-Profile T-Nuts feature an M6 tap and require access to the rail end for installation or removal. In contrast, our XT95N4 Drop-In T-Nuts feature an M4 tap and can be installed or removed anywhere along an exposed T-Slot.
Low-Profile Channel Screws
Our low-profile channel screws feature M6 threading and shorter caps than standard cap screws. We recommend them for use with our XT95C1 Corner Cube when linking rails at a right angle.
Thorlabs' product family for 95 mm rails includes angle adapters, leveling feet, and breadboard mounting adapters. In addition, we manufacture mounting platforms and T-Nuts that provide compatibility with standard optomechanics. Together with size adapters that incorporate 66 mm rails into an XT95 setup, these tools provide a complete family of rigid, versatile building blocks suited for virtually any optomechanical setup.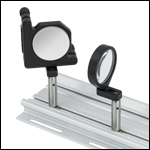 Click to Enlarge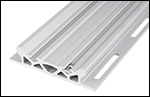 Click for Details
Low-Profile T-Nut in T-Slot
Can Only be Inserted and Removed from the End of a Rail
M6 x 1.0 Tapped Hole for Mounting
The XT95N6 Low-Profile T-Nut slips into the T-slots along the rail side. Since installation (and removal) requires the rail end to be unobstructed, this T-nut usually needs to be positioned before a 95 mm rail assembly is completed. In contrast, the drop-in T-nut shown below can be installed and removed even if the rail ends are blocked.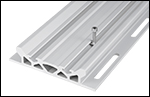 Click for Details
Rotating the drop-in T-nut clockwise keeps it in place.

Click for Details
To insert a drop-in T-nut, turn the long side parallel to the T-slot and drop it in.
Can be Inserted and Removed from Any Exposed Portion of a T-Slot Without Access to the Rail Ends
M4 x 0.7 Tapped Hole for Mounting
The XT95N4 Drop-In T-Nut has a thin width profile that allows it to be inserted into an exposed T-slot. After being inserted, a clockwise rotation by 90° prevents it from being removed again. The protruding edge of the M4 x 0.7 tapped hole helps to center the T-nut within the T-slot.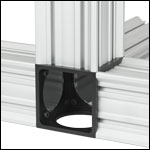 Click to Enlarge
Our low-profile screws feature a shorter cap height than standard M6 cap screws. They are required to fasten an XT95C1 Five-Way Corner Cube to a 95 mm rail when two rails are being mounted at a right angle because their reduced cap height prevents neighboring screws from interfering with each other.
Item #
Threading
Thread Length
Hex
Head Height
Quantity
Material
SH6M8LP
M6 x 1.0
8 mm (0.31")
4 mm
4 mm (0.16")
50
Steel,
Black Oxide
Finish
SH6M10LP
10 mm (0.39")
100
SH6M16LP
16 mm (0.63")
50