Angle Adapters for 95 mm Rails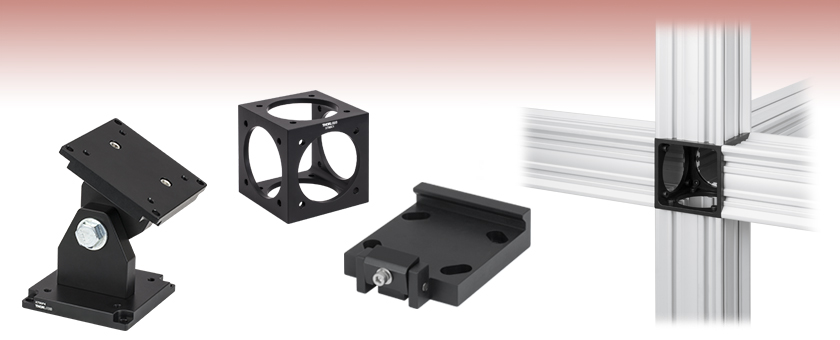 Fasten 95 mm Rails Together in Two or Three Dimensions
Corner Cube and Rail Clamp Provide Right-Angle Mounting
Pivot Support Allows Arbitrary Orientations
XT95P4
XT95C1
XT95P13

Please Wait
Features
Provides Stable and Rigid Connections Between Rails
Bolted into Rail End with M6 Cap Screws
Extend Rail Assemblies into Two or Three Dimensions
Corner Cube and Rail Clamp Permit Mounting at Right Angles
Pivot Support Enables Arbitrary Angles
Thorlabs' angle adapters for 95 mm rails are fundamental building blocks of two- and three-dimensional rail constructions.
Five-Way Corner Cube
The XT95C1 Five-Way Corner Cube tightens into the M6-tapped holes in the ends of a standard 95 mm rail and orients up to five standard rails at right angles. Each face of the cube contains a large clear aperture that allows the entire rail interior to be used as a beam path.
In order to install rails on adjacent faces of the corner cube, we recommend using our SH6M10LP Low-Profile Channel Screws. The reduced cap height of these screws prevents neighboring screws from interfering with each other.
Construction Clamp
The XT95P13(/M) Rail Construction Clamp allows a 95 mm rail to be mounted horizontally to an optical table or at a right angle on the end of another rail. The clamp can be attached directly to a breadboard surface or rail end using a 1/4"-20 (M6) cap screw in each of the four counterbored slots.
Pivot Support
Our XT95P4 Pivot Support is a heavy-duty joint that connects two rails while providing up to ±90° of variable rotation. Once the rails are at their desired angle, they are fixed in place using a hex wrench.
Thorlabs' product family for 95 mm rails includes angle adapters, leveling feet, and breadboard mounting adapters. In addition, we manufacture mounting platforms and T-Nuts that provide compatibility with standard optomechanics. Together with size adapters that incorporate 66 mm rails into an XT95 setup, these tools provide a complete family of rigid, versatile building blocks suited for virtually any optomechanical setup.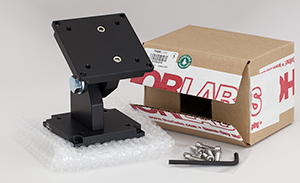 Click to Enlarge
XT95P4 Packaging

Item #
% Weight
Reduction
CO2-Equivalent
Reductiona
XT95P4
8.52%
0.37 kg
Smart Pack
Reduce Weight of Packaging Materials
Increase Usage of Recyclable Packing Materials
Improve Packing Integrity
Decrease Shipping Costs
Thorlabs' Smart Pack Initiative is aimed at waste minimization while still maintaining adequate protection for our products. By eliminating any unnecessary packaging, implementing packaging design changes, and utilizing eco-friendly packaging materials for our customers when possible, this initiative seeks to improve the environmental impact of our product packaging. Products listed above are now shipped in re-engineered packaging that minimizes the weight and the use of non-recyclable materials.b As we move through our product line, we will indicate re-engineered packages with our Smart Pack logo.
Travel-based emissions reduction calculations are estimated based on the total weight reduction of packaging materials used for all of 2013's product sales, traveling 1,000 miles on an airplane, to provide general understanding of the impact of packaging material reduction. Calculations were made using the EPA's shipping emissions values for different modes of transport.
Some Smart Pack products may show a negative weight reduction percentage as the substitution of greener packaging materials, such as the Greenwrap, at times slightly increases the weight of the product packaging.