95 mm Optical Construction Rails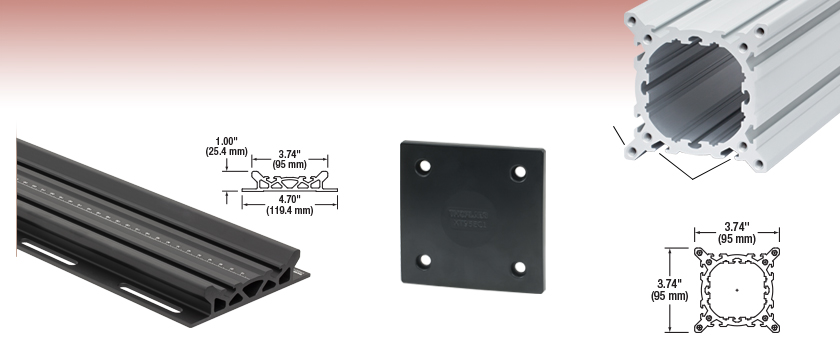 Stock Lengths from 66 mm to 2000 mm
1- or 4-Sided Rails
Precision Rails with Higher Parallelism Tolerance Available
Custom Lengths Available
XT95SD-500
One-Sided Rail
XT95-250
Standard
95 mm Rail
Eight M6
Taps on
Each End
Side-Located T-Slots Accept
Rail Plates, Adapters, or T-Nuts
XT95EC1
95 mm Rail End Plate

Please Wait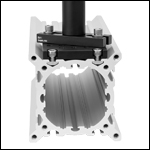 Click to Enlarge

Click to Enlarge
95 mm Optical Rails with XT95EC1 End Plates (Sold Separately)
Features
95 mm Optical Construction Rails
Stock Lengths Range from 66 mm to 2000 mm
Accommodates Optomechanical Components using T-Slots, Outer Wings, or M6 Taps
Clear-Anodized or Black-Anodized Versions Available
One-Sided Version Features Clearance Slots for Mounting to an Optical Table
Custom Rail Lengths Offered
Thorlabs' XT95 Optical Rails are our largest and most rigid construction rails. They consist of extruded lengths of aluminum, and each rail side features a linear mounting surface with two T-slots and two outer wings that span the rail length. Their precision construction allows large-scale optical assemblies to be translated along the rail axis with excellent mechanical stability. Originally designed for vacuum-tight flight paths, these optical rails are ideal building blocks for three-dimensional, load bearing structures; large-scale optical instrumentation setups; or modular, expandable assemblies that require the highest degree of support. The outer wings, which provide additional stability against longitudinal and torsional pressures, are tapped with eight M6-threaded holes.
The standard four-sided rails measure 95 mm to a side and are available in six stock lengths, ranging from 250 to 2000 mm. Precision rails, which have a ±10 arcmin parallelism tolerance on the rail ends, are available in lengths ranging from 66 to 600 mm. Upon request, we can ship the finished standard four-sided rails in any length from 50 to 2000 mm, or we can provide the raw rail extrusion in lengths up to 3.048 m (10'). Precision rails can also be customized up to 2000 mm in length. Finished standard rails feature a durable, clear-anodized coating, while the precision rails feature a black-anodized coating.
Our standard one-sided rails include clearance slots for securing the rails horizontally to an optical table. They are available in either 500 mm or 1000 mm lengths with a durable, clear-anodized coating or in 250 mm, 500 mm, or 750 mm lengths with a black-anodized coating. The one-sided black-anodized rails feature an engraved scale in 1 mm increments for precise and repeatable positioning along the length of the rail. Custom one-sided clear-anodized rails from 50 mm to 2000 mm lengths and custom black-anodized rails from 50 mm to 750 mm lengths can be ordered by contacting Tech Support.
Thorlabs' product family for 95 mm rails includes angle adapters, leveling feet, and breadboard mounting adapters. In addition, we manufacture mounting platforms and T-nuts that provide compatibility with standard optomechanics. Together with size adapters that incorporate 66 mm rails into an XT95 setup, these tools provide a complete family of rigid, versatile building blocks suited for virtually any optomechanical setup.
An end plate is available below for our 95 mm Construction Rails and 95 mm Precision Construction Rails. The end plate covers the entire end of the rail, decreasing the risk of harm due to sharp edges.