25 mm Optical Construction Rails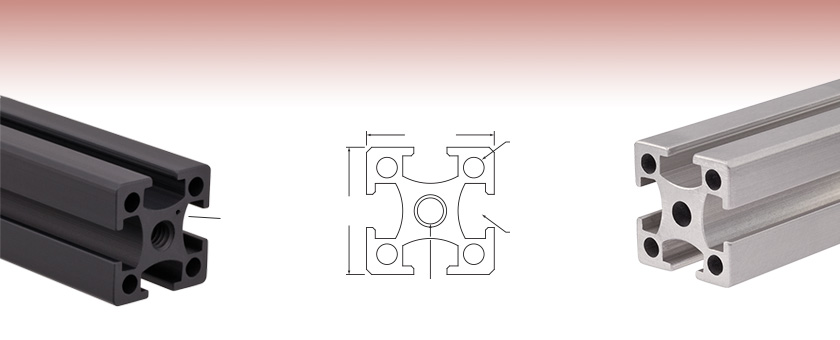 Build Enclosures and Other Rigid Mechanical Assemblies
Stock Lengths: 9" - 48" and 225 mm - 1200 mm
Custom Lengths and Raw Extrusions Available
Metric Indicator
by Tapped Hole
(One Side Only)
XE25L500/M
Black Anodized,
0.5 m Long, M6 Taps
XE25RL2
Raw Aluminum,
2 m Long, No Taps
Alignment Hole
(4 Places)
Channel Accepts
T-Nuts, Rail Joiners,
or Enclosure Panels
1/4"-20 (M6) Tap
(Both Ends)
XE25 Series Rail
25.0 mm
25.0 mm

Please Wait
Features
25 mm Square Construction Rails
Stock Lengths Range from 9" to 48" (Metric Lengths: 225 - 1200 mm)
Rail Channels Accommodate Mechanical Components
Custom Rail Lengths and Raw Extrusions Available
With a 25 mm x 25 mm profile, Thorlabs' XE25 Construction Rails are our most compact and lightweight option for building three-dimensional mechanical structures. They consist of extruded lengths of aluminum that feature channels on all four sides, as shown in the image at the top of the page. These channels make the rails mechanically compatible with other optomechanical components. For instance, by inserting T-Nuts into the channels, any 8-32 (M4) or 1/4"-20 (M6) optomechanical component can be fastened to the rail sides. The channels are also perfectly sized to hold enclosure panels made of black hardboard or plexiglass, as is done with our optical enclosures.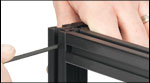 Construction Tools and Accessories
Our 25 mm rails are offered in pre-cut lengths from 9" to 48" (225 to 1200 mm) and are finished with a durable, black anodized coating. The centered 1/4"-20 (M6) tapped hole on both ends allows the rail to be mounted directly to a breadboard or optical table. Upon request, we can provide these anodized rails in custom lengths from 2.5" to 79" (50 to 2000 mm), or we can provide the raw rail extrusion in lengths up to 3 m (9.8'). For material properties including mass per meter, cross-sectional area, and second moment of area, please refer to the Engineering Specs tab.
Thorlabs' accessories for assemblies made of 25 mm rails include corner cubes and brackets, T-nuts, low-profile channel screws, breadboard mounting accessories, rail joiners, and a channel insert. In addition, we offer optical enclosures, enclosure accessories, laser safety fabric panels, and "do-it-yourself" tools like taps, tap guides, and drill guides for home-built XE25-based constructions.
Physical Properties of 25, 50, & 75 mm Rails
Rail Size
25 mm x 25 mm
50 mm x 50 mm
50 mm x 75 mm
75 mm x 75 mm
Rail Cross Section
Mass/Length
0.811 kg/m
2.227 kg/m
2.959 kg/m
3.690 kg/m
Cross-Sectional Area
3.13 cm2
8.25 cm2
10.96 cm2
13.67 cm2
Second
Moment of Areaa
X-Axis
1.68 cm4
23.9 cm4
33.9 cm4
96.4 cm4
Y-Axis
1.68 cm4
24.2 cm4
70.0 cm4
97.1 cm4
Aluminum Alloy
6000 Series
6063-T6
The second moment of area, also known as the area moment of inertia, of a beam is a physical property that represents the beam's ability to resist bending under load. This property takes into account the distribution of material and its distance from the specified axis.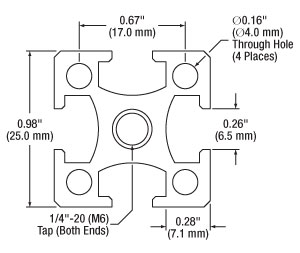 Click for Details
Black Anodized Finish
1/4"-20 (M6 x 1.0) Tapped Holes on Both Ends
Custom Lengths Available
Our 25 mm rails have rail channels on all four sides for use in one-, two-, or three-dimensional constructions. These channels feature 6.5 mm openings and accept T-Nuts, rail joiners, and enclosure panels. Each rail end is tapped with a 1/4"-20 (M6 x 1.0) hole for compatibility with standard optomechanics.
The pre-cut rails are offered from stock in lengths ranging from 9" to 48" (225 mm to 1200 mm), with a tolerance of ±0.006" (±150 µm). If our pre-cut lengths do not suit your application, custom lengths from 2.5" - 79" (50 mm - 2000 mm) can be ordered by using the XE25-CUSTRAIL(/M) field in the price box below or contacting Technical Support.
As shown in the family image at the top of the page, metric rails are denoted by a small hole on one side of the extrusion, next to the M6 tapped hole.

Unanodized Extrusion for Custom Applications
2 m (6.6') Length
Center Hole is Not Tapped
The XE25RL2 is an unanodized, rough-cut extrusion for customers who prefer to machine and finish their own rails. The center hole of the extrusion can be 1/4"-20 or M6 tapped without additional machining. Its aluminum construction makes it easy to machine in your own machine shop.

Upon request, we can supply this extrusion in lengths up to 3 m (9.8'). Please contact Technical Support for a quote.