FiberBench Alignment Tools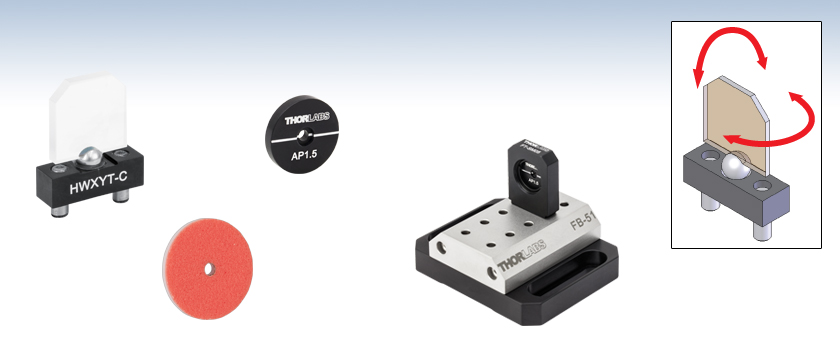 Beam Displacement Modules for Wavelengths from 350 to 5000 nm
Aperture Plates for Optical Beam Alignment
HWXYT-C
Beam Displacement Module
AP1.5
Ø1.8 mm Aperture Plate
VRC2D05
IR Alignment Disk
AP1.5
Mounted on a FiberBench
(Using FT-SM05)

Please Wait
Thorlabs offers alignment tools designed for our FiberBench systems, including XY Tweaker Modules, Aperture Plates, and Alignment Disks. The XY tweaker modules allow for the compensation of beam drift by enabling up to ±500 µm of positional displacement parallel to the optical axis. They are antireflection (AR) coated for one of five wavelength ranges: A (350 - 700 nm), B (650 - 1050 nm), C (1050 - 1620 nm), D (1650 - 3000 nm), or E (2000 - 5000 nm). Please see the Graphs tab for more details on the AR coating options.

The Aperture Plates can be utilized to measure beam size and block unwanted light in an optical system. They are available with an Ø1.8 mm or Ø2.5 mm aperture. In addition, we offer UV-VIS, VIS-IR, and IR alignment disks that emit visible light when exposed to UV-VIS, VIS-IR, and IR electromagnetic radiation, respectively. These disks include a central alignment hole for partial beam transmission.
The FBSM Photodiode Mount allows our S130 Series Slim Photodiode Sensors to be mounted vertically into FiberBench systems.
---