ST®/PC Fiber Connectors: Single Mode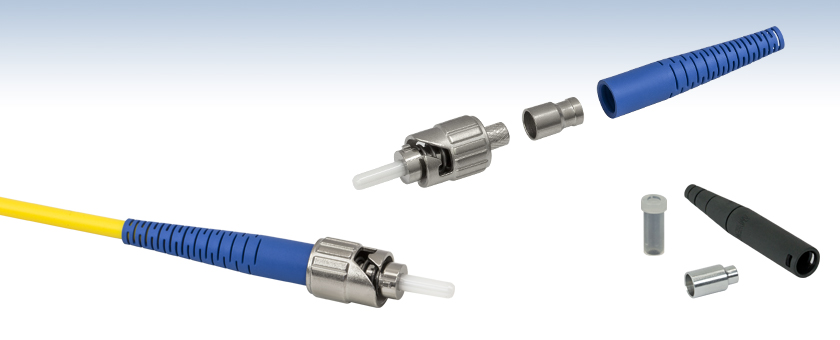 Bayonet-Style Connector
Ø125 µm Central Bore
Spring-Loaded, Ceramic Ferrule
Maximum Concentricity of 1 µm
30126B1
ST®/PC Connector Assembled
with Ø3 mm Tubing (Not Included)
Exploded View
of 30126B1
Connector
Housing
Crimp
Eyelet
Boot for
Ø3.0 mm Tubing
Dust Caps and Strain Relief
Boots for Ø2 mm Tubing Can
be Purchased Separately

Please Wait
Features
ST®*/PC Connector
Bayonet-Style Connector for Easy Insertion
Pre-Radiused, Spring-Loaded, Ø2.5 mm, Ceramic Ferrule
Strain Relief Boot for Ø3.0 mm Tubing and Connector Cap Included
This ST/PC (Straight Tip / Physical Contact) single mode connector has a bayonet-style mount that allows for quick connects and disconnects and features a ceramic ferrule with a pre-radiused tip (20 mm) to minimize back reflections. Packaged with a strain relief boot for Ø3 mm tubing and a fiber connector cap, this connector offers a maximum concentricity of 1 µm and a hole size tolerance of +1 µm/-0 µm.
As an alternative to buying and assembling separate optical fiber, connectors, and furcation tubing, Thorlabs also offers custom pre-built patch cables using the connectors sold on this page. See our Custom Fiber Patch Cable Configurator to place an order.
*ST® is a registered trademark of Lucent Technologies, Inc.
Posted Comments:
No Comments Posted

Item #
Style
Bore
Concentricity
Ferrule
Included Boot
Crimp Tool for Ø3.0 mm Tubing
30126B1
ST®a/PC
Ø125 +1/-0 µm
1 µm

Ø2.5 mm,

Ceramic
Ø3.0 mm
CT042
ST® is a registered trademark of Lucent Technologies, Inc.

Strain Relief Boots and Crimp Sleeves for Ø2 mm Tubing (25 Pack)
CAPF Dust Cap for Ø2.5 mm Ferrules (25 Pack)
Thorlabs offers strain relief boots and dust caps that can be purchased separately from our fiber connectors. The black strain relief boots sold here are compatible with ST®* connectors and Ø2 mm furcation tubing (our stock connectors do not include a boot compatible with Ø2 mm tubing).
The CAPF Dust Cap is for use with FC connectors or any Ø2.5 mm ferrule. Dirt on the fiber tip can result in permanent damage to the fiber connector, which can increase coupling losses or create undesirable mode structures in the output light. To prevent damaging the connectorized fiber, inspect it before each use, clean it when necessary, and use a fiber connector cap to protect the end face of the connectorized fiber when it is not in use. To aid in inspecting and cleaning connectorized fiber, we offer a selection of inspection tools, as well as fiber optic cleaning products.
*ST® is a registered trademark of Lucent Technologies, Inc.