FC/APC Fiber Connector: Multimode, Ceramic Ferrule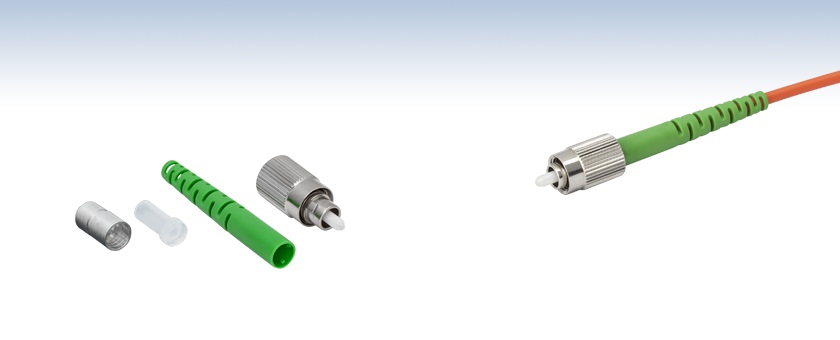 Pre-Angled 8˚ Ceramic Ferrule
Improved Return Loss Compared to FC/PC Connectors
2.0 mm Narrow Keys
FC/APC Connector Shown Assembled in a Cable
30127A3
FC/APC with Ceramic Ferrule,
Pre-Angled 8˚

Please Wait
Features
FC/APC Connectors with 2.0 mm Narrow Keys
8° Pre-Angled Conical Ceramic Ferrules
Typical 10 dB Improvement in Return Loss for 0.22 and 0.275 NA Fibers Compared to FC/PC Connectors
Strain Relief Boot for Ø3.0 mm Tubing and Connector Cap Included
Additional Dust Caps can be Purchased Separately
Thorlabs' 30127A3 FC/APC Connector has a 2.0 mm narrow key and an 8° pre-angled ceramic ferrule. The connector package includes a fiber connector cap and a Ø3 mm green boot. Additionally, we offer stainless steel sleeves designed for mating connectors to our stainless steel tubing.
The 30127A3 is designed for multimode fibers with a cladding diameter of 125 µm and low numerical apertures (NAs), such as the ones listed in the Recommended Fiber table to the right. The 8° pre-angled ferrule reduces back reflections in low-NA fibers, which leads to an improvement in return loss. For example, for 0.22 and 0.275 NA fibers, those terminated with FC/APC connectors showed a typical return loss improvement of 10 dB for fiber-to-free-space compared to that measured with FC/PC connectors. Specifically, our FG050 (0.22 NA), FG105 (0.22 NA), and GIF625 (0.275 NA) have average decrease in return loss of 11.25 dB, 7.4 dB, and 10.3 dB, respectively. This improvement will be more pronounced for fibers with smaller NAs.
FC/APC connectors can only be mated to other FC/APC connectors. Thus, the 30127A3 provides a solution for connecting FC/APC-terminated components.
We do not currently offer green Ø2 mm strain relief boots. If you would like to use this connector with Ø2 mm furcation tubing, the black 190066CP boots sold on the Furcation Tubing, Sleeves, and Connector Caps page are compatible with the 30127A3.
If you need a different bore, please e-mail Tech Support for a quote on custom sizes.
As an alternative to buying and assembling separate optical fiber, connectors, and furcation tubing, Thorlabs also offers custom pre-built patch cables using the connectors sold on this page. See our Custom Fiber Patch Cable Configurator to place an order.

Item #
Style
Inner Diameter
Diameter Tolerance
Concentricity
Ferrule
Boot Included
Crimp Tool
30127A3
FC/APC
127 µm
+4/-0 µm
4 µm
Ceramic,
Pre-Angled 8°
Ø3 mm
CT042

Our CAPF Clear Plastic Dust Caps are for use with all Ø2.5 mm fiber connector ferrules and FC connectors, while our CAPFM Threaded Nickel-Plated Brass Dust Caps work with any narrow-key FC connector. Dirt on the fiber tip can cause permanent damage to the fiber connector, which can result in increased coupling losses or undesirable mode structure in the output light. To prevent damaging the connectorized fiber, clean it before each use and use a fiber connector cap to protect the end face of the connectorized fiber when it is not in use.