LC/PC Fiber Connectors: Single Mode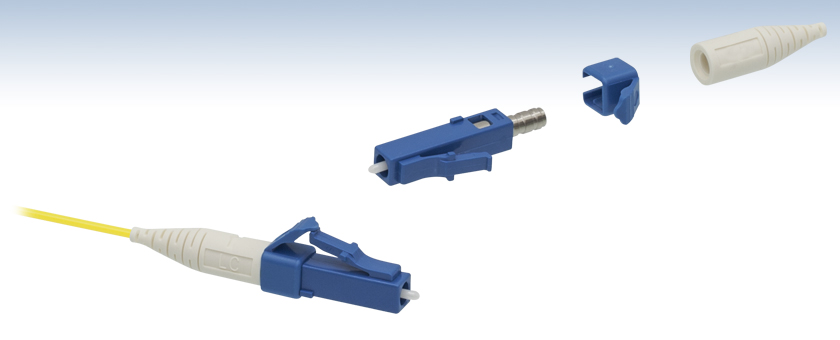 Snap-In Connector
Ø126 µm Central Bore
Spring-Loaded, Ceramic Ferrule
Maximum Concentricity of 1 µm
30126L9

LC/PC Connector Assembled
with Ø900 µm Tubing (Not Included)
Plug-Frame
Assembly
Simplex
Collar
Boot for
Ø900 µm Tubing
Exploded View of
30126L9 Connector

Please Wait
Features
LC®/PC Connector
Smaller Ferrule and Housing Size than SC/PC Connectors
Spring-Loaded, Ø1.25 mm, Ceramic Ferrule
Strain Relief Boot for Ø900 µm Tubing and Connector Cap Included
This LC®/PC (Lucent Connector / Physical Contact) connector was developed to meet the need for smaller and easier-to-use fiber optic connectors. The LC/PC connector reduces space required on panels by 50% compared to SC/PC connectors. Packaged with a strain relief boot for Ø900 µm tubing and a dust cap, this connector has a Ø1.25 mm, spring-loaded, ceramic ferrule and a typical insertion loss of 0.10 dB. Thorlabs also offers loose ceramic LC/PC ferrules as well as splice-ready LC/PC connectors. LC is a registered trademark of Lucent Technology.
As an alternative to buying and assembling separate optical fiber, connectors, and furcation tubing, Thorlabs also offers custom pre-built patch cables using the connectors sold on this page. See our Custom Fiber Patch Cable Configurator to place an order.

Item #
Style
Bore
Concentricity
Insertion Loss
Return Loss
Operating Temperature
Ferrule
Included Boot
Crimp Toola
30126L9
LC/PC
Ø126 +1/-0 µm
1 µm
0.10 dB
(Typical)
55 dB
(Typical)
-40 to 75 °C

Ø

1.25 mm, Ceramic,
Spring Loaded
Ø900 µm
Not Required

The CAPL Dust Cap is for use with Ø1.25 mm fiber connector ferrules. Dirt on the fiber tip can cause permanent damage to the fiber connector, which can result in increased coupling losses or undesirable mode structure in the output light. To prevent damaging the connectorized fiber, clean it before each use and use a fiber connector cap to protect the end face of the connectorized fiber when it is not in use.