Key Specifications
Maximum Cooling Powera, b
200 W (Typical)
Temperature Setting Rangec
-5 °C to 45 °C
Temperature Stability
±0.1 °C Constant Load at
Constant Ambient Temperature
Static Pressure
1.2 Bar (Typical)
Noise (Max at 1 Meter)
65 dBA
Features
Air-Cooled Benchtop Chiller with Programmable Temperature Sequences
Valved CPC®† Quick-Disconnect Fittings for Easy Hose Attachment
Compatible with Coolflow DTX Refrigerant Antifreeze
User-Friendly Front Panel Control
Flexible Remote Control Options:

PC Connectivity via USB, Software Included (See Software Tab for Details)
Analog Input for Target Temperature Control (SMA, 0 - 5 V)
Trigger Input for Running/Stopping the Device (SMA, 5 V CMOS)

2.5 mm Stereo Jack for External Thermistor Compatibility
Thorlabs' LK220 Thermoelectric Liquid Chiller is an air-cooled liquid chiller that provides up to 200 Watts of cooling, 1.2 bar (17.4 psi) of pumping capability, and ±0.1 °C temperature stability, making it an ideal benchtop solution for heat dissipation. Based on thermoelectric cooler elements (TECs), this chiller can operate at low noise levels while also achieving high temperature accuracies of 0.01 °C. For more information about the cooling capacity and flow performance, please see the Graphs tab.
A removable dust filter is installed behind the chiller's font panel to support use in industrial environments. To reach the specified 200 W cooling power of the unit (see Key Specifications table), the dust filter must be removed. This can be done by unscrewing the four M3 cap screws with a 2 mm (5/64") ball driver or hex key. Please note that we only recommend long-term use of the LK220 without the dust filter in standard photonics lab environments and cleanrooms.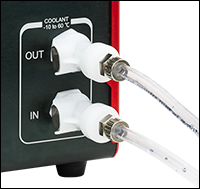 Click to Enlarge
CPC Thumb Latch Quick-Disconnect Fittings Allow for One-Handed Operation
Quick Connections and Tubing
For easy tube connection, the LK220 chiller features two valved CPC® thumb latch quick-disconnect to ferruleless compression fittings, which accept semi-rigid plastic tubing with a 0.71" (4.3 mm) inner diameter and a 1/4" (6.4 mm) outer diameter. The image to the right shows the connectors with tubing attached to the coolant in and out ports on the back panel of the LK220 chiller. For convenience, these connectors audibly click when properly connected and include a valve to reduce leaks. Each unit comes with five meters of polyurethane hose.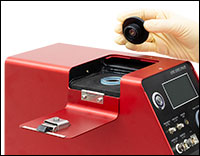 Click to Enlarge
The coolant reservoir is easily accessible by opening the hinged lid and removing the plastic cap.
Coolant Reservoir
The 400 mL coolant reservoir can be easily accessed by opening the hinged lid at the top of the device and removing the plastic cap, as shown in the image to the left. For your convenience, both a funnel and siphon are included with the unit to simplify filling the reservoir, and a warning alarm will sound if the coolant level is too low.
Thorlabs' thermoelectric liquid chiller is compatible with most ethylene glycol-based coolants, but we recommend using our CDTX Coolflow DTX refrigerant antifreeze with corrosion inhibitors (not included) for best performance. Please note that water can be used as coolant, but will result in reduced performance, and alcohol-based coolants cannot be used with this chiller. For more information on how various coolants affect the LK220 chiller's cooling capabilities, see the Graphs tab.
Operation
The LK220 liquid chiller can be controlled locally through the front panel, where the knob is used to make setting adjustments. The unit can also be controlled remotely, either through the included software GUI (see the Software tab for details) or the analog and trigger inputs. The analog input can be used to set the target temperature, with 0 to 5 V corresponding to temperatures from -5 to 45 °C. The trigger input enables the temperature control function, where off and on are 0 V and 5 V, respectively. Performance can be easily monitored by the adjustable knob on the front panel, which features a ring-shaped LED indicator that appears blue, green, yellow, or red depending on the operation status. For additional safety, the LK200 chiller includes a BNC interlock to disable connected equipment in the case of operational errors.
A monitor out port (BNC) is included on the front panel to indicate the actual temperature measured by the chiller, and it outputs a 0 to 5 V range that corresponds to -5 to 45 °C. To measure the outlet coolant temperature, the LK220 liquid chiller is equipped with an internal thermistor sensor inside the return coolant hose. An external thermistor, such as the Thorlabs TSP-TH temperature probe, can be connected to the chiller using the 2.5 mm stereo jack and used to provide temperature readings for the control feedback loop. Alternatively, a third party thermistor with 10 kΩ resistance at 25 °C can be used if the beta constant is set using the software.
†CPC® is a registered trademark of Colder Products Company.
Specifications
Temperature Control Specifications
Maximum Cooling Powera, b
200 W (Typical)
Temperature Setting Rangec
-5 °C to 45 °C
Temperature Readout Resolution
0.01 °C
Temperature Stability
±0.1 °C Constant Load at Constant Ambient Temperature
Pump Specifications
Pump Type
Brushless DC Magnetic Drive
Static Pressured
1.2 Bar (Typical)
Tubing Specifications
Fitting Type
CPC® Valved Thumb Latch Quick-Disconnect Fitting
Connector Type (on Chiller)
Coupling Insert with Hose Barb
Connector Type (for Tubing)
Valved Coupling Body with Ferruleless Polytube Fitting
Tubing Material
Polyurethane
Tubing Dimensions
1/4" Outer Diameter (6.4 mm)
0.17" Inner Diameter (4.3 mm)
General Specifications
Noise (at 1 Meter)
65 dBA Max
Reservoir Volume
400 mL
Power Supply
100 - 240 VAC, 50 - 60 Hz
Power Consumption
600 W Max
Operating Temperature
0 °C to 40 °C
Operating Humidity
15% to 80%
Storage Temperature
-15 °C to 60 °C
Dimensions (L x W x H)e
310.0 mm x 140.0 mm x 320.0 mm
(12.20" x 5.51" x 12.60")
Weight
8.1 kg
Performance Graphs
This data reflects the typical performance of Thorlabs' LK220 thermoelectric liquid chiller, and is presented for reference only. The guaranteed specifications are shown in the Specs tab, however, performance may vary from unit to unit.
---
Thorlabs' LK220 thermoelectric liquid chiller can be used with most ethylene glycol-based antifreezes or coolants. The performance plots below show the LK220 cooling capacity when used with select coolants. Please note that using water for coolant will result in reduced performance and that alcohol-based coolants cannot be used with this chiller.

Click to Enlarge
Front Panel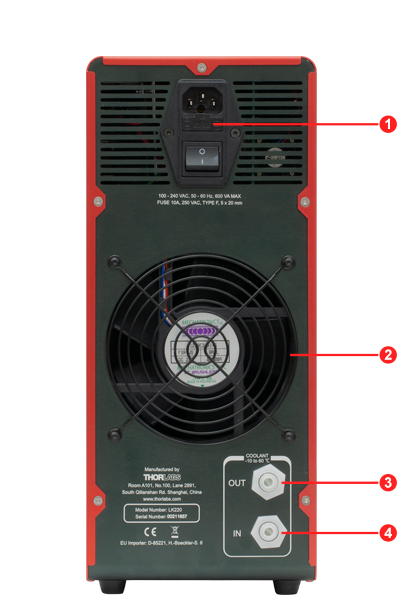 Click to Enlarge
Back Panel
Front Panel
Call Out
Description
1
Secondary Power Switch
2
SMA Port for Analog IN: 0 V to 5 V
3
2.5 mm Stereo Jack for External Thermistor
4
LCD Screen
5
Knob for Adjustment and Confirmination / LED Indicator
6
Airflow Inlet
7
USB Port
8
BNC Port for Monitor: 0 V to 5 V
9
BNC Port for Interlock: 0 V to 5 V
10
SMA Port for Trigger IN: 5 V CMOS
Back Panel
Call Out
Description
1
AC Power Inlet / Fuse Drawer / Main Power Switch
2
Airflow Output
3
1/4" Hose Valved Coupling Insert for Coolant Supply
4
1/4" Hose Valved Coupling Insert for Coolant Return
The LK220 liquid chiller contains the following components:
Liquid Chiller
Two CPC® Valved Quick-Connection Fittings for 4.3 mm (0.17") Inner Diameter Hose
5 Meters of 4.3 mm (0.17") Inner Diameter Hose
Region-Specific Power Cord
USB Cable for PC Connection
Siphon Pump
Funnel
Flash Drive Containing the Operation Software and Manual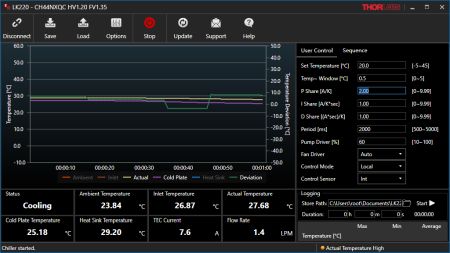 Click to Enlarge
Software GUI for the LK220 Thermoelectric Liquid Chiller
Software
Version 1.0.3
Includes a GUI for control of Thorlabs' Thermoelectric Liquid Chiller (LK220), as well as the required device drivers and LabVIEW/C++/Python SDK for secondary development. To download, click the button below.

Thermoelectric Liquid Chiller Software Package
GUI Interface
The software package allows for remote control of the LK220 Thermoelectric Liquid Chiller. The user-friendly interface includes readouts for the flow rate, TEC current, device status, and device temperatures. The featured temperature readouts are for the ambient, inlet, actual (coolant), cold plate, and heat sink temperatures. To monitor cooling performance as the chiller runs, these temperatures are also displayed graphically in a time trace. Temperature deviation, which is the difference between the actual and ambient temperatures, is also included in the time trace. This information can be recorded and saved over a set time duration.

The GUI features a User Control section, which allows the user to input the target temperature, temperature window, PID settings, and pump drive power. Control modes and sensor settings can also be toggled from this screen, rather than the device front panel. Temperature sequences can also be set through the GUI.