Tubings and Fittings for Liquid Coolant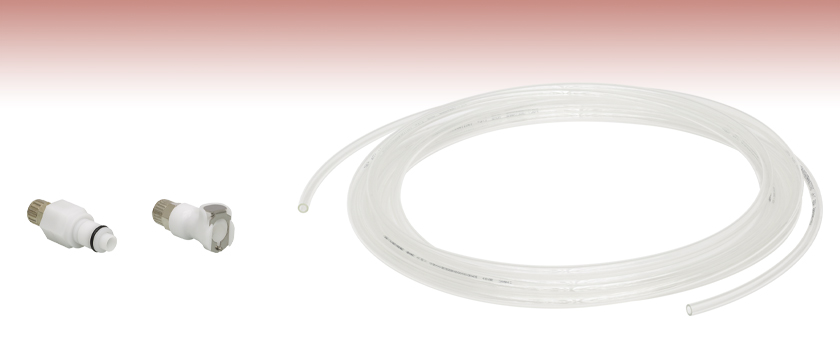 5 m Long Polyurethane Hoses
In-Line Coupling Inserts and Bodies
Can Withstand 120 psi of Pressure
QVF6
11/64" Inner Diameter, 1/4" Outer Diameter Valved In-Line Coupling Insert
QVM9
1/4" Inner Diameter, 3/8" Outer Diameter Valved In-Line Coupling Body
HPU6
Polyurethane Hose, 1/4" Outer Diameter, 11/64" Inner Diameter, 5 m Length

Please Wait
Hose Item #
OD
ID
Compatible
Coupling Insert
Compatible
Coupling Body
HPU6
1/4"
11/64"
QVF6
QVM6
HPU9
3/8"
1/4"
QVF9
QVM9
Thorlabs' polyurethane hoses and coupling inserts and bodies are compatible with other Thorlabs catalog items, such as our Liquid-Cooled Cold Plates, Thermoelectric Liquid Chiller, Water-Cooled Breadboards, or Spatial Light Modulators. Two sizes of polyurethane hoses are available for connection to a water or coolant supply. Additionally, we offer 1/4" and 3/8" coupling inserts and bodies. All items can withstand pressure up to 120 psi and can be used with water, ethanol-based coolants, or any glycol-based coolant, such as our CDTX Coolant.
Posted Comments:
No Comments Posted

5 m Long Polyurethane Hoses
Two Hose Sizes Available:

1/4" Outer Diameter and 11/64" Inner Diameter
3/8" Outer Diameter and 1/4" Inner Diameter
These 5 m Long Polyurethane (PU) Hoses can withstand up to 120 psi of pressure and can be used in temperatures from -15 to 60 °C. The hoses can be trimmed to suit any application. To do so, simply cut the tubing to the required length, trim the tubing edges flush, insert the tubing into the connectors, and connect the other end to your coolant supply/chiller unit. These hoses are intended to be used alongside the in-line coupling accessories sold below. The inserts and bodies sold below can be used to convert from 1/4" ID to 11/64" ID.
These hoses allow for easy connection to a water or coolant supply. Both hoses are compatible with our Liquid-Cooled Cold Plates. The HPU9 1/4" ID hose can directly connect to the liquid-cooled plates, while the fittings sold below can be used to adapt to the HPU6 11/64" ID hose. The HPU6 polyurethane hose is also directly compatible with our Water-Cooled Breadboards.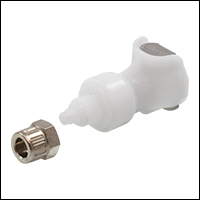 Click to Enlarge
QVM6 with Nut Detached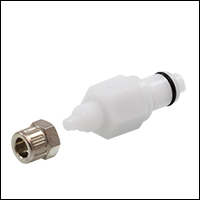 Click to Enlarge
QVF6 with Nut Detatched
RoHS Compliant Materials:

Natural White Acetal
Stainless Steel Valve Spring
Barrel Nickel Plated Brass Nut

BUNA-N Seals
These Valved In-Line Coupling Inserts and Bodies can withstand pressures up to 120 psi, in temperatures from -40 to 82 °C (-40 to 180 °F). The inserts have male connection ports, while the bodies have female connectors with a self-lock structure for secure connection. Inserts and bodies are intended to be used in pairs, as any coupling insert can mate with any coupling body. The QVF6 coupling body and QVM6 coupling insert can support HPU6 tubing with a 11/64" inner diameter (ID) and 1/4" outer diameter (OD), while the QVF9 coupling insert and QVM9 coupling body can support HPU9 tubing with a 1/4" ID and 3/8" OD.
These coupling accessories are directly compatible with our Liquid-Cooled Cold Plates. Additionally, they can be used with the LK220 Liquid Chiller or our Spatial Light Modulators, both of which come with compatible CPC® valved quick-connect coupling inserts.