Mechanical Essentials Kit: Cage Assemblies and Lens Tubes
Kit Contains 118 Pieces
Heavy-Duty Welded Steel Cabinet Frame
Cabinet Frame can be Wall Mounted or Stacked
Equipped with Easy-to-Read Labels
ESK07A

Please Wait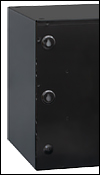 Click to Enlarge
Slots on the rear of the cabinet allow for wall mounting.
Features
Cage System and Lens Tube Components
Frame Dimensions (W x D x H): 17.13" x 11.11" x 11.08" (435.0 mm x 282.3 mm x 281.3 mm)
Drawer Dimensions (W x D x H): 4.14" x 10.90" x 2.27" (105.3 mm x 276.9 mm x 57.5 mm)
Easy-to-Read Labels List Contents for Each Drawer
Savings Over Individual Component Products
This Cage Assemblies and Lens Tubes Essentials Kit contains 118 of our most popular cage assembly components, all conveniently housed in a completely labeled cabinet. Every drawer is clearly labeled with product icons in order to locate desired parts quickly. The cage system incorporates our SM1 Series of lens tubes and accessories. Refer to the Contents tab above for detailed information about the components included in the imperial and metric versions of this kit. The RK4101 Rack Shelf can be used to organize our ESK Series Essential Kits within our RK3884 19" Rack.
All ESK Series Essential Kits are equipped with easy-to-read labels complete with product icons, allowing quick access to all products housed within the kits. All ESK Series Cabinets have slots in the rear of the case, as shown to the right, for wall mounting and feature indentations on the top and four feet on the bottom for stable stacking.
Item # in ESK07A
(Imperial)
Item # in ESK07A/M
(Metric)
Description
Image
Quantity
ER1
Cage Assembly Rod, 1" Long, Ø6 mm

Click to Enlarge
4
ER1.5
Cage Assembly Rod, 1.5" Long, Ø6 mm

Click to Enlarge
4
ER2
Cage Assembly Rod, 2" Long, Ø6 mm

Click to Enlarge
4
ER3
Cage Assembly Rod, 3" Long, Ø6 mm

Click to Enlarge
4
ER4
Cage Assembly Rod, 4" Long, Ø6 mm

Click to Enlarge
4
ER6
Cage Assembly Rod, 6" Long, Ø6 mm

Click to Enlarge
4
ER8
Cage Assembly Rod, 8" Long, Ø6 mm

Click to Enlarge
4
CPA1
30 mm Cage System Alignment Plate with Ø0.9 mm Hole

Click to Enlarge
4
CP33
CP33/M
0.35" Thick Cage Plate, 30 mm, SM1 (1.035"-40) Threaded Aperture, 8-32 (M4) Tapped Hole,
One SM1RR Retaining Ring Included with Each

Click to Enlarge
5
CP33T
CP33T/M
0.5" Thick Cage Plate, 30 mm, SM1 (1.035"-40) Threaded Aperture, 8-32 (M4) Tapped Hole,
Two SM1RR Retaining Rings Included with Each

Click to Enlarge
3
SPT1C
SPT1C/M
XY Slip Plate Positioner, 1 mm Coarse Adjustment

Click to Enlarge
1
KC1-T
KC1-T/M
SM1 (1.035"-40) Threaded Kinematic Mount for Ø1" Optics

Click to Enlarge
1
B1C
B1C/M
Blank Cover Plate with Rubber O-Ring for C4W/C6WR

Click to Enlarge
1
B2C
SM1 (1.035"-40) Threaded Cube Plate for C4W/C6WR

Click to Enlarge
1
B3C
B3C/M
Rotatable Cage Cube Platform for C4W/C6WR

Click to Enlarge
1
B4C
B4C/M
Rotatable Kinematic Cage Cube Platform for C4W/C6WR

Click to Enlarge
1
B5CT2
Ø1" Cage Cube Optic Mount For B3C

Click to Enlarge
1
C4W
30 mm Cage System Cube, 4-Way

Click to Enlarge
1
SM1L05
SM1 Lens Tube, 0.50" (12.7 mm) Bore Depth,
One SM1RR Retaining Ring Included with Each

Click to Enlarge
5
SM1L10
SM1 Lens Tube, 1.00" (25.4 mm) Bore Depth,
One SM1RR Retaining Ring Included with Each

Click to Enlarge
5
SM1L20
SM1 Lens Tube, 2.00" (50.8 mm) Bore Depth,
One SM1RR Retaining Ring Included with Each

Click to Enlarge
5
SM05L05
SM05 Lens Tube, 1/2" (12.7 mm) Bore Depth,
One SM05RR Retaining Ring Included with Each

Click to Enlarge
3
SM1T1
SM1 (1.035"-40) Coupler, Internal Threads

Click to Enlarge
3
SM1T2
SM1 (1.035"-40) Coupler, External Threads,
Two SM1NT Locking Nuts Included with Each

Click to Enlarge
3
SM1A1
Thread Adapter, SM05 External / SM1 Internal Threaded Ends

Click to Enlarge
5
SM1A2
Thread Adapter, SM1 External / SM2 Internal Threaded Ends

Click to Enlarge
5
SM1A3
Thread Adapter, SM1 External / RMS Internal Threaded Ends

Click to Enlarge
2
SM1A4
Thread Adapter, RMS External / SM1 Internal Threaded Ends

Click to Enlarge
2
SM1V05
Ø1" Rotating Adjustable Focusing Element, 1/2" Travel

Click to Enlarge
2
SM1V10
Ø1" Rotating Adjustable Focusing Element, 1" Travel

Click to Enlarge
2
SM1RR
Retaining Ring, SM1 (1.035"-40) Threaded x 0.08" (2 mm) Thick

Click to Enlarge
10
SM1NT
SM1 Locking Nut (1.035"-40)

Click to Enlarge
5
SM1RC
SM1RC/M
SM1 Series Slip Ring

Click to Enlarge
5
SM1D12
Iris Diaphragm Used In SM1 (1.035"-40) Series

Click to Enlarge
5
SPW602
SM1RR Spanner Wrench with Clear Aperture

Click to Enlarge
1
SPW603
SM05RR Spanner Wrench with Clear Aperture

Click to Enlarge
1
SPW801
Adjustable Spanner Wrench Set

Click to Enlarge
1