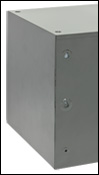 Click to Enlarge
Slots on the rear of the case allow for wall mounting.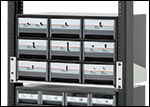 Click to Enlarge

ESK14 shown on an
RK4102
rack shelf, which is installed in an RK3884 19" rack.
Features
Imperial and Metric Kits Contain Clamps and Universal and Pedestal Post Holders
Frame Dimensions (L x W x H): 17" x 11" x 11" (432 mm x 279 mm x 279 mm)
Drawer Dimensions (L x W x H): 10.56" x 5.19" x 3.06" (268 mm x 132 mm x 78 mm)
Labels with Product Photos Facilitate the Process of Locating the Desired Part
Increased Savings over Individual Component Products
Thorlabs' ESK14(/M) Clamping Forks and Post Holders Kit contains 130 of our most popular items in convenient, organized compartments. Included in this kit are clamping forks as well as universal and pedestal post holders for Ø1/2" posts. Each compartment is labeled with an image of the item as well as the Item #. Refer to the Contents tab above for detailed information about the components included with the imperial and metric versions of this kit. This kit also includes extra dividers and white stickers to create custom labels.
Mounting Options
The kit can be placed onto a tabletop for easy, convenient access or placed on an RK4101 or RK4102 rack shelf, both of which can be installed in our RK3884 standard 19" rack. The image to the right shows an ESK14 kit as well as other custom-labeled S19909 cabinets installed in a 19" rack. The cabinet used in each Essential Series Kit features slots in the rear of the case (see image to far right) for wall mounting and features indentations on the top and four feet on the bottom for stable stacking. Warning: each kit weighs 40 lbs (18.1 kg); ensure that the wall and wall mounts can support at least this weight before mounting the unit.
ESK14 Items
(Imperial)
ESK14/M Items
(Metric)
Description
Image
(Click Image to Enlarge)
Quantity
UPH1
UPH30/M
Universal Post Holder with Spring-Loaded Hex Locking Thumbscrew, L = 1" (30 mm)


10
UPH1.5
UPH40/M
Universal Post Holder with Spring-Loaded Hex Locking Thumbscrew, L = 1.5" (40 mm)


10
UPH2
UPH50/M
Universal Post Holder with Spring-Loaded Hex Locking Thumbscrew, L = 2" (50 mm)


15
UPH3
UPH75/M
Universal Post Holder with Spring-Loaded Hex Locking Thumbscrew, L = 3" (75 mm)


15
UPH4
UPH100/M
Universal Post Holder with Spring-Loaded Hex Locking Thumbscrew, L = 4" (100 mm)


10
UPH6
UPH150/M
Universal Post Holder with Spring-Loaded Hex Locking Thumbscrew, L = 6" (150 mm)


10
PH1E
PH30E/M
Pedestal Post Holder with Spring-Loaded Hex Locking Thumbscrew, L = 1.19" (34.7 mm)


10
PH2E
PH50E/M
Pedestal Post Holder with Spring-Loaded Hex Locking Thumbscrew, L = 2.19" (54.7 mm)


10
PH3E
PH75E/M
Pedestal Post Holder with Spring-Loaded Hex Locking Thumbscrew, L = 3.19" (79.7 mm)


10
PH4E
PH100E/M
Pedestal Post Holder with Spring-Loaded Hex Locking Thumbscrew, L = 4.19" (104.7 mm)


10
CF038-P5
Clamping Fork, 0.38" Counterbored Slot, Universal


2 Packs of 5
CF125-P5
Clamping Fork, 1.24" Counterbored Slot, Universal


2 Packs of 5
S19909
9-Drawer, Stackable Cabinet


1