Polarization Controller Kit Componentsa
1 Single-Axis FiberBench with Wall Plates (FB-51W)
2 FiberPorts (PAF2-2C)
2 Rotating Quarter-Wave Plates (FBR-AQ3)
1 Rotating Half-Wave Plate (FBR-AH3)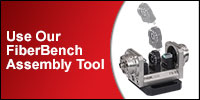 Features
Deterministic Polarization Control
Mechanically and Thermally Stable
360° Rotation and Precise Polarization Control
Supports Both FC/PC and FC/APC Connectors
Please Contact Us at Tech Support for Special Wavelengths or Custom-Aligned Kits
Thorlabs' FiberBench Polarization Controller Kit allows you to transform an arbitrary input polarization state into an arbitrary output polarization state. The controller uses two FiberPorts mounted on either side of a Single-Axis FiberBench with HCA3 Wall Plates. Any input polarization state can be deterministically rotated into a known output polarization state using a quarter-wave, half-wave, and another quarter-wave plate mounted (in this order) between the two FiberPorts. Each plate can be precisely and continuously rotated through 360°.
Advantages over Traditional Fiber Paddle Controllers
The FiberBench polarization controller has the same function as a paddle controller, while offering a more deterministic and stable polarization manipulation. Without a polarimeter, the SOP from the paddle controller cannot be determined directly. Since it does not have any hysteresis, it is possible to predict the controller's output State of Polarization (SOP) at any instant in time given only its input SOP. Unlike the conventional fiber paddle controllers, the FiberBench polarization controller can be used with PM or SM fiber without the need for splicing. Additionally, it benefits from the advanced design of the FiberBench series and has high thermal and mechanical stability. The continuous, 360° rotation and precise control offered by the wave plates allow the user more control and a more stable platform than is possible with the paddle controllers.

Item #
% Weight
Reduction
CO2-Equivalent
Reductiona
PC-FFB-1550
7.51%
0.34 kg
Smart Pack
Reduce Weight of Packaging Materials
Increase Usage of Recyclable Packing Materials
Improve Packing Integrity
Decrease Shipping Costs
Thorlabs' Smart Pack Initiative is aimed at waste minimization while still maintaining adequate protection for our products. By eliminating any unnecessary packaging, implementing packaging design changes, and utilizing eco-friendly packaging materials for our customers when possible, this initiative seeks to improve the environmental impact of our product packaging. Products listed above are now shipped in re-engineered packaging that minimizes the weight and the use of non-recyclable materials.b As we move through our product line, we will indicate re-engineered packages with our Smart Pack logo.