34 mm Optical Construction Rails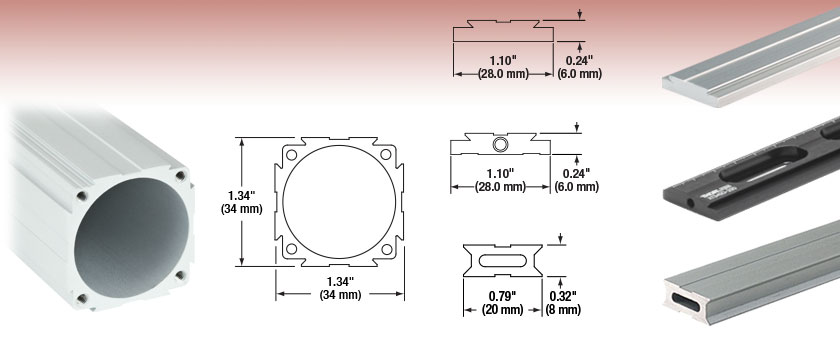 Stock Lengths up to 2000 mm for 4-Sided Rails
1-, 2-, or 4-Sided Rails
Custom Lengths Available from 50 to 2000 mm
XT34DP-500
Double Dovetail
XT34SP-500
Single Dovetail
XT34-1000
Standard
34 mm Rail
XT34SD-250
Single Dovetail
XT34SD-250, XT34SD-500, and XT34SD-750
XT34SP-500
XT34DP-500

Please Wait
Features
34 mm Optical Rails
Stock Lengths Range from 200 mm to 2000 mm
Dovetail Profile Enables Clamping to Optomechanical Assemblies or Other Rails
Single and Double Dovetail Versions with Reduced Footprint
Custom Rail Lengths Offered
Thorlabs' XT34 Optical Rails provide the building blocks necessary for constructing stable, rigid, three-dimensional mechanical assemblies. They consist of extruded lengths of aluminum with a dovetail mounting surface that allows rails to be joined to each other, breadboards, or other optomechanical assemblies. Mounted objects can easily traverse the full length of these dovetails without interruption. The 34 mm rail series includes rails that have the dovetail on one, two, or four sides, as shown in the photos at the top of the page. These dovetail rails feature either a clear or a black anodized coating.
The standard four-sided clear anodized rails measure 34 mm to a side and are available from stock in lengths ranging from 200 to 1000 mm. Upon request, we can ship these rails in custom lengths from 50 mm to 2000 mm. The standard four-sided rails are also offered in a raw extrusion length of 2 m (6.6').
We offer two-sided rails with clear anodization in lengths of 100 or 500 mm from stock.
The single dovetail rails have a compact design that provides additional mounting flexibility when constructing optical rail systems. Thorlabs offers 500 mm and 1000 mm long rails with a durable clear anodized finish. They do not include counterbored holes for mounting or an engraved scale. We also offer one-sided rails that include counterbores for mounting to an optical table without the need for clamps. These counterbored rails have a black anodized finish and an engraved scale in 1 mm increments for precise and repeatable positioning along the length of the rail. They are available in lengths from 250 mm to 750 mm.

We also offer dovetail baseplates with an inner 34 mm dovetail, allowing 34 mm rail components to be integrated with our XRN25, XR25, and XR50 translation stages. Each baseplate features a 1/4" (M6) counterbored hole and 1/4" (M6) counterbored slots for mounting to an optical table. Baseplates compatible with our XR25 and XR50 translation stages feature an outer 3" dovetail, while baseplates compatible with our XRN25 stages feature an outer 2" dovetail.
Thorlabs offers a wide and growing complement of accessories for 34 mm rails, including clamps and angle brackets, breadboard mounts, rail carriers, mounting platforms, lens tube adapters, and rail joiners. Together with size adapters that incorporate 66 mm and 95 mm rails into an XT34 setup, these tools provide a complete family of rigid, versatile building blocks suited for virtually any optomechanical setup.