Clamps and Angle Brackets for 34 mm Rails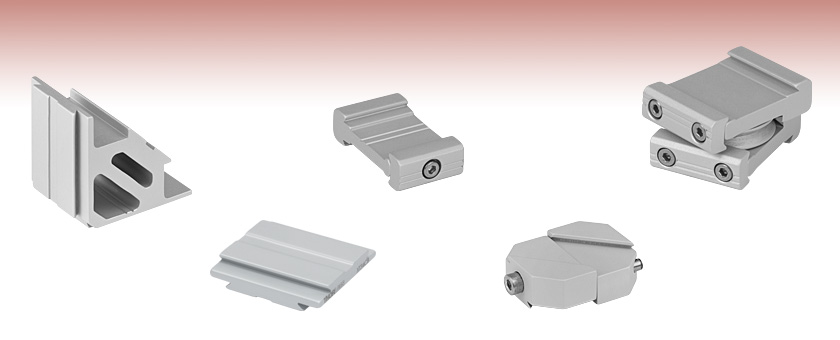 Fixed Clamps and Rotation Clamps Securely Hold 34 mm Rails Together
Cross Bracket and Right Angle Bracket Turn Rails at Fixed Angles
XT34RA2
XT34CB
XT34C1
XT34CC
XT34RD

Please Wait
Features
Provides Stable and Rigid Mounting of 34 mm Rails and Components
Easy to Adjust and Position by Sliding
Clamp Design Permits Rails to be Dropped In and Tightened Into Place
Low-Profile Brackets Rotate by Fixed Angles in Three Dimensions
Thorlabs' clamps and brackets for 34 mm rails are fundamental building blocks of two- and three-dimensional rail constructions.
Clamps
Our clamps securely fasten two rails together and feature fixed and variable rotation options. They are designed with a wide opening that tightens shut around the dovetailed rail, allowing the rail to be added and removed without having to disturb existing components. The clamps can be slid into position and locked in place.
Brackets
Our rigid angle brackets provide rotation by fixed amounts and enable three-dimensional constructions. They are designed to be used in combination with the clamps.
Thorlabs offers a wide and growing complement of accessories for 34 mm rails, including clamps and angle brackets, breadboard mounts, rail carriers, mounting platforms, lens tube adapters, and rail joiners. Together with size adapters that incorporate 66 mm and 95 mm rails into an XT34 setup, these tools provide a complete family of rigid, versatile building blocks suited for virtually any optomechanical setup.
Posted Comments:
No Comments Posted